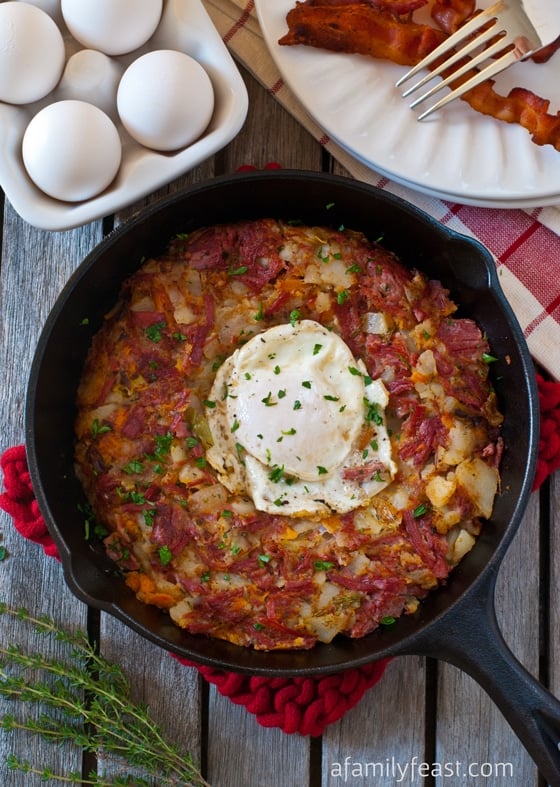 TGIF!  This past week has been particularly hectic – poor Jack has been up for work before dawn almost every day this week!  So we're looking forward to a quiet weekend of sleeping late (or as late as we can with a six-year-old) and just plain relaxing!  One of my favorite things about these kinds of lazy weekends is enjoying a nice, big hearty breakfast that includes this yummy Corned Beef Breakfast Hash, some eggs, and a big pot of freshly brewed coffee!
This recipe is a new and improved version of a corned beef breakfast hash that Jack used to make many years ago while working at a local restaurant.  Back then, the chefs used dry potato flakes to hold the hash mixture together.  But our version is a combination of tender corned beef, and mashed white and sweet potatoes that add wonderful flavor, but also act as a binder so the hash crisps up nice and firm!  Jack's recipe also includes chopped and sautéed leeks which are wonderful paired with the corned beef.  Topped with a cooked egg – breakfast is ready!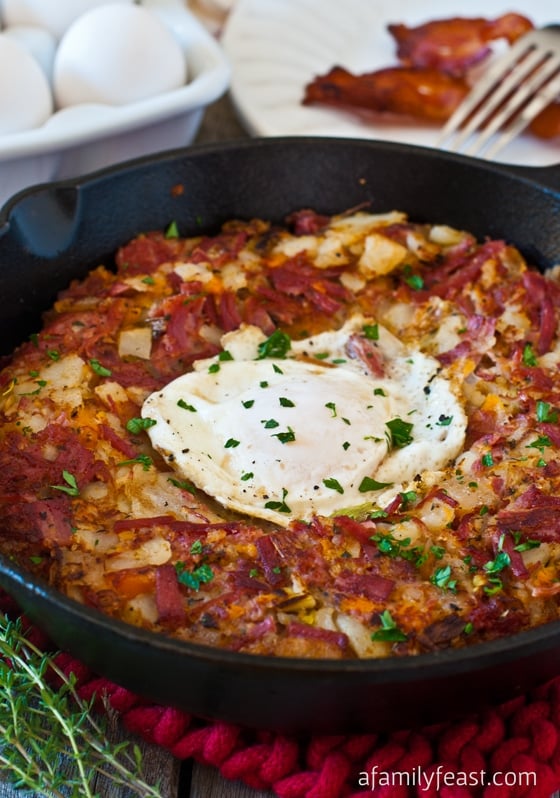 This recipe uses an entire corned beef so it makes enough to serve a family of eight, or a crowd for brunch (or perhaps, four very hungry men with very large appetites!).  Feel free to cut the recipe in half if you are able to find a smaller corned beef at your market – or you can make an entire batch of this corned beef breakfast hash and freeze half for another day.
Enjoy the weekend everyone!
Print
Corned Beef Breakfast Hash
Prep Time:

30 mins

Cook Time:

3 hours 30 mins

Total Time:

4 hours

Yield:

8 servings
---
Description
Note: Cooking time below may be reduced if you purchase pre-cooked corned beef for this recipe. Tips for cleaning leeks before cooking: Because of the way leeks grow, sand is usually present within the layers and must be washed out before cooking with it. The dark green tops should be cut off and discarded. The light green and white bottoms are used and edible. Once you remove the dark tops, and cut off the root end, split them right down the middle lengthwise. Then under running water, fan the layers with your fingers to rinse off all sand. Then place on your cutting board, cut each half in half again then slice the opposite way to get them diced. If you still have sand, place the diced leeks in a pot or sink of cold water. Mix around with your hands, the sand will sink and the leeks will float.
---
Ingredients
3

pounds uncooked corned beef (or

1 ½

pounds pre-cooked may be used)

1

carrot, washed and cut into

four

pieces

2

medium onions peeled, divided

2

leeks divided, tops cut off and washed of all sand *See note

1

stalk celery, cut in four pieces

4

whole peppercorns

8

slices uncooked bacon

2

medium Russet potatoes peeled and cut into

1

inch cubes

1

medium sweet potato, peeled and cut into

1

inch cubes

1 ½ tablespoons

butter

¼ teaspoon

garlic powder

1 teaspoon

fresh parsley

1 teaspoon

fresh thyme

½ teaspoon

Worcestershire sauce
Dash sriracha or other hot sauce

1/8 teaspoon

freshly grated nutmeg
Salt to taste

4

eggs
---
Instructions
If you are using cooked corned beef, skip this step and go to step two.
In a large pot or Dutch oven, place raw corned beef and enough water to cover. Bring to a boil, shut off burner and discard liquid. This will lower the saltiness of the finished meat. Refill with clean water, add carrot pieces, one of the onions cut in half, one cleaned leek, tops removed and cut in half the long way, the celery pieces and the peppercorns. Bring back to a boil, cover partially and simmer for three hours. Check every hour and if too much water has evaporated, add more water. The liquid will be discarded at the end so just keep the meat covered with water during cooking. After three hours, discard liquid and vegetables and cool meat. This step can be done a day ahead.
Cook bacon until crisp. Reserve bacon fat and set aside the cooked bacon.
Place both diced potatoes into a pot and cover with water and a pinch of salt. Bring to a boil then shut off burner and let potatoes sit in hot water for ten minutes. Drain and set aside.
Dice second onion and white part of second leek to ½ inch dice. Place butter and one tablespoon of bacon fat in medium frying pan and place onions and leeks and sauté on medium for four to five minutes until the onions are translucent. Remove from heat.
In a large bowl, rough mash both potatoes with a potato masher (Do not over mash). Add cooked onions and leeks. Add garlic powder, parsley, thyme, Worcestershire sauce, hot sauce, nutmeg and mix.
On a cutting board, trim corned beef of top layer of fat then slice against the grain into thick one inch slices. Then with your hands, break up each slice into small to medium sized pieces and add to the bowl with the other ingredients. Mix until thoroughly combined. Because you are using corned beef (which can be salty), only add salt at this point if the mixture needs it. Let this mixture sit under refrigeration for an hour to blend flavors. At this point, you could freeze half and continue if you are making this for four instead of eight.
In a cast iron skillet or heavy bottomed pan over medium to medium high heat, add two tablespoons of the bacon fat until hot and the bowl of hash mixture (If your pan is not large enough, you may need to do this in two batches). Using a strong spatula, press mixture firmly down into the pan. Cook for five minutes or more to brown bottom and remove from burner (sneak a peek under one edge to make sure it is not getting overly browned). Make sure sides are not sticking and place a large plate, platter or cookie sheet over the pan and with caution, flip hash over onto plate or pan. Place fry pan back on the heat, add one more tablespoon of bacon fat until hot. Slide hash back into pan. At this point, don't fret if it's not perfect, after all this is hash and it is OK if the surface is not perfectly even and browned. While hash is browning on the second side, in a medium skillet with one tablespoon of bacon fat, cook four to eight eggs (one per person) to over easy or your preference.
To serve, divide into four to eight portions, slide a spatula under each portion and slip onto a serving dish. Place a cooked egg over each portion. We served ours with a cooked buttered English muffin and a nice hot cup of steaming coffee.
---
You may also like:
Crustless Ham and Cheddar Quiche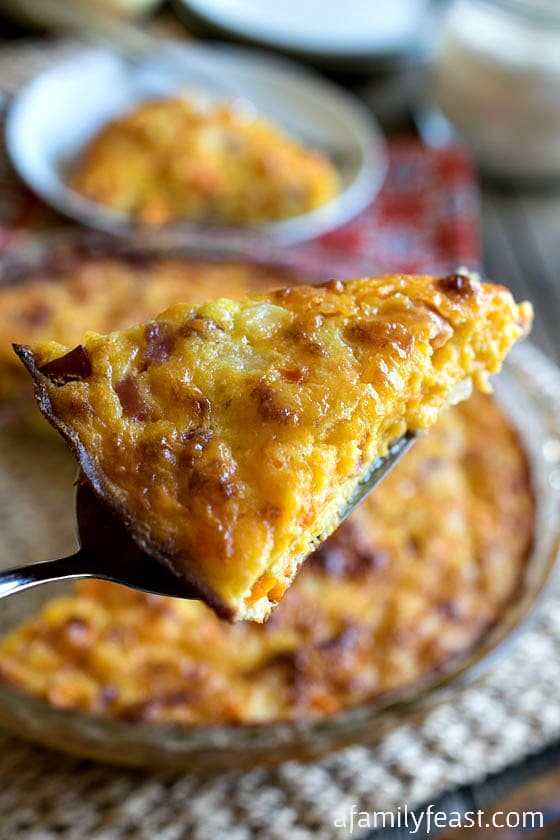 Zucchini, Ham and Rice Skillet