Our recipe for Chocolate Nutella Toffee Icebox Cake is an amped up version of the classic Nabisco Famous Chocolate Wafer icebox cake recipe that has been around for decades.
The original version is amazingly good – pillows of soft whipped cream surround and soften the chocolate wafer cookies to perfection as they chill overnight.  We've added drizzles of Nutella and sprinkles of Heath Toffee Bits among the layers to add even more delicious flavor, plus a little bit of crunch.  (Let's just agree that this is a dessert for one of those days when you aren't worried about counting calories or fat grams!)
The original recipe from the 1930's was a simple and delicious version that consisted of stacking the chocolate wafer cookies in between layers of slightly sweetened whipped cream, then turned on its side to form a log that was covered with more whipped cream before refrigerating.   Then, the folks from The Magnolia Bakery featured their version of the recipe in their terrific cookbook
, presenting it as a gorgeous layered cake – an approach that we've adapted for our version as well.
If you've never had an icebox cake – this recipe needs to go on your must-try list!  You won't be disappointed!
Print
Chocolate Nutella Toffee Icebox Cake
An amazing icebox cake made with chocolate wafer cookies, Nutella, Heath Toffee Bits, and whipped cream.
Prep Time:

30 mins

Total Time:

30 mins

Yield:

8-10 servings
Ingredients
3 cups heavy cream
1 tablespoon vanilla
1 ½ packages of Nabiso Famous Chocolate Wafers
1 cup Nutella
1 cup Heath English Toffee Bits
Instructions
Place the bowl of a stand mixer and the whisk attachment in the refrigerator until chilled. Remove the bowl and attach to your mixer and whip together heavy cream and vanilla until soft peaks form. Do not sweeten the cream.
In another bowl, microwave the Nutella on high for 20-30 seconds (depending on the strength of your microwave) then remove from the microwave and stir. You want the Nutella to be soft and runny enough to drizzle (like the consistency of hot fudge sauce) but not so hot that it is melted.
On a plate or cake pedestal, place one chocolate wafer in the center and then surround it with 6 additional wafers so you have a circle of cookies plus one in the middle. Cover the wafer layer with a ½ cup scoop of whipped cream. Using an offset spatula or the back of a large spoon, spread the whipped cream evenly to cover the wafers. Drizzle a heaping tablespoon of Nutella over the layer of whipped cream and using your offset spatula or spoon, gently blend the Nutella into the whipped cream. Sprinkle with a small layer of toffee bits.

Repeat the layers of chocolate wafers, whipped cream, Nutella and toffee bits until you have 9-10 layers, ending with a layer of whipped cream.
Garnish with a sprinkle of toffee bits and a dollop of Nutella in the center.
Refrigerate for at least 5 hours or overnight. When ready to serve, slice and serve immediately. Note: Cake may also be placed in the freezer for a more ice cream-like consistency and to make the slicing a little easier.
You may also like: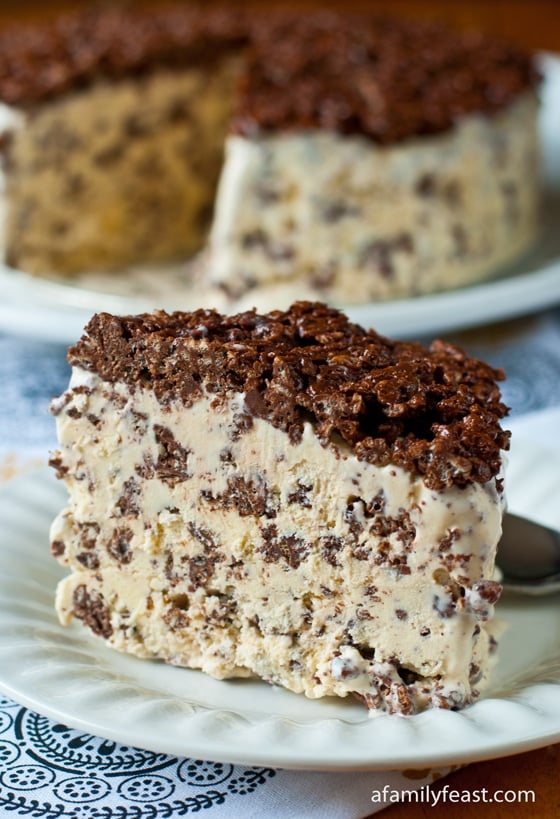 No Bake Nutella Almond Cheesecake