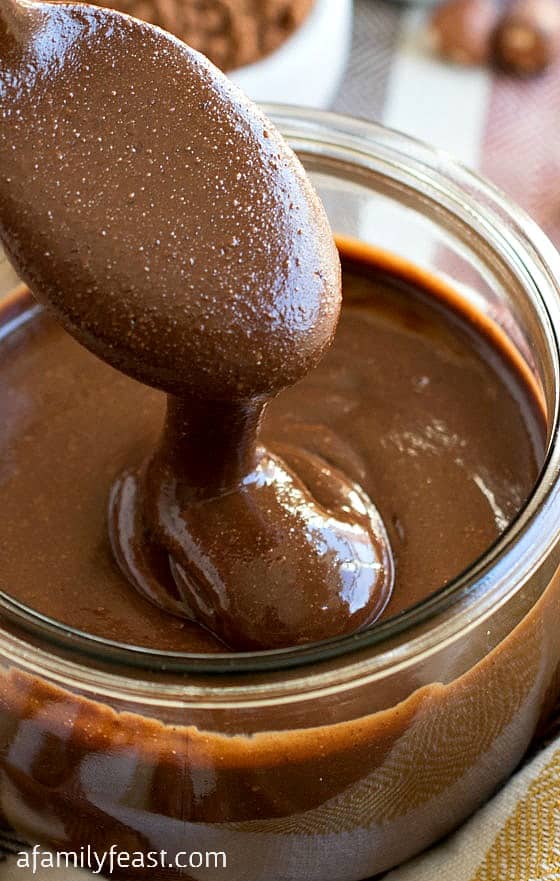 Do you ever go to the supermarket with the intent of buying a specific item – and then get home only to realize that you bought a bunch of other stuff you needed – BUT you forgot to buy that exact item you went for in the first place?
That is how this Homemade Nutella recipe came about! We had plans to make some AMAZING chocolate Hazelnut Truffles (see that recipe here) and I had planned to pick up a jar of Nutella at the grocery store – but I forgot to buy it!
We just happened to have a bag of hazelnuts in our refrigerator waiting to be used up – and some cocoa powder in the cabinet. So we thought – why not make our own homemade Nutella?
A quick search on the internet let me to this recipe from America's Test Kitchen which sounded super-easy to make and delicious…and I'm happy to report that it is VERY delicious! All you need is a food processor plus hazelnuts, powdered sugar, cocoa powder and a little bit of vanilla extract and salt!
This homemade Nutella is better than the jarred version (hard to believe – I know!) because you can really taste the hazelnut flavor in the spread and it's sweet, but not overly sweet. As written, this yummy chocolate-hazelnut spread is a softer, spoonable spread that you can drizzle over your favorite dessert or ice cream – or you can add more powdered sugar and cocoa powder so that it is thicker and better suited for spreading with a knife. (Either way – it's delicious!)
Print
Homemade Nutella
Prep Time:

15 mins

Cook Time:

14 mins

Total Time:

29 minutes

Yield:

1 1/2 cups
---
Description
As written, the finished spread is soft and creamy. If you want to make it thicker (similar to the consistency of peanut butter for example), add two additional tablespoons of cocoa powder and up to a half cup more of powdered sugar.
---
2 cups

(

8 ounce

bag) hazelnuts

1 cup

powdered sugar

1/3 cup

cocoa powder

2 tablespoons

hazelnut or walnut oil (vegetable oil may be substituted.

1 teaspoon

vanilla extract

1 teaspoon

salt
---
Instructions
Preheat oven to 375 degrees with rack in center
On a sheet pan (rimmed pan), roast hazelnuts for 14 minutes.
As soon as they come out of the oven, place in a glass or metal bowl and cover bowl with hard lid or upside down plate and shake vigorously to remove skins. You may need to keep removing the skinned nuts and continue shaking until all skins are off. At one point, I removed the nuts, discarded the pile of skins and kept shaking. It took a good two minutes of this before all or most of the skins were off. Place skinned nuts into a food processor and discard skins.
Process the nuts for five minutes, stopping several times to scrape sides. The nuts should now be a fine paste like consistency and have an oily feel.
Add all other ingredients and process again for about 2 minutes or until the mixture becomes glossy. Scrape down several times to ensure even consistency.
Cool the mixture until completely chilled. Store refrigerated in a tight fitting lid for up to a month. (Bring to room temperature before serving.)
---
You may also like: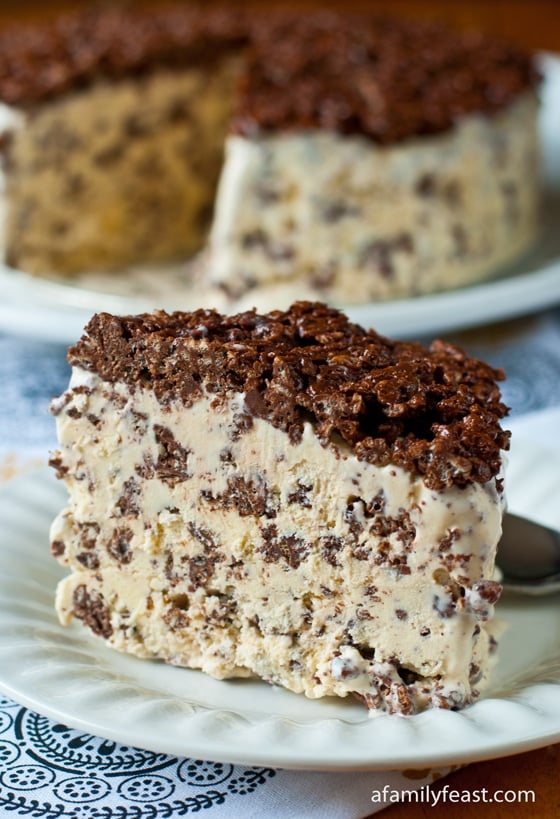 Chocolate Nutella Toffee Icebox Cake