This Spanish Chicken in Pepitoria Sauce (Pollo en Pepitoria) is a classic chicken fricassee with an incredible creamy sauce!
Every cuisine has its share of classic recipes and traditional cooking methods, and today's Chicken in Pepitoria Sauce (Pollo en Pepitoria) is a very delicious Spanish meal that you really must try.
The term 'en pepitoria' refers to the cooking method of adding ground almonds and cooked egg yolks to the braising liquid used to cook meat or poultry – and the almonds and yolks serve as a thickener while creating an incredibly rich and flavorful sauce.
This Chicken in Pepitoria Sauce is one of those recipes you should plan to make on a weekend when you have some time to spend in the kitchen. But you'll be wonderfully rewarded for your efforts – both with wonderful aromas filling your kitchen and a delicious family meal.
We started our Chicken in Pepitoria Sauce by marinating pieces of chicken overnight in white wine, garlic, extra virgin olive oil and seasonings – although this step is not traditional and can be skipped if you prefer. But we think that this extra step yields super juicy chicken.
Next, we seared the chicken until golden. Then we nestled the chicken pieces in a Dutch oven along with a sauce made from onions, tomatoes, sherry, a variety of spices including saffron, plus the almonds and egg yolks and some bread cubes (which also help to thicken the sauce and lend a creamy texture). The entire pot goes in the oven to braise – and the resulting dish is tender and extremely delicious with a Mediterranean-inspired flavor profile.
To serve your Chicken in Pepitoria Sauce, place the cooked chicken on a platter and sprinkle chopped eggs whites (leftover from the egg yolks you used in the sauce) plus some fresh chopped parsley.
Finally, you'll want to serve each portion of your Chicken in Pepitoria Sauce with some slices of crusty bread to sop up that delicious sauce!
You may also like:
Disclosure: This post contains affiliate links.


Print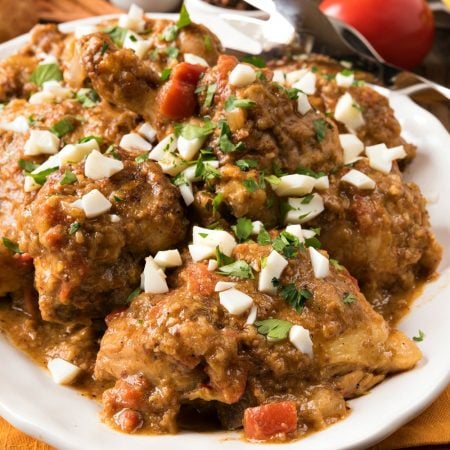 Chicken in Pepitoria Sauce (Pollo en Pepitoria)
Author:

Prep Time:

8 hours 45 minutes

Cook Time:

90 minutes

Total Time:

10 hours 15 minutes

Yield:

4-6 servings

Category:

entree

Method:

baked

Cuisine:

Spanish
---
Description
The easiest way to make this dish is to measure out and prepare all of the ingredients ahead of time to make the cooking process go faster.
---
Marinade
1 cup white wine
1 tablespoon fresh garlic minced
1 tablespoon kosher salt
2 teaspoons dry oregano
1 teaspoon ground pimenta moida, *see note below for a substitution
½ teaspoon freshly ground black pepper
¼ cup extra virgin olive oil
Other Ingredients
4–5 pounds bone in, skin on chicken thighs and drumsticks (I bought chicken leg quarters and separated the thigh from the drumstick)
½ cup all-purpose flour
1 teaspoon kosher salt
1 teaspoon freshly ground black pepper
1 tablespoon white vinegar
2 whole eggs left in shell, room temperature
½ cup slivered or sliced almonds
¼ cup extra virgin olive oil
1 cup crusty bread cut into 1" cubes
4 whole peeled medium garlic cloves
2 cups chicken stock, divided
¼ cup extra virgin olive oil plus 2 tablespoons, divided
1 ½ cups onion, diced (about a medium to large onion)
4 fresh plum tomatoes, core removed and diced
1 teaspoon freshly ground black pepper
1 teaspoon ground cinnamon
¼ teaspoon ground cloves
1 large bay leaf
¾ cup dry sherry
1 pinch saffron
Chopped fresh parsley for garnish
---
Instructions
Optional step…The night before, make the marinade by combining the wine, garlic, salt, oregano, pimenta moida, pepper and olive oil. Place the chicken thighs and drumsticks in a gallon zip lock bag and pour in the marinade. Marinate overnight up to 24 hours. After marinating, remove chicken from the bag and discard the marinade.
In a large bowl, mix flour, salt and pepper and lightly coat all sides of each piece of chicken. Set the breaded chicken aside on a plate until needed later.
Bring a small pan of water to a boil and add the vinegar then carefully lower the two eggs into the water and set the timer for five minutes. After five minutes of boiling, turn off burner and let eggs sit in the water for 15 minutes. After 15 minutes, drain water, shake pan to crack shells then peel under running water. Separate the white from the yolks and set both aside.
Preheat oven to 325 degrees F and arrange racks for a large Dutch oven with a lid.
In a large dry sauté pan, over medium heat, place the almonds and dry toast to brown, about five minutes. Remove the almonds to a food processor or blender.
Use the same pan over medium high and add ¼ cup of olive oil. Once hot, add the bread cubes and the whole garlic and cook to brown both, about 4-5 minutes. Add these to the food processor with the almonds and the two cooked egg yolks, saving the whites for garnish.
Add one cup of the chicken stock to the blender or food processor and puree to a rough consistency. The finished texture should be a little grainy. Set this aside for later.
In a large heavy bottomed pot or Dutch oven that has an oven proof lid, heat the quarter cup of olive oil over medium high and once hot, add half the chicken and brown 2-3 minutes on both sides. Remove to a platter and cook the second half of the chicken.
Discard oil and wipe the pan with a paper towel being careful not to burn yourself.
Place back over medium high heat and add the two tablespoons of olive oil.
Once hot add the onions and sauté three minutes then add the tomatoes, pepper, ground cinnamon, ground cloves and the bay leaf and cook for three more minutes.
Add the sherry and saffron and cook to evaporate most of the sherry.
Add the remaining cup of chicken stock and the pureed bread and garlic mixture from earlier and stir to combine.
Nestle the seared chicken pieces into the sauce, leaving the tops of the pieces exposed. Put on lid and place in the oven for one hour.
After one hour, remove chicken pieces to a platter and serve some of the sauce over the chicken and some on the side.
Take the cooked egg whites and chop and serve over the platter with chopped fresh parsley.
Serve with plenty of crusty bread.
---
Notes
*Pimenta moida is a uniquely flavored spicy pepper. It is used quite frequently in southern states of the US, in Spanish and Portuguese cuisine and is available in most supermarkets in the relish section. If you don't want to buy a full jar just for this dish, substitute another hot pepper paste.