Chicken Exquisito has super tender breaded chicken topped with cheese, and served with sauce made from butter, brandy, and marsala wine.
Last month, we received an email from a reader named Jerry who lives in the Boston area (like we do), asking if we had a recipe for Chicken Exquisito. He explained that it was a dish he'd love to make for his mother, but he'd never found a recipe online to follow.
What is Chicken Exquisito?
After a quick online search, we learned that Chicken Exquisito is "thinly sliced chicken breast lightly dipped in an egg batter pan fried then finished in a Marsala wine and brandy sauce topped with mozzarella." It is served at a restaurant in the North End Italian neighborhood of Boston, called Mother Anna's.
Additionally, Chicken Exquisito is served at a restaurant in Randolph, Massachusetts called La Scala – which is the sister restaurant to Mother Anna's.
Out of sheer coincidence – the same day we received Jerry's email – we had been out school shopping and had driven right by the exit to get to La Scala where I had just suggested to Jack that we eat there for dinner one night. So – we HAD to go!
The following week, we ate at La Scala where I ordered their Chicken Exquisito – and also asked our waitress how it was prepared.
It is very similar to a chicken marsala with melted cheese on top, but no mushrooms. The pan sauce was quite sweet from both the marsala wine and brandy, and mixed with melted butter, it had a nice silky-smooth feel.
Jack immediately set out to make Chicken Exquisito at home, especially so we could email the recipe in advance to Jerry. I think this version today is pretty close, except the sauce is not as sweet (which I actually preferred).
Since the sweetness comes from the marsala and brandy – it's possible that the difference is solely in the brands of liquor used, as well as the quantities vs. what we listed in the recipe below.
The reviews are in!
But the real test was…did Jerry's mother enjoy the recipe? She did! Jerry wrote back to us to say, "I made it last night for my wife and parents. They loved it…"
And, Jerry's wife agrees that our version is not as sweet – so feel free to adjust the quantities of liquor in the sauce to suit your tastes.
Enjoy!
You may enjoy these other chicken recipes:
Print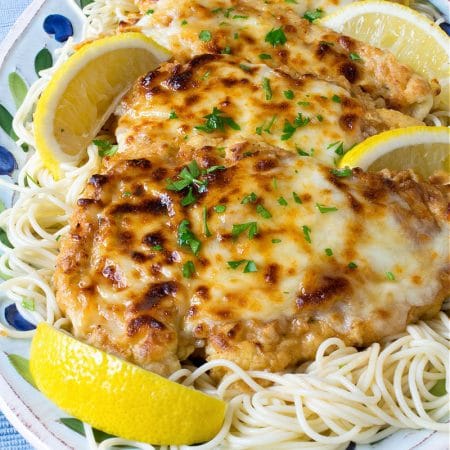 Chicken Exquisito
Author:

Prep Time:

30 minutes

Cook Time:

30 minutes

Total Time:

1 hour

Yield:

8 servings

Category:

entree

Method:

fried, baked

Cuisine:

Italian
---
1 pound pasta (use your favorite, we used vermicelli)
3 – 3 ½ pounds boneless skinless chicken breast halves
1 ½ teaspoons kosher salt
½ teaspoon freshly ground black pepper
2 cups all-purpose flour
6 large eggs
¼ cup whole milk
9 tablespoons extra virgin olive oil, divided
7 tablespoons cold butter, divided
2 tablespoons fresh garlic, finely minced
½ cup good quality brandy
1 cup good quality sweet Marsala wine
1 cup low sodium chicken stock
3 cups shredded mozzarella cheese
¼ cup fresh parsley, chopped for garnish
1 lemon, cut into 8 wedges, for garnish
---
Instructions
If you are serving this dish with pasta, cook that now according to box directions, cool in cold water and hold in the cold water until ready for serving.
Preheat oven to 200 degrees F to keep chicken warm as you fry.
On a large cutting board, butterfly each chicken breast half wide open and then cut each butterflied breast half into two even portions. Four breast halves will yield eight portions.
Pound each breast to about ¼ inch thick and salt and pepper both sides.
In a large flat bowl or container, place flour.
In another large flat bowl or container, beat eggs and milk.
One breast piece at a time, dip in flour, shake excess, dip in egg, shake excess, then back into the flour. Press the flour on this last dredge, shake excess and place back on your cutting board.
In a large heavy skillet, raise heat to medium high and add four tablespoons of the olive oil.
Have a large sheet tray standing by.
Once the oil is shimmering, cook three pieces of breaded chicken not touching each other for two minutes per side. Move to the waiting pan and place in the oven.
Add two more tablespoons of oil and cook three more pieces and again move to the waiting pan and back into the oven.
Finally add two more tablespoons of oil and cook the last two pieces of chicken and again, move to the waiting pan in the oven.
Turn the burner off under your pan and with a big handful of paper towels, wipe out the inside of the pan to get up all of the scorched flour that collected there. Be careful not to touch the pan.
Add one tablespoon of olive oil and one tablespoon of butter to the pan without turning on the burner. The residual heat will be enough, if not turn to medium low. Add the garlic and cook one minute with the burner off or on the lower temperature.
Pour in both the brandy and the marsala with the burner off to avoid a flare-up, then turn the burner to medium high and cook to reduce to ½ cup, about five minutes.
Add the chicken stock, bring to a boil and simmer on medium low for five minutes.
Turn the burner off and add the six tablespoons of cold butter and stir to melt into the sauce.
Remove the chicken from the oven and set your oven to broil.
Pour the sauce all over the cooked chicken and divide the mozzarella over the tops and between the eight pieces of chicken.
Reheat your pasta.
Place the chicken under the broiler and broil to melt and brown the cheese, about two minutes.
Serve with the drained pasta and with the fresh parsley sprinkled over each piece along with a lemon wedge served with each portion.
Keywords: Chicken Exquisito, copycat Chicken Exquisito