Chicken Parmesan is a classic, delicious dish that everyone should have in their recipe collection!
After more than five years of blogging here at A Family Feast, it's safe to say that we are long overdue sharing this delicious Chicken Parmesan recipe with all of you!
I'm also going to confess something: This is actually our fourth attempt at making and photographing Chicken Parmesan for you! You see, the funny thing about food blogging is that sometimes, Jack and I get carried away, thinking that we need to come up with a new, creative version of a classic recipe so our version stands out among the rest of the recipes you can find online.
Sure, sometimes a new twist on a classic can be a good thing – but after four attempts – we decided that the tried and true, classic Chicken Parmesan recipe really is the best! It is simple, quick to prepare, and (of course) absolutely delicious!
How do you make Chicken Parmesan?
To make our Chicken Parmesan, you'll start with boneless, skinless chicken breasts that have been butterflied and pounded flat to a ¼-inch thickness. (A meat pounder like this works great.)
Then, dredge the chicken in some seasoned flour, dip in an egg wash, then coat with some seasoned Italian bread crumbs. (*See our helpful tips below.)  Fry until just slightly browned (the chicken will cook the rest of the way through in the oven) and lay each chicken breast flat in a baking pan.
Sprinkle each breast with Parmesan cheese, top with a spoonful of tomato sauce, then lay slices of fresh mozzarella cheese on top. Bake until the cheese is melted and the chicken is cooked through.  (If you like your mozzarella cheese slightly caramelized on top like we do – you can place the baking pan under the broiler for a minute or so until the cheese is hot, bubbly and golden.)
How do you serve Chicken Parmesan?
We served our Chicken Parmesan over cooked spaghetti and with some extra tomato sauce and extra grated Parmesan cheese. But you can serve it over any pasta you prefer – or make a Chicken Parmesan sub or sandwich with these Chicken Parmesan cutlets instead. Served either way – this Chicken Parmesan is one delicious meal!
*Helpful Tips:
1. When coating the chicken before frying, use a fork to move the chicken breasts through each breading station to avoid breading build-up on your fingers.
2. When frying the coated chicken breasts, an oil temperature of exactly 350 degrees F is ideal. Use a candy thermometer to measure the oil temperature and allow it recover/reheat back to 350 degrees F between batches.
3. Always buy Parmesan cheese in wedges and grate as needed for the best flavor. Never grate cheese ahead of time.
You may like these other classic Italian recipes:
Print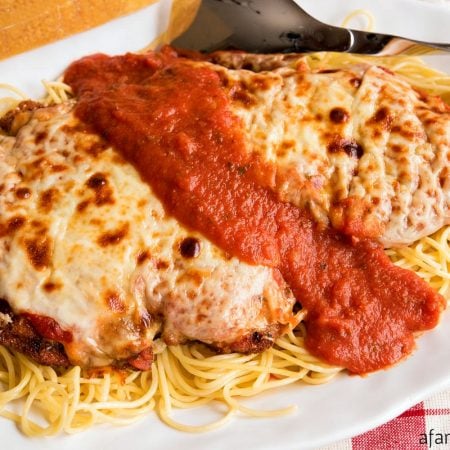 Chicken Parmesan
Prep Time:

20 minutes

Cook Time:

20 minutes

Total Time:

40 minutes

Yield:

4 servings

Category:

entree

Method:

fried, baked

Cuisine:

Italian
---
1½ pounds boneless skinless chicken breasts (either four small or two large breasts)
½ cup all-purpose flour
1 teaspoon kosher salt
½ teaspoon freshly ground black pepper
2 whole eggs
¼ cup light cream or half & half
1 cup seasoned Italian bread crumbs
2 quarts your favorite tomato sauce, see our recipe here
2 cups freshly grated Parmesan cheese, plus more for serving
½ pound sliced mozzarella cheese (8 slices)
1 pound dry spaghetti or other favorite pasta
Vegetable oil, for frying
---
Instructions
If using four small breasts halves, lay each between two pieces of plastic wrap and pound to about ¼ inch thick. If using two breast halves, butterfly each to open the breast up, cut in half to yield two portions per breast half, or four pieces, then pound out to about ¼ inch thick.
To butterfly a chick breast, with a very sharp knife and the chicken breast flat on your board (the side that had the skin facing down), turn the knife blade on its side and cut into the thickest part but don't go all the way to the end. Basically, you are cutting a flap which you will then fold open. Repeat for the other side of that same breast half so when you are finished, both flaps open up like butterfly wings. Once it is in that shape, then you can gauge where to cut to divide into two portions. Repeat for both breast halves then pound to ¼ inch thick.
Preheat oven to 375 degrees F.
Place a pot of water on to boil for the spaghetti.
In a pie plate, mix flour, salt and pepper.
In a medium bowl beat eggs with cream.
In a third pie plate place bread crumbs.
Pick each piece up one at a time with a fork and dip in flour, then shake, dip in egg and then in bread crumbs, making sure they are fully coated. Lay each breaded piece on a platter or on your board.
Have the tomato sauce heated and standing by.
In a cast iron skillet, heat about an inch of oil to 350 degrees F.
Once hot, lay in two breaded pieces and fry on both sides, about 2-3 minutes total or just until browned. Remove with tongs to paper towels to drain and sprinkle on a little salt. Lay these in a casserole or roasting pan (ours was 11×14-inches).
Once oil has recovered back to 350 degrees F, cook the second two pieces and again drain, salt and place in the baking pan.
Sprinkle ½ cup of Parmesan cheese over each piece, then one cup of sauce per piece over the Parmesan, then finally top each with two slices of mozzarella cheese per piece. (Don't sauce the bottom of the pan first to keep the pieces crispy).
Place uncovered in the preheated oven and bake for 15 minutes.
While chicken is cooking, cook the spaghetti according to the box directions.
After 15 minutes, move the pan of chicken to the broiler and broil just long enough to brown the tops. (Ours took less than a minute to brown.)
Serve the chicken with spaghetti, sauce and a little extra Parmesan cheese.
Keywords: Chicken Parmesan