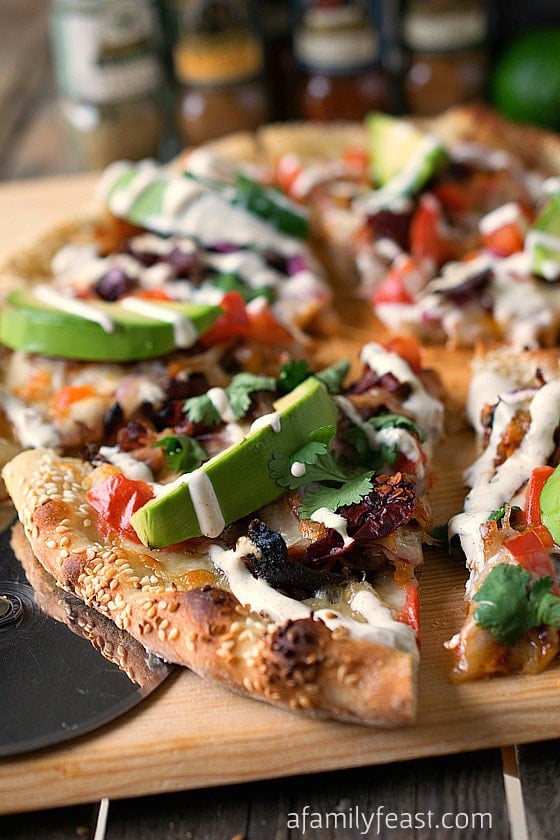 This post is sponsored by McCormick. All opinions are 100% my own.

We're back today with another fun recipe challenge thanks to McCormick Spices! For today's post, we were asked to come up with a 'Modern Mexican' recipe – putting a new spin on some classic Mexican dishes! We love coming up with original new recipes, and McCormick always gives us great inspiration thanks to their delicious Gourmet line of spices and seasonings!
Today's recipe is a Cemita Pulled Pork Pizza – a twist on the classic, Mexican cemita sandwich! The cemita, also known as cemita poblana, is a classic sandwich from the city (and region) of Puebla, Mexico and it's named after the sesame seed roll on which it is typically served. Traditionally, this sandwich also includes sliced avocado, meat, a white cheese (called panela) which resembles fresh mozzarella, onions, herbs and a red sauce.
For our cemita pulled pork pizza, we took the commonly used flavors and ingredients of a cemita sandwich – and turned it into a pizza with layer upon layer of fantastic zesty flavors!
First – we brined a pork butt in a wonderful blend of McCormick Spices including their Gourmet Southwest Blend
, Italian Seasoning
, Roasted Ground Cumin
, Freshly Ground Black Pepper
, Ground Cloves
, California Garlic Powder
, Saigon Cinnamon
and Smoked Paprika
. Brining is the perfect treatment for pork because it ensures that the pork will stay super moist during the roasting process – plus it's a great way to add additional flavor! Then we roasted our pork low-and-slow in the oven covered in a spice rub – also made from some of McCormick's wonderful spices!
And while the pork cooked, we made a wonderful lime and coriander
crema – a seasoned, creamy white sauce that adds great flavor, plus it's the perfect cool complement to the other zesty flavors in this pizza!
Once the pork was done – it was time to assemble our cemita pulled pork pizza. First we slathered that lime and coriander crema onto a sesame seed
-coated pizza dough (a nod to the original sesame bread of the original cemita sandwich)! Then we layered on a generous helping of tender pulled pork, fresh diced tomato, sliced red onion, zesty chipotle peppers in adobo sauce, and cheese, then baked the pizza in the oven until the crust was golden and crispy and the cheese melted!
After our cemita pizza came out of the oven – we loaded it up with fresh avocados, fresh cilantro and another generous drizzle of that cool lime-coriander crema!
This cemita pulled pork pizza is a delicious twist on classic Mexican sandwich that everyone will love! And – by the way – you will have leftover pulled pork from this recipe which you can use to make sandwiches, tacos, quesadillas or any of your favorite Mexican-inspired dishes!
Print
Cemita Pulled Pork Pizza
Prep Time:

8 hours

Cook Time:

10 hours 18 mins

Total Time:

18 hours 18 minutes

Yield:

Two 13-inch pizzas (plus additional pulled pork which can be used in other recipes.)
---
Description
Note: Prep time listed includes time required to brine the pork before roasting. Also note: This pizza is made with chipotle peppers. If you have never had these before, please be aware that chipotle peppers in adobo sauce are about as hot as you get! If you can stand the heat, they are great on this pizza, but if you prefer a milder pepper (like my New England taste buds prefer), soak dried pasilla peppers (found at many local supermarkets) in boiling water for two minutes. Seed and stem and use as described in the recipe.
---
Ingredients
For the Brine
For the Dry Rub
For the Lime-Coriander Crema
To Prepare the Pizza
20 ounce

s Pizza dough (see our recipe here or your favorite store-bought pizza dough)

¼ cup

McCormick Gourmet Sesame Seeds
Flour for dusting
Corn meal for dusting

3 cup

s shredded Italian Scamorza cheese, or Mexican Oaxacan cheese. (Note – These cheeses are typically sold in solid form, about

1 ½

pounds in weight. If you can't find these types of cheeses, a standard mozzarella cheese may be substituted)

1

fresh tomato, seeded and diced

½

small red onion, sliced

1

can of canned chipotle peppers in adobo sauce seeded and cut into strips. Or for less heat, dried pasilla peppers, reconstituted and chopped or shredded. (See note above.)

1

Haas avocado, sliced into

12

slices

½ cup

cilantro leaves
---
Instructions
Place pork in a gallon zip lock bag and add all brine ingredients. Brine pork overnight or at least 8 hours.
The next morning drain and discard brine.
If you are using our pizza dough (see recipe here), that should be placed in the refrigerator overnight to work the gluten. If you are using store bought dough, pull to room temperature just before using.
Preheat oven to 225 degrees.
Mix dry rub and coat the roast. Place pork roast in a foil lined roasting pan, fat side up with 1 quart of water and roast uncovered for 8 hours or until internal temperature reaches 200 degrees. (A probe thermometer is very useful for this.) Cover with foil, shut oven off and leave in the oven for 2 hours more until the internal temperature of the roast reduces to 175 degrees.
If you are using our pizza dough, pull to room temperature two hours before making the pizza. If you are using store bought, pull to room temperature just before you prepare the pizza.
Use two forks and shred the pulled pork and set aside.
While the roast is cooking, prepare all of the toppings.
Mix the crema ingredients and place half in a squirt bottle. Place the other half in a bowl which will be used as a pizza sauce. Set aside.
Place a pizza stone in the oven and turn heat to the hottest it can go. Most can go as high as 550 degrees.
On a floured surface, divide dough into two balls and work into circles 13 inches wide leaving a high ridge on the outside. While still on your counter, brush the edges with water and sprinkle the sesame seeds.
Lift one of the circles onto the peel which has been dusted with corn meal.
Spoon half of the bowl of crema over the dough, 1 ½ cups pulled pork, half the shredded cheese, half the diced tomatoes, half the sliced red onion and enough hot or mild peppers to your liking.
Slide onto the pizza stone and cook 7-9 minutes, checking after 7 minutes for doneness. While the pizza is cooking, prepare the second pizza.
Using tongs, slide the cooked pizza out onto a pizza pan or cookie sheet and then onto your cutting board. Then slide the second pizza from the peel onto the stone and repeat.
After the pizza's are cut into 6 each, place an avocado slice on each slice, sprinkle with cilantro and drizzle the crema over each whole pizza.
---
Disclosure: This post contains affiliate links.
You may also like these other recipes featuring McCormick's delicious spices:
Garlic Lemon Shrimp with Savory Root Vegetable Rice Pilaf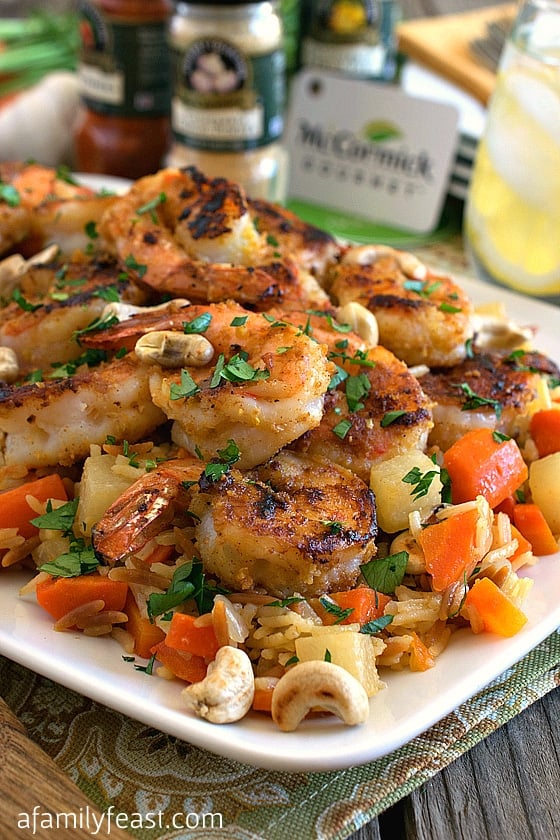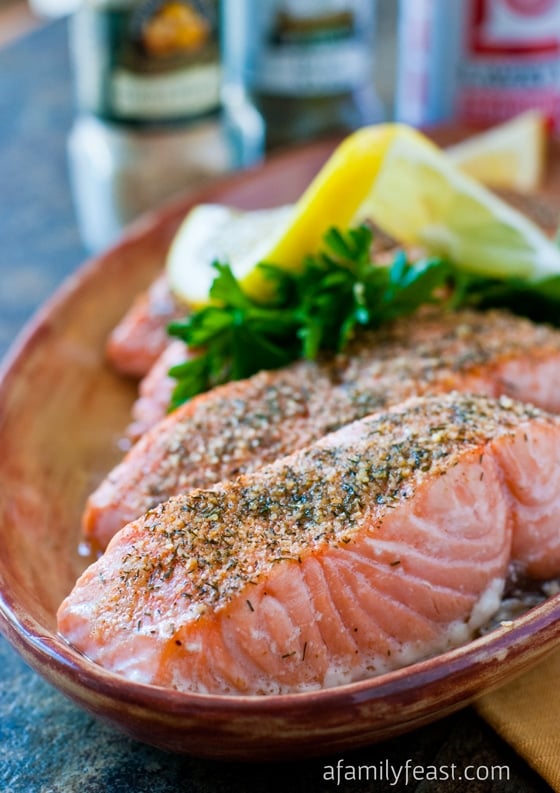 Kale and Shiitake Mushroom Soup with Ginger Sesame Lavash Soup