This post is sponsored by McCormick Gourmet as part of their Go 4 Gourmet recipe challenge.
Today's recipe for Kale and Shiitake Mushroom Soup with Ginger Sesame Lavash Crackers was developed as our submission to the Go 4 Gourmet recipe challenge which we were invited to participate in by McCormick Gourmet – and we're so excited to share this terrific recipe with all of you today!
McCormick Gourmet is a delicious line of herbs and spices designed to help bring out the gourmet cook in all of us! As you may remember, my husband Jack and I are long-time, McCormick Spice fans (you can see our kitchen cupboard filled with McCormick spices here) so we were thrilled to be asked to be part of their recipe contest!
This fall, McCormick Gourmet has been challenging cooks of all levels and abilities to submit a recipe at Go 4 Gourmet using the specified ingredients, including McCormick Gourmet spices – and great gourmet prizes are up for grabs as well as your chance to be featured on McCormickGourmet.com!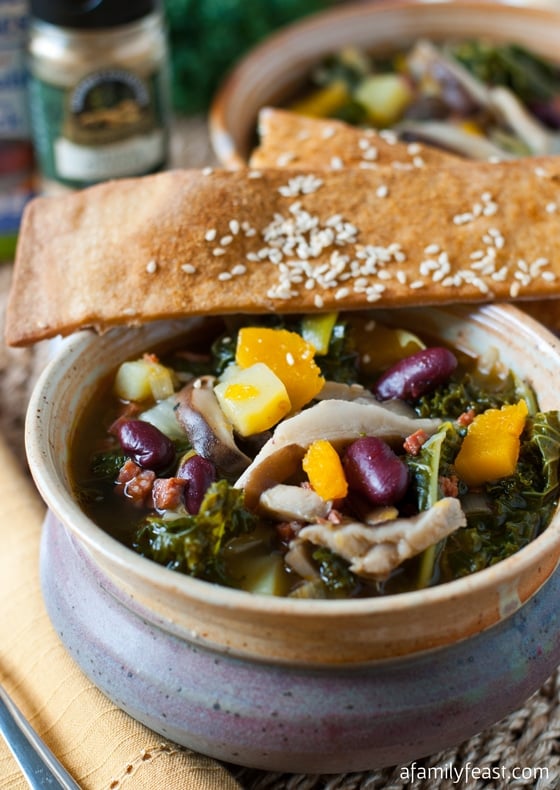 The challenge requirements for this phase, which inspired our recipe today, asked for a recipe using Shiitake mushrooms, kale, vegetable stock and McCormick Gourmet ground ginger – all ingredients that we love and cook with often! We wanted to make sure that we came up with a dish that allowed the wonderful flavors of the McCormick Gourmet ground ginger to shine – while still using all of the other ingredients. So we decided upon a hearty Kale and Shittake Mushroom Soup paired with some fantastic Ginger Sesame Lavash Crackers!
This recipe is really quite simple! The soup is a hearty collection of kale, Shiitake mushrooms, cremini mushrooms, leeks, bok choy, butternut squash, potato and beans. If you wanted to make this a vegetarian recipe you can stop there – but we also added chourico, a spicy Portuguese sausage that adds a ton of flavor (as well as a little bit of heat) to the soup! Most of the work in this soup recipe is chopping the vegetables – but once that is done, it only takes about 20 minutes to cook.
Then – the soup is paired with some delicious ginger sesame lavash crackers – a crisp and light cracker that is a really wonderful complement to the soup!
You don't need to be an expert baker to make lavash crackers because the dough is very easy to make! Then roll out your dough…sprinkle on your McCormick Gourmet ground ginger and sesame seeds…cut it into strips…
…and then bake the crackers in the oven until crispy and golden brown. These ginger sesame lavash crackers are so delicious, we've been snacking on them in between meals!
So – what are you waiting for? Go get your gourmet on and join the fun over at the Go 4 Gourmet and create a recipe of your own for the next recipe challenge!
Here's that delicious recipe:
Print
Kale and Shiitake Mushroom Soup with Ginger Sesame Lavash Crackers
Prep Time:

90 mins

Cook Time:

20 mins

Total Time:

1 hour 50 minutes

Yield:

8-10 servings
---
Description
Note: The cracker dough, once mixed need 90 minutes to proof. Once proofed, rolled and ready to bake, plan to cook the soup just as the crackers are going in the oven to bake. (They both take about the same time to cook.) Alternately, the crackers may also be baked in advance.
---
For the Crackers
1 ½ cups

flour

½ teaspoon

salt

2 tablespoons

McCormick Gourmet ground ginger, divided

½ teaspoon

active dry yeast

1 tablespoon

agave nectar

1 tablespoon

vegetable oil

½ cup

room temperature water

2 tablespoons

sesame seeds

1 tablespoon

Kosher salt
For the Soup
3 tablespoons

extra virgin olive oil

2 cups

leeks, white part only, cleaned and chopped

1 cup

bok choy, white part only, chopped

1

pound chourico, chopped or ground or, you may also use linguica or chorizo for a less-spicy version

8 ounces

shiitake mushrooms sliced

8 ounces

cremini mushrooms, sliced

1

large garlic clove minced

6 ounces

(in weight) kale leaves removed from stems, roughly chopped (after kale is removed from stems and chopped, it should fill about a

two quart

dish in volume, not packed)

2 cups

butternut squash, peeled and sliced

1 cup

yellow potato, peeled and diced

2 quarts

vegetable stock

1

15-ounce can kidney beans, drained and rinsed
---
Instructions
To prepare the Lavash Crackers:
In a medium bowl, mix flour, salt, 1 tablespoon of McCormick Gourmet ground ginger, yeast, agave and oil. Add water slowly until mixture is a firm but a pliable dough similar in feel to a pizza dough, but slightly stiffer. You may not need all of the water. Knead for ten minutes, cover with plastic and a towel and let proof 90 minutes in a warm place. Alternatively, you can put the dough in the refrigerator and let sit overnight then bring to room temperature and continue with recipe.
Preheat oven to 350 degrees. Cut the dough in half and then roll out each half paper thin on a floured surface in the shape of a rectangle. This will require a few rest periods while the gluten relaxes. Let rest for a few minutes one last time before transferring to each pan. Each rectangle should then fit in a parchment lined half sheet pan (12X16 ½). The dough does not have to touch the sides but does need to be really thin to get a cracker consistency when baked. If it hangs over, trim the edges.
Mist each dough rectangle with water and then sprinkle about 1 tablespoon of sesame seeds over each pan. Then sprinkle the remaining tablespoon of McCormick Gourmet ground ginger divided between the two pans and top with the Kosher salt divided between the two pans. Each pan should have one tablespoon of sesame seeds, ½ tablespoon ginger and ½ tablespoon Kosher salt. Then with a pizza wheel or sharp knife, make random cuts and slices. Don't worry about perfection, these should be rustic looking and not evenly cut. Also don't worry about cutting all the way through. Once they bake, they will snap at the seams.
Spray a tiny mist of pan spray over the tops just so the sesame seeds and ginger stick while baking. Bake for 15 to 20 minutes until browned and crispy. Let cool on pans for five minutes before removing. Leave in long strips or snap into random-sized pieces for a rustic look.
To prepare the Soup:
In a large Dutch oven, heat olive oil over medium heat and add in leeks, bok choy and chourico. Sauté this mixture for three minutes. Add both mushrooms and garlic and sauté for two more minutes. Add kale, squash, potatoes and stock and bring to a boil. Simmer covered for 15 minutes. Add kidney beans and cook for five more minutes covered.
Serve soup in bowls with ginger sesame lavash crackers.
---
You may also like:
Garlic Lemon Shrimp with Savory Root Vegetable Rice Pilaf