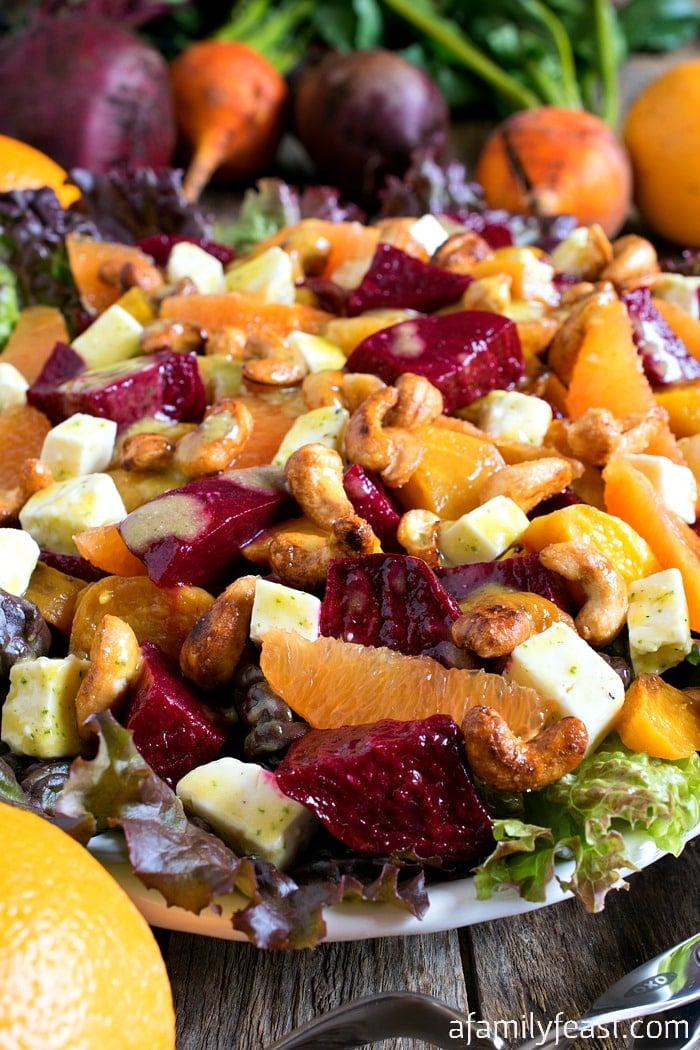 This gorgeous Cara Cara Beet Salad combines some of our favorite fresh produce and turns it into one amazing salad!
Over the last few months, my husband Jack has eaten more Cara Cara oranges than I can count.  Any time we shop at the supermarket, Jack buys more Cara Caras oranges!
I, on the other hand, have a similar addiction to fresh beets! Red or golden beets – it doesn't matter to me – I buy them.  And, every time I see a beet salad on the menu at a restaurant, I order it. So today's Cara Cara Beet Salad is a salad that makes both of us very happy – and I think you'll love it too!
The combination of fresh oranges and beets together is a remarkably delicious flavor pairing!  Cara Cara oranges are a type of naval orange with a deep pinkish flesh inside that is super juicy and sweet. That citrus flavor also happens to be a wonderful complement to the caramelized sweetness of roasted beets.  In today's recipe we made a vinaigrette using the Cara Cara juices, as well as placing slices of the oranges among the gold and red beets in the salad.
We finished our Cara Cara Beet Salad with diced Queso Panela – a cow's milk cheese that resembles feta cheese without the brine.  We marinated the cheese in the orange dressing before adding it to the salad. And finally, for some additional sweetness and crunch, we topped our Cara Cara Beet Salad with some Candied Cashews (you can find the recipe here) giving the salad great texture.
Print
Cara Cara Beet Salad
Prep Time:

8 hours

Cook Time:

45 mins

Total Time:

8 hours 45 minutes

Yield:

4-6 servings
---
Description
Note: This dish requires some items to sit overnight. All of the ingredients can be prepared the day before then just assembled for service. However it can also be prepped same day and served later in the day. Also, Cara Cara oranges are used several times in this recipe. Total needed to purchase is about 9 or 10 depending on the size. Ours were a bit small and we used 10, however I have seen these sold much larger in size and that case. 8-9 will be enough.
---
¼ cup

fresh squeezed Cara Cara juice, about

one

medium orange, strained of pulp

1 tablespoon

Dijon mustard

1 teaspoon

honey

1 tablespoon

chopped cilantro

½ cup

light tasting oil such as canola or a light olive oil (Do not use extra virgin olive oil)

4 ounces

cow's milk cheese (There is an available Mexican version called Queso Panela found in most markets)

2 ½

pounds red and gold beets (any combination)

½ cup

fresh squeezed Cara Cara juice, about

2

oranges

¼ cup

light tasting oil such as canola or a light olive oil (Do not use extra virgin olive oil)

½ teaspoon

kosher salt

¼ teaspoon

freshly ground black pepper

½ cup

fresh squeezed Cara Cara juice, about

2

oranges, strained of pulp

2 tablespoons

granulated sugar

1

head leafy greens such as red leaf lettuce or Boston lettuce, washed and torn

4

additional Cara Cara oranges cut into wedges, see below.
---
Instructions
To prepare the oranges, slice off the bottom of an orange so it sits without rolling. With a sharp knife, slice off skin by cutting down from center around outside skin, cutting right down to the flesh.
With that same sharp knife, cut out the wedges by running the knife around each segment and lifting them out. When done, all that should be left are the membranes connected to the core. I'm not recommending that you hold the orange in your hand and cut down into each segment towards your hand, but it is easier and if you are skilled with a knife, you can do that but for safety, place the orange on your board and cut down into each segment that way.
Four hours before service or overnight, make dressing by straining the juice of one orange through a strainer which should yield ¼ cup of pulp free juice.
Add mustard, honey, cilantro and oil and using an immersion blender or a blender or a food processor, blend until a creamy dressing has formed, about 30 seconds.
Cube the cheese into small ½ inch cubes and combine with the dressing. Let sit refrigerated to marinate for at least four hours or overnight.
Preheat the oven to 425 degrees F.
Note: Because the red beets bleed into other foods, keep the two types of beets separated until ready for service.
Peel beets and cut into pieces a little larger than bite sized. Keep two beet types separate. Place each beet type in its own bowl.
In a small bowl mix the ½ cup of orange juice, the ¼ cup of oil, salt and pepper. Pour half the mixture over each beet.
Using two small sheet trays place each beet with the cooking liquid on their own pans and roast for 45 minutes, flipping once or twice through roasting.
Prepare two small storage containers with lids to marinate the beets in.
Mix the half cup of the strained Cara Cara juice with the two tablespoons of sugar and pour half into each container.
As soon as the beets come out of the oven, place each into their own containers, cover and refrigerate four hours or overnight.
While beets are roasting, prepare candied cashews (Recipe here).
Once ready for service, place a strainer over a bowl and pour out the cheese with the dressing. Use a spoon and gently toss the cheese so that the dressing drains to the waiting bowl.
Drain each beet the same way except discard beet liquid.
Line a platter or individual plates with the torn lettuce.
Then arrange in any order you wish, red beets, gold beets and orange segments. Top with the marinated cheese.
Dob the top of the salad with the dressing that drained from the cheese and top with candied cashews.
---
You may also like:
Mixed Greens with Prosciutto and Cantaloupe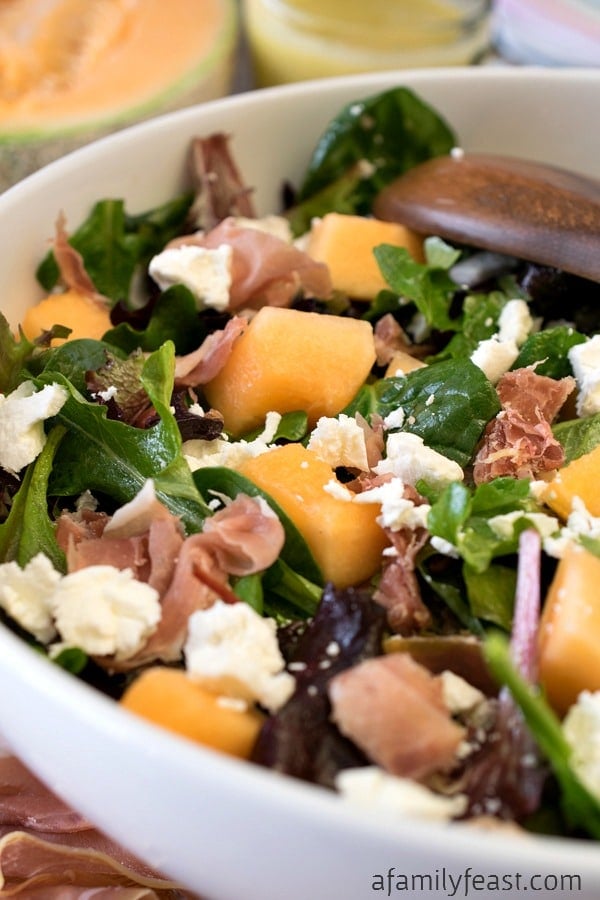 Quinoa Salad with Pecans, Oranges and Currants