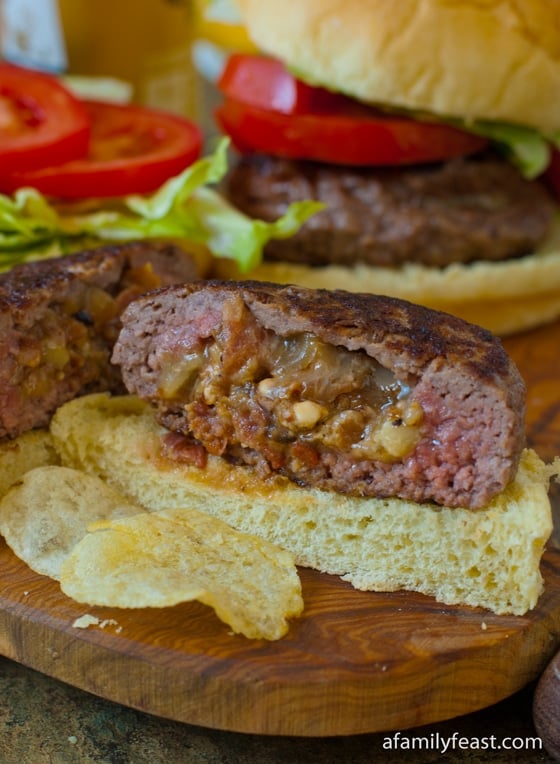 As food bloggers, it probably won't surprise you to learn that, on evenings when Jack and I are relaxing and we turn on the television – more often than not, we're watching either the Food Network or the Cooking Channel.  The other night, we were watching a show that featured a restaurant famous for its stuffed hamburgers – and that show was the inspiration behind our Bacon and Blue Cheese Stuffed Burgers!
Our version takes some of our favorite toppings – bacon, blue cheese, cheddar cheese and caramelized onions — and turns them into a decadent stuffing for a grilled or pan fried burger!  Creating these bacon and blue cheese stuffed burgers is really quite easy to do, plus it's a fun (and delicious) twist on your standard burger fare!
We recommend that you use a bowl approximately 5 inches in diameter to help you shape the burger.  Line it with plastic wrap – press your bottom layer of ground beef into the bottom of the bowl – add your filling – cover with your top layer of ground beef and carefully press the edges to seal in the filling.  Remove from the bowl and you're done!
Once you realize how easy these bacon and blue cheese stuffed burgers are to make, the sky is the limit – and you can get creative making stuffed burgers with your own favorite ingredients!
Print
Bacon and Blue Cheese Stuffed Burgers
Prep Time:

15 mins

Cook Time:

1 hour

Total Time:

1 hour 15 minutes

Yield:

6-8 burgers (depending on how big you make your patties)
---
Description
These instructions are written for pan frying these burgers (which we think results in the juiciest burgers) but they can also be grilled with great results as well.
---
½

pound uncooked bacon (or

2 ounces

cooked, crisp bacon)

1 tablespoon

reserved bacon fat

1 tablespoon

butter

1 tablespoon

extra virgin olive oil

1

large sweet onion such as Vidalia, diced

½ teaspoon

salt

¼ teaspoon

black pepper

¼ teaspoon

sugar

3 ounces

crumbled blue cheese

3 ounces

shredded sharp cheddar cheese

3

pounds 80/20 ground beef, divided into

eight

, 6-ounce portions
---
Instructions
Cook bacon until crisp. Crumble or chop and set aside. Reserve one tablespoon of the bacon fat.
In a medium sized skillet over medium-low heat, place reserved bacon fat, butter and olive oil along with onions, salt, pepper and sugar, and sauté for 30 – 45 minutes or until caramelized. Remove from heat, and strain onions, discarding fat. Set aside to cool.
In a small bowl, blend crumbled bacon, cooled sautéed onions, blue cheese and cheddar cheese. Form into six to eight balls depending on how many burgers you get from the total amount of beef. (We made eight 6-ounce patties.)
Using a round ramekin or bowl about 5 inches wide and 2 inches deep, line with plastic wrap.
Take half of one six ounce portion of beef and press into the bottom of the ramekin, pushing the meat slightly up the sides like a saucer shape. Drop a portion of the cheese mixture into the center and press slightly. Take the other half of the beef portion and form into a round disk with your fingers, then place it over the cheese mixture. With your fingers, press down all around the edges to seal. Pull up on the plastic wrap and flip the patty over back into the ramekin and press the edges again to seal completely. Pull up on the plastic again to release the finished patty and repeat for all eight burgers. Make sure edges are completely sealed.
In a cast iron skillet or heavy bottomed pan, over medium to medium high heat, cook the burgers a few at a time for about two to three minutes on one side.
Reduce heat to medium, flip the burgers and cover with an inverted metal or heat proof glass bowl. (This will help retain the heat and cook it on the sides and through to the cheese mixture.) Cook on this side for another two to three minutes and remove for medium doneness. (You can hold in a warm oven if you wish while you finish the remaining burgers.)
Serve on a large burger or deli roll smeared with mayonnaise and a side of lettuce and tomato.
---
You may also like: