This post is sponsored by Wisconsin Cheese and The Cheese & Burger Society.  All opinions are 100% mine.
Update: A final decision has been made by The Cheese & Burger Society on what to name this fantastic burger from among all of the suggestions made by our readers.  Please allow me to introduce you to The Peppercorn Pileup!
We're having some fun with today's recipe – and giving YOU the chance to Name That Cheeseburger!
It's all part of the Cheese & Burger Society's Name That Cheeseburger Giveaway where you can win some great prizes if the name you come up with for this amazing burger is chosen as this week's winner!
Let me tell you a little bit more about this crazy-good burger: Inspired by the classic French dish Steak au Poivre (or pepper steak), we've taken some hearty ground beef patties and coated them in a mixture of coarsely ground black and pink peppercorns. Then we seared the burger over super-high heat so that a wonderful peppercorn crust forms.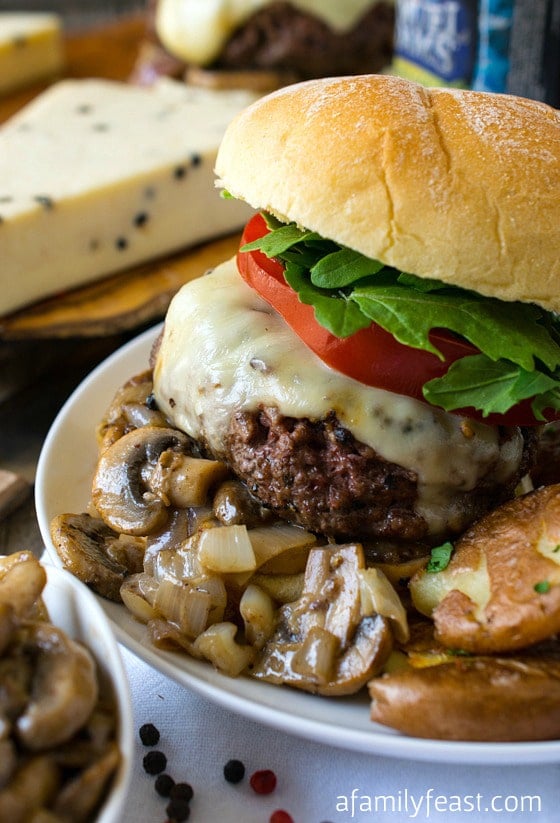 Next, some peppery Wisconsin Pepato cheese is melted over the top of the burger for even more bold and delicious flavor!
After that, sliced shallots and mushrooms are sautéed in a luscious sauce made from butter, olive oil, cognac and heavy cream – a nod to the traditional au Poivre sauce that typically accompanies the dish that inspired this burger!
Finally, build your burger on a large, soft roll by first layering some of the shallots and mushrooms, then your pepper-encrusted, cheese-enrobed juicy burger! Top your burger with a slice of fresh, ripe tomato plus some arugula for an extra fresh and peppery bite.
Serve with 'pommes frites' (French fries) or red potato coins and simply enjoy!
But don't get so caught up eating this fantastic burger that you forget to give it a name! Details on how to enter to win a $150 Gift Card to the Wisconsin Packer's Pro Shop and other great prizes are below the recipe!
Print
The Peppercorn Pileup Burger
Prep Time:

20 mins

Cook Time:

10 mins

Total Time:

30 minutes

Yield:

2-4 servings
---
1

pound 80/20 ground beef

¼ cup

black peppercorns, coarsely ground

¼ cup

pink peppercorns, coarsely ground

2 tablespoons

butter

1 tablespoon

extra-virgin olive oil

½

pound button mushrooms, sliced

1 ½ cups

shallots, thickly sliced

1/3 cup

cognac

¼ cup

heavy cream

3 ounces

Wisconsin Pepato cheese, sliced

2

soft bulky rolls or large burger rolls

1

large ripe tomato, sliced into thick slices

2 cups

fresh arugula
---
Instructions
Heat grill to high heat on one side and medium heat on the other.
Divide the ground beef in half and form two thick burgers (or for smaller portions, form into 4 burgers).
Mix the two coarsely ground peppers together and place on a large plate. Press each burger into the pepper mixture, coating the ground beef with a thick layer of peppercorns. Flip and coat the other side with a thick layer of peppercorns.
Place a large cast iron skillet on the hottest part of the grill and allow it to get as hot as possible.
Add butter and oil and when that melts and starts to smoke a bit, place peppered burgers in the center of the pan.
After two minutes, turn each burger. After two more minutes, transfer the burgers out of the pan and place directly on the grates onto the cooler side of the grill. (If you formed four smaller burgers, they will cook in less time)
Place cut mushrooms and shallots into the hot pan from which you just removed the burgers, and cook and stir while burgers are gently cooking on the cooler side of the grill.
Turn the burgers once after about a minute and a half and cook for the same amount of time on the other side. (Again, less if you are cooking smaller burgers)
After the shallots and mushrooms have started to brown, pull the pan back and add the cognac being careful if it flares up.
Allow the shallot and mushroom mixture to cook until the cognac has evaporated, then add the cream. Stir and add burgers back into shallot and mushroom mixture and turn once to coat both sides in the sauce.
Top each burger with the slices of Wisconsin Pepato cheese and close the grill cover until the cheese has melted.
To serve, spoon the shallot and mushroom mixture from the pan onto the bottom half of each roll. Place the burgers on top of the shallot mushroom mixture, then top with a slice of fresh tomato and arugula.
---
Every Monday through the end of August Wisconsin Cheese and The Cheese & Burger Society will be launching a new giveaway contest. From a Weber grill to authentic Green Bay Packers gear, it's eight weeks of prizes to get you in prime shape for football season. But above all, visit http://www.CheeseAndBurger.com to enter the Green Bay Packers Football Sweepstakes for a chance to win an all-inclusive trip for two to a Packers game at Lambeau Field.
This week the Cheese & Burger Society is giving away a $150 Packers Pro Shop Gift Card!
To enter, suggest your most creative name for the cheeseburger as a comment over on the Cheese & Burger Society Facebook page today through Sunday August 10th and you could be chosen as our winner!
How to Enter: Visit the Cheese & Burger Society Facebook page and leave a comment on the "Hello my name is _____" post with your cheeseburger name suggestion.
Official Rules:
Entrants must be U.S. residents.
Entries are limited to one per household.
One entry will be chosen at random.
Entry period ends Sunday, August 10th, at 5 p.m. EST.
The winner will be chosen and announced within the same Facebook post on Monday, August 11th, 2014.