Apple Cobbler has tender and sweet spiced apples in a luscious sauce, topped with tender buttermilk cobbler. Served with vanilla ice cream on the side, this is the perfect Fall dessert.
It wouldn't be Fall without our annual trip to the farm for some apple picking! Our favorite apple orchard grows so many different varieties of apples – so of course, we picked enough to fill up a big bag.
We have lots of apple recipes here on A Family Feast – but we never shared our Apple Cobbler recipe until now.
What is a cobbler?
Cobbler is an old-fashioned dessert dating back to the mid-1800's. Back then, a cobbler dessert consisted of baked fruit with pastry dough on the bottom as well as the top.
Nowadays, a cobbler is best known as a baked fruit dessert with a biscuit topping that is similar to a very moist short cake.
How do you make Apple Cobbler?
We started out by coring and peeling four pounds of apples from our apple picking excursion.
We used a mix of Braeburn and Granny Smith apple varieties – both are good baking apples because they hold their shape even when tender and cooked through. Additionally, their sweet-tart flavor profiles help balance the sweetness of this easy dessert.
We cut the peeled apples into large chunks, then simmered the apples in a large saucepan with butter, granulated sugar, brown sugar, water, and spices including cinnamon, ginger, and nutmeg. Then, we added some flour to the apple and sugar mixture – this thickened into a luscious sauce.
Next, we mixed up our cobbler topping. It's a simple mixture of flour, baking powder, baking soda, salt and granulated sugar. Then, we stirred some Homemade Buttermilk and melted butter to create a soft batter.
Pour the apple mixture into a greased baking dish (affiliate link), then top with dollops of the cobbler batter. Let some of the apples show through from underneath. Then, sprinkle the top with a little bit of granulated sugar before baking.
We prefer our Apple Cobbler to be lightly golden brown and with the topping to be soft and moist. (I've seen some cobblers with very browned toppings – and if that's your preference, you can bake this longer to achieve that effect.)
Once the Apple Cobbler is out of the oven, brush with additional melted butter. Then, allow it to set for about ten minutes before serving warm.
How do I serve Apple Cobbler?
We like ours served with vanilla ice cream on top – especially when it's still warm from the oven, and the ice cream starts to melt into the sweet apples and sauce.
You could also serve this with whipped cream – or simple and plain! It's delicious either way.
How do I reheat leftover Apple Cobbler?
Store any leftover Apple Cobbler covered and in the refrigerator. Reheat in the microwave, or in a warm oven.
You may enjoy these other apple desserts
Print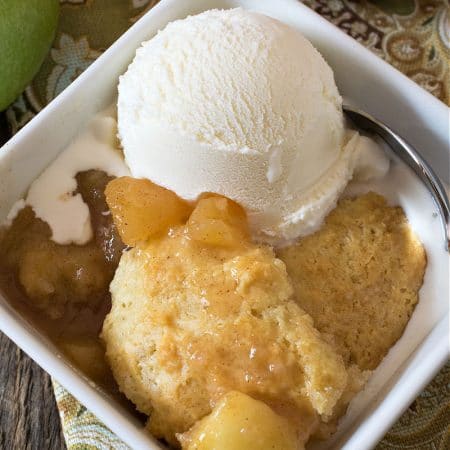 Apple Cobbler
Author:

Prep Time:

30 minutes

Cook Time:

30 minutes

Total Time:

1 hour

Yield:

8 servings

Category:

dessert

Method:

baked

Cuisine:

American
---
4 pounds mixed apples (Braeburn and Granny Smith), about 9 apples*
Juice of ½ large lemon
4 tablespoon butter
½ cup granulated sugar
½ cup brown sugar
1 teaspoon ground cinnamon
¼ teaspoon ground ginger
Few grinds fresh nutmeg
1 tablespoon water
3 tablespoons all-purpose flour
Topping
1 ½ cups all-purpose flour
1 teaspoon baking powder
½ teaspoon baking soda
½ teaspoon salt
2 tablespoons plus 1 teaspoon granulated sugar, divided
¾ cup buttermilk (make our Homemade Buttermilk, or use store-bought)
7 tablespoons melted butter, divided
Serve with vanilla ice cream
---
Instructions
Preheat oven to 350 degrees F.
Spray a two-quart casserole dish with kitchen pan spray. Our dish was 9 ½ X 9 ½ X 2 ½ inches – see it here. (Affiliate link.)
Core and peel apples. Cut into 8 wedges then each wedge into 3 pieces so each apple has 24 uniform cubes. Place into a large bowl, squeezing lemon juice over as you cut so they don't oxidize. Keep tossing as you add more cut apples and juice.
In a large sauce pan, or small pot, place butter, both sugars, cinnamon, ginger, nutmeg and the water.
Bring to a boil and add the apples and cook four minutes over medium heat.
Add the flour, stir and cook one more minute. Turn off burner.
In the same large bowl as you used for the apples, place flour, baking powder, baking soda, salt and 2 tablespoons of sugar.
Place the buttermilk and 6 tablespoons of butter into a bowl and microwave until the butter melts. You could also do this in a small sauce pan.
Stir this into the large bowl with the flour using a wooden spoon or sturdy rubber spatula.
Pour the apple mixture into the prepared dish and using two tablespoons, drop dollops of the batter over the top letting some apple filling show through when finished. Sprinkle on the 1 teaspoon of granulated sugar.
Bake 30 minutes. Remove from oven and brush with the remaining tablespoon of butter.
Let set up for ten minutes then serve with vanilla ice cream.
Notes
*Any baking apple can be used for this recipe.