Our Winter Salad with Apples and Celery Root is loaded with delicious flavors that will make your taste buds dance and sing!
This Winter Salad with Apples and Celery Root is absolutely fantastic – and it should have a place on any winter menu.
Crisp slivers of Granny Smith apples and julienned celery root, crispy bacon, sautéed shallots, and crunchy walnuts are tossed together in creamy, honey Dijon dressing along with crumbled bleu cheese.  After one bite, your taste buds will be very, very happy!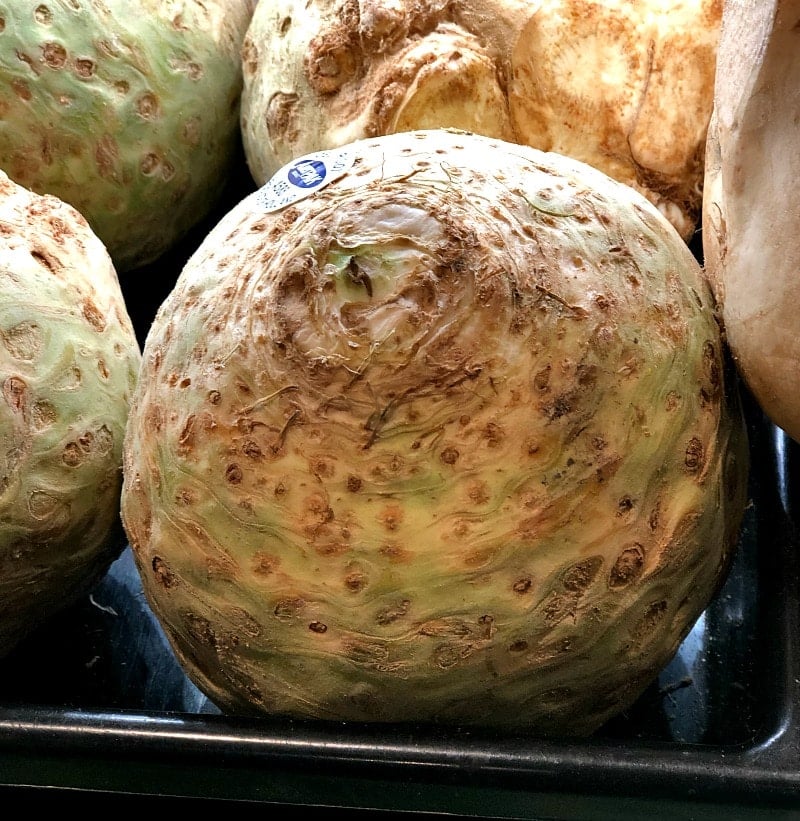 Cooking with Celery Root
I bet you've seen celery root at the supermarket – but maybe you haven't known quite what to make with it?
Celery root is a root vegetable with a mild, bright flavor – and you can use it cooked in recipes much th same way as potatoes or turnips. It's lower in carbs, and high in fiber – so it fits nicely into a lower-carb diet. (We link to some of our other recipes made with celery root below.)
Celery root also goes by the name of celeriac or knob celery – and it is also delicious served raw or dressed as we do in this Winter Salad with Apples and Celery Root.
How do you make Winter Salad with Apples and Celery Root?
You start by cutting Granny Smith Apples and celery root into long, thin strips – or juliennes. Toss with sautéed shallots, as well as lemon and white balsamic vinegar (used to deglaze the pan that you sautéed the shallots in) and let that sit, chilled in the refrigerator, for a few hours to allow any excess liquid to drain.
Combine that excess liquid with honey, Dijon mustard, mayonnaise and grapeseed oil to create a light and delicious dressing for your apples and celery root. Then add crispy bacon and crumbled bleu cheese to finish off your Winter Salad.
How do I serve Winter Salad with Apples and Celery Root?
Our Winter Salad is fantastic served as a side dish with our Perfect Pork Tenderloin, a juicy Pan-Seared Steak, or our Herb Roasted Chicken Breast.
It also makes a delicious, light lunch served on its own. It keeps nicely for a couple of days in the refrigerator – so be sure to pack it up for a delicious lunch on the go.
You may enjoy these other recipes made with celery root:
Print
Winter Salad with Apples and Celery Root
Author:

Prep Time:

2 hours 30 minutes

Cook Time:

5 minutes

Total Time:

2 hours 35 minutes

Yield:

10

Category:

salad

Method:

stovetop

Cuisine:

American
---
½ pound bacon (approximately 8 slices)
½ cup shallots, minced
¼ cup fresh lemon juice, about 1–2 lemons
¼ cup white balsamic vinegar
1 teaspoon celery salt
1 ¼ pounds celery root (1 pound after trimming)
5 large Granny Smith apples (approximately 2 pounds)
½ teaspoon freshly ground black pepper
2 tablespoons honey
1 tablespoon Dijon mustard
2 tablespoons mayonnaise
2 tablespoons grapeseed or canola oil
1 cup walnut pieces
1 cup bleu cheese, crumbled
---
Instructions
In a large sauté pan, cook bacon to crisp and drain on paper towels, then cut into bite sized pieces.
Reserve two tablespoons of bacon fat and over medium heat, add shallots and cook until tender, 4-5 minutes.
Add lemon juice and vinegar and deglaze the pan. Mix in celery salt and remove from heat to cool.
Use a sharp knife and trim celery root of the outer skin, leaving the white interior. Slice into thin slices. Stack slices and cut again into match stick pieces.
Place in a large bowl and pour in the cooled contents of the pan. Toss to combine.
Peel, core and halve apples then cut into quarter inch slices. Stack slices and cut again into match stick pieces. Add to the bowl with the celery root and toss to combine. Cover the bowl and refrigerate two hours, tossing once half way through.
After two hours, drain liquid that collected on bottom of bowl into a smaller bowl and whisk in pepper, honey, mustard, mayonnaise and oil.
Pour this back over the apples and celery root and add in the cooked bacon, walnut pieces and blue cheese and toss to combine.
Serve immediately.
---