Twice Baked Potatoes are creamy and delicious! Two types of potato, two types of cheese, plus butter, bacon and scallions means fantastic flavor in every bite!
We make Twice Baked Potatoes for the holidays and special occasions – and always receive such rave reviews – we had to share the recipe!
The filling is actually a mix of two types of potato, the scooped-out russet, plus some sweet potato added in for extra flavor and a creamier texture. That mixture is then combined with bacon, two kinds of cheese, butter, and scallions.
During the second bake, the cheese melts into every nook and cranny for indulgent flavor in every bite.
It's like a fully-loaded baked potato, but creamy on the inside and crisp and golden on the outside! It's the perfect side dish to serve with Prime Rib, a Juicy Roast Turkey, or a Holiday Ham.
Why you'll love Twice Baked Potatoes
Not only are they delicious – they will make a great impression on every plate.
They are the perfect combination of crisp and creamy textures.
This recipe can be doubled (or tripled) to feed a larger crowd, and you can also assemble them ahead of time.
Key Ingredients and Substitutions
Russet Potatoes– Chose large Russets of a similar size (between 12 and 16 ounces each) and an even oval shape. Avoid potatoes with green skin visible – that means they were not handled properly after picking and that green skin can make you sick.
Sweet potato – Purchase one small, orange sweet potato – about 8-ounces in weight – for every two Russets you plan to cook.
Bacon – Any bacon variety will work (cherrywood, hickory-smoked, etc.).
Scallions – One small bunch is the perfect amount for this recipe.
Mascarpone cheese – Mascarpone is a soft, creamy cheese similar in texture to cream cheese but with a higher fat content, so it's extra creamy. It's typically sold in eight-ounce tubs and can be found in the specialty cheese section at the supermarket. You can substitute cream cheese, but that has a sweeter taste that will make the finished potato filling sweeter as well.
Sharp yellow cheddar cheese – While you can use a white sharp cheddar as well, the yellow cheddar gives the filling an attractive orange appearance. Use block cheese and shred your own. (See Chef's Tip below.)
Butter and seasonings – Butter, salt and ground white pepper finish the overall flavor profile. White pepper has a milder flavor than black pepper and will disappear seamlessly into the filling. If you don't have any on hand, feel free to use freshly ground black pepper instead.
Chef's Tip – While bagged shredded cheese is convenient, it contains additives to prevent the shreds from clumping together. This can also prevent them from melting smoothly. A freshly-grated block of cheese will have a much better texture and taste better too.
Special supplies needed
Medium and large bowls
Sheet tray covered in foil and topped with a rack.
How do I make Twice Baked Potatoes?
Bake the Russet and sweet potatoes.
Cook the bacon until crisp. Cool, then chop into small pieces.
Mix the bacon with butter, scallions, both cheeses, and seasonings.
Slice the Russet potatoes lengthwise and scoop out insides, saving the russet skin halves to stuff and bake again. Also scoop out the insides of the sweet potatoes.
Add both the soft Russet and sweet potato insides to the bowl with the bacon and cheese mixture. Stir to combine.
Place the filling in a large piping bag and fill the potato halves
Bake until the tops of the stuffed potatoes start to brown and the center is hot.
Serve immediately with bacon and scallions sprinkled on top.
Chef's Tip – You could easily scoop the filling back into the skins with a spoon, but we used a large pastry bag with an open star tip instead. This gives the Twice Baked Potatoes a more elegant look – plus it creates ridges that get a little extra crispy and browned in the oven.
Frequently Asked Questions
Can I make Twice Baked Potatoes ahead of time? Yes. They can be stuffed and refrigerated, then baked later. Just remove from refrigeration for 30 minutes prior to baking.
How do you keep twice baked potatoes from falling apart? Leave a little bit of the flesh attached to the skins, about ¼-inch worth. This makes them much sturdier and helps them to better hold their shape.
Can I double this recipe? Sure! One Russet will produce two servings, so you will need half as many baking potatoes as the number of guests.
What's the best way to store leftovers? Transfer extras to an airtight container and refrigerate for up to three days. Reheat in the oven until the centers are warmed through.
Why are my twice baked potatoes gummy? Over-mixing is often the culprit. After the first round of baking, use a masher instead of an electric mixer to break apart the centers. Then, use a spoon or spatula to gently combine the flesh with the other ingredients. Additionally, be sure to use Russet potatoes as they have a drier, lighter texture once baked.
Can I eat the skin of a twice baked potato? Sure – as long as the potatoes were properly cleaned, the skin of the Russets is totally safe to eat.
This post originally appeared on A Family Feast in January 2013.
You might enjoy these other Potato Recipes:
Print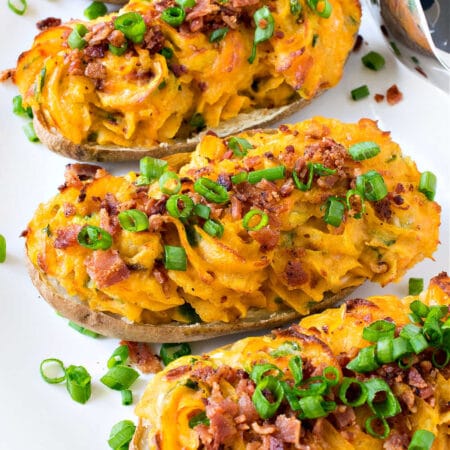 Twice Baked Potatoes
Author:

Prep Time:

30 mins

Cook Time:

90 mins

Total Time:

2 hours

Yield:

4 servings

Category:

side dish

Method:

baked

Cuisine:

American
---
2 large Russet potatoes (12–16 ounce in weight with no visible green skin)
1 small sweet potato (about 8-ounces in weight)
½ pound bacon, divided
1 small bunch scallions (after chopping, about ¾ cup)
¼ cup mascarpone cheese
3 tablespoons butter, softened
1 cup sharp yellow cheddar cheese, shredded on large holes of box grater
1 teaspoon kosher salt
½ teaspoon white pepper
---
Instructions
Preheat oven to 400 degrees F.
Line a sheet tray with foil then put a rack over the foil.
Place the two Russet and one sweet potato on the prepared pan and bake in the center of the oven for 30 minutes.
Turn each potato over and prick each with a fork.
Bake for 30-45 minutes more or until all are tender when gently squeezed.
While potatoes are baking, cook the bacon to crisp then chop into small pieces. Separate into two piles and set aside.
Chop the scallions and save a few tablespoons of the green tops for garnish.
In a medium bowl, mix mascarpone cheese, butter, cheddar, salt, pepper, half the bacon and the chopped scallions. Set aside.
Once the potatoes are done, with a sharp knife cut each Russet in half horizontally from one end to the other.
While hot, scoop out the flesh into a large bowl, leaving enough of the skin intact to hold its shape. Place the skins cut side up back onto the sheet tray with rack.
Scoop all of the sweet potato out and add that to the large bowl with the Russet flesh.
Use a potato masher and coarsely mash the two potatoes together.
Add the filling ingredients to the potatoes and stir with a firm rubber spatula.
Place a large star-tip into a 16-ounce pastry bag and fill with half the filling.
Squeeze this filling into the base of all four potato shells. Refill the bag then go back over each potato, this time making a decorative top by zig-zagging the filling over each one.
Place the stuffed potatoes back into the oven and bake for 20-30 minutes until the filling is hot and the tops have started to brown.
Sprinkle on the reserved bacon and scallions and serve.
Keywords: Twice Baked Potatoes