Juicy Roast Turkey is totally possible with this clever cooking tip from Chef Jacques Pepin.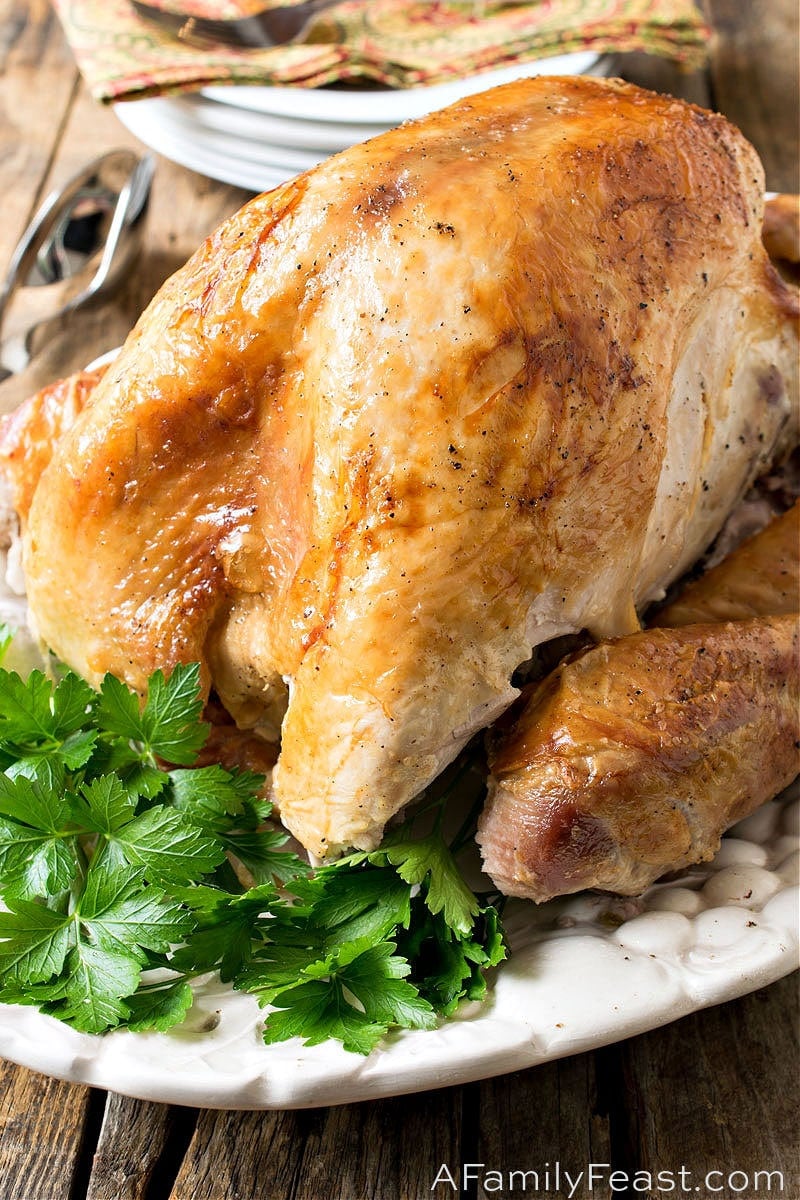 Hi everyone – Jack here. It's incredibly disappointing when you spend hours roasting a turkey for Thanksgiving – only to find that the breast meat is dry as you slice into it.
Why does my turkey come out dry?
Even with brining, the breast meat usually cooks faster than the turkey legs and thighs. If you roast the turkey long enough that the legs and thighs are cooked through, the breast meat dries out because it overcooks.
To solve this, spatchcocking your turkey is one option (you can read more about that here). But many of you enjoy bringing an entire turkey breast on a platter to the Thanksgiving table, and carving it in front of your dinner guests. Today's Juicy Roast Turkey recipe will allow you to do that.
How do I make Juicy Roast Turkey?
Today, we're sharing a simple cooking tip that we learned from watching a Jacques Pepin cooking show. We tested it out – and it totally works.
The trick: Before roasting your turkey, loosen the legs, thighs and wings from the turkey by cutting through the skin with a sharp knife, but leave them attached as you roast your turkey.
This trick allows the dark meat to be open and loose so heat can penetrate the joints and darker meat, instead of it being held tight against the breast of the turkey where the heat cannot circulate.
With the heat fully circulating, the breast meat and the dark meat all cook through at the same time – so you'll end up with a nice Juicy Roast Turkey breast, and fully-cooked legs, thighs, and wings.
You'll also notice in the photo above that we have inserted a probe thermometer (affiliate link) in the breast of the turkey. Cooking meat to a specific internal temperature, rather than going by cooking time based on weight is another way to ensure Juicy Roast Turkey. (We include internal temperatures in our recipe below.)
Roast your turkey quicker
This method has a second benefit in that the total cook time for your turkey is reduced. Typical cook time for a turkey is about 13-18 minutes per pound, give or take. With this method, our 13½ pound turkey was ready in 2½ hours or about 11 minutes per pound.
To brine or not to brine?
While we always brine our Thanksgiving turkey before roasting, we skipped the brine when testing out this turkey roasting method. Even without the brine, we had a super Juicy Roast Turkey to enjoy and use in some of our turkey leftover recipes. Give it a try!
You may enjoy these other turkey recipes:
Print
Juicy Roast Turkey
Author:

Prep Time:

15 minutes

Cook Time:

2 hours 30 minutes

Total Time:

2 hours 45 minutes

Yield:

10 servings

Category:

entree

Method:

roasted

Cuisine:

American
---
One turkey, 12-15 pounds
4 medium carrots, sliced
2 celery stalks, cut up into pieces
1 large onion, quartered
½ cup butter, 1 stick divided
1 teaspoon kosher salt, plus more as needed
½ teaspoon freshly ground black pepper, plus more as needed
1 quart chicken broth, divided
---
Instructions
Preheat oven to 325 degrees F. with rack in lowest position and upper racks removed.
Remove neck and gizzards. Save for other recipes if desired.
Rinse the turkey inside and out under cold running water, then pat dry with paper towels.
Place the turkey on your cutting board breast up, and with a very sharp knife, cut around each leg, thigh and wing joint but not all the way through.
The bone should stay attached but the flesh cut around each joint. Once complete, the thighs and drumstick should be splayed out on the board skin-down but still attached to the whole turkey. Same with the wing section, splayed out but still attached. Nip off the wing tip and save for stock.
Place carrots, celery and onions in the bottom of a large roasting pan and cover with a flat rack (not the V-shape rack that came with your pan). I used two small racks side by side over the vegetables.
Lift the turkey up by holding the legs, thighs and wings against the turkey as you lift and set it back down on the rack, letting the legs, thighs and wings fall to the side of the turkey onto the rack, again still attached.
Melt half the butter and brush over all exposed skin.
Sprinkle salt and pepper over the buttered turkey.
Dot the inside of the thighs and legs with two tablespoons of cold butter, leaving the last two tablespoons for after the roast is cooked.
Pour two cups of the chicken broth over the vegetables.
Remove the probe that came with your turkey and replace it with your own probe and set your alarm to alert you at 150 degrees F. Not fully cooked yet and will cook further.
Make a tent out of two large pieces of foil crimped together in the center and cover the turkey, or if your pan came with a cover, use that.
Our 13½ pound turkey took exactly two hours to reach 150 degrees F.
Remove the turkey from the oven and save the foil for later. Remove the probe. Note, if juice leaks from the probe hole, roll up a little piece of foil into a small cone shape and plug the hole. (This really works well)
Raise the oven to 500 degrees F. If you have confection, turn that on.
Pour the remaining two cups of broth into the pan bottom.
Use butchers' twine and tie the two drumstick ends together by tying one and then the other and pulling them together. This will expose the outside leg and thigh so it can brown in the next step.
Do the same with the wing ends but wrap the string under the turkey drumsticks and back around to each wing end, pulling and tying tight so they brown.
Brush the whole turkey again with the remaining butter melted, making sure the skin around the legs, thighs and wings get brushed.
Add additional salt and pepper if desired.
Place back into the oven uncovered and brown. I checked every ten minutes and mine browned in 30 minutes. After this 30-minute browning, the internal temperature of the turkey will have risen to a safe temperature of 160 degrees F.
Remove from oven place on a platter and loosely cover with the foil saved from earlier and let rest 20 minutes while you work on any side dishes, gravy or pan drippings.
When ready to serve, cut off all string. The legs, thighs and wings should have stayed upright during browning for an attractive finished turkey display for your table. You could also do as we did and completely carve the turkey in the kitchen and serve it all sliced, and on a platter, ready for serving.
---
Keywords: Juicy Roast Turkey, Thanksgiving turkey