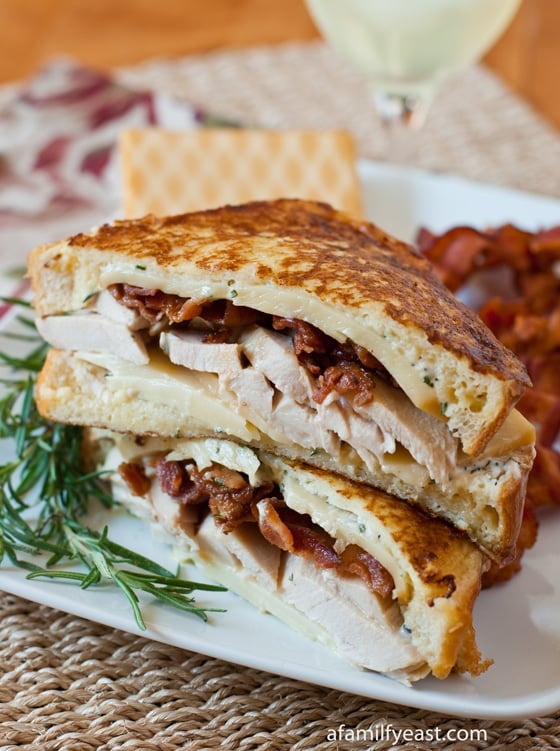 Last week my husband Jack and I were watching the television show "Unwrapped" on the Food Network where they featured all sorts of Thanksgiving related foods and recipes.  One of the anecdotes they shared during the program was a 'Top 5' list of turkey leftover recipes.
I don't think I'm reciting the list in the exact order they shared, but I do remember that it included the following five recipes:  Turkey Salad (see our recipe here), Turkey Soup (see our recipe here), Turkey Stir-Fry (we'll have to work on a recipe for that next year!), Turkey Pot Pie (see our recipe here), and the top recipe – a Turkey Sandwich!
Today's recipe for Turkey Monte Cristo with Rosemary Aioli is our variation on the leftover turkey sandwich!   Traditionally, a Monte Cristo is a sandwich made with ham and Swiss cheese and cooked French toast-style.  Over the years, my husband Jack served different variations of this popular sandwich – but this version stands out as a crowd favorite!
Tender slices of roasted turkey breast are layered with bacon and apple wood smoked Gruyere cheese on slices of challah bread that have been smothered with a delicious and simple rosemary aioli!  Then the whole sandwich is dipped in an egg batter (just like French toast), then fried on a griddle until golden brown.
This sandwich can, of course, be made using sliced deli turkey (or chicken) throughout the year – but it's particularly good when made with Thanksgiving turkey leftovers!
Print
Turkey Monte Cristo with Rosemary Aioli
Prep Time:

15 mins

Cook Time:

15 mins

Total Time:

30 minutes

Yield:

2 sandwiches
---
Description
Note: You will need a pan large enough to place over sandwiches as they cook (a square 9×9 metal baking pan works perfectly for this purpose).
---
8

strips cooked crisp bacon

4 tablespoons

mayonnaise

1 teaspoon

garlic passed through a garlic press

1 tablespoon

finely chopped fresh rosemary

4

eggs

½ cup

milk

1 teaspoon

salt

4

slices thick white of Challah bread (sliced

3/4

inch thick)

6 ounces

sliced apple wood smoked Gruyere cheese (if unavailable, use regular Gruyere, Gouda or other strong Swiss cheese) sliced into four slices 1 ½ ounces each

8 ounces

cooked, sliced turkey breast

2 tablespoons

butter
---
Instructions
Cook bacon until crisp and set aside.
Mix mayonnaise, garlic and rosemary to form an aioli and set aside.
Mix eggs, milk and salt in a wide low bowl.
To assemble, lay out four slices of bread and divide the rosemary aioli (mayonnaise and chopped rosemary) between the four slices. Place one slice of cheese on top of each of the slices. On two of the slices place 4 ounces each of the sliced turkey and place four slices of bacon on top of each sliced turkey half. Flip over other slice to form completed sandwich.
Place sandwiches in egg batter and continue to soak and turn until all of the egg batter is absorbed into the bread, about 10-15 minutes.
Heat a griddle to medium heat and melt butter until just starting to brown. Place the two sandwiches onto griddle and cover with top pan or cover. This will keep the heat in and cook the sides of the sandwiches. After a few minutes, check bottom for doneness and flip. Place cover back over sandwiches. Continue to cook until both sides are golden brown.
Cut and serve.
---
You may also like:
10 Recipes Made From Thanksgiving Leftovers