Strawberry Pretzel Salad is a salty-sweet, layered dessert with a sweetened pretzel crust, cheesecake filling, and strawberries suspended in Jell-O.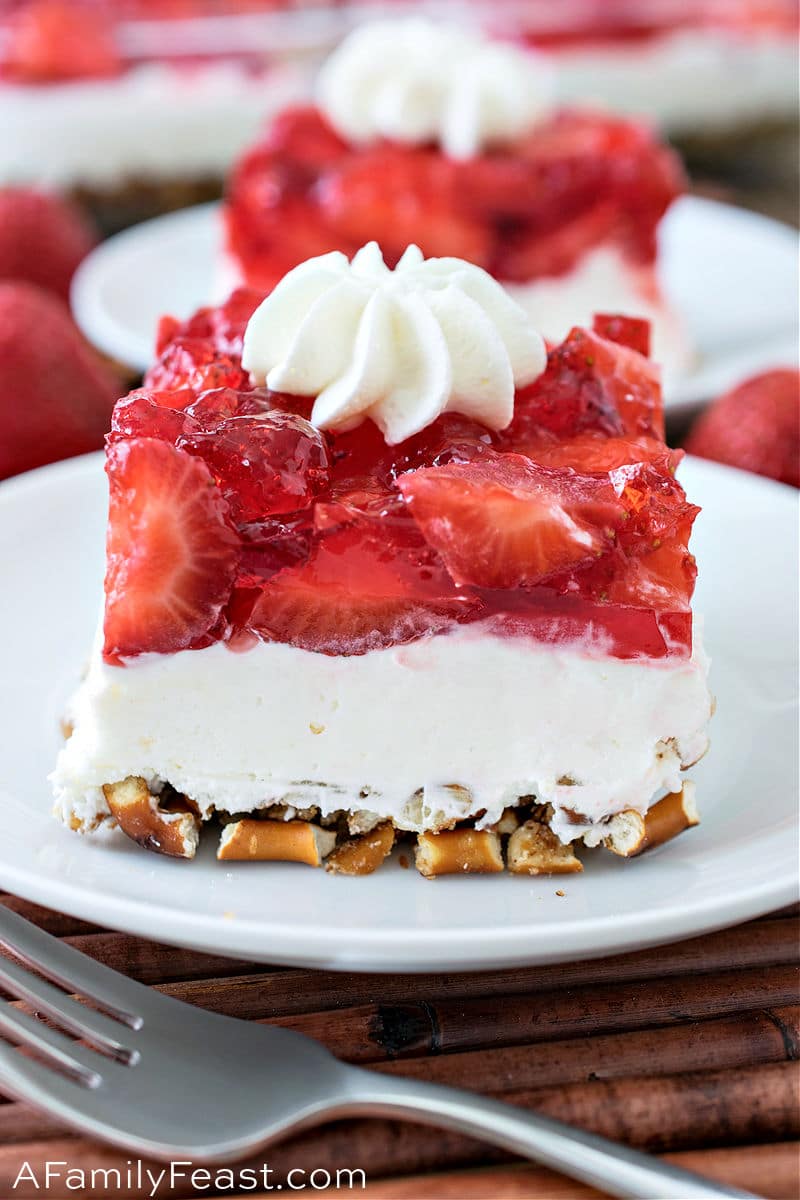 I love a good salty-sweet flavor combination, and if you do too – you'll love this Strawberry Pretzel Salad!
Sometimes also called a "strawberry pretzel dessert" this is a creamy, sweet layered salad or dessert comprised of a pretzel base, cream cheese-Cool Whip center, and a top layer of strawberry Jell-O and sliced strawberries.
Why is this called a "salad"?
It's a Southern thing – where there is a long-standing love of serving salads of all kinds, especially Jell-O salads!
The original creator of this recipe is unknown, but it is believed to have been first included in the "Joys of Jello-O" cookbook, which was published in 1963 by General Foods, the makers of the Jell-O brand. In addition to recipes, the book included advertisements and information about ordering molds to create iconic, shaped Jell-O salads.
Why you'll love Strawberry Pretzel Salad
This salty-sweet, creamy Jell-O concoction is ridiculously good.
It's gorgeous to look at. The bright red and white colors fit perfectly with a Christmas menu, and it's also a great way to showcase fresh strawberries at summer cookouts.
You can make it ahead of time and it travels well to any family get-together.
Key ingredients and Substitutions
Pretzels – We used a bag of small, twisted shaped pretzels, but the skinny stick shapes are also a good choice. Avoid using the thick pretzel rods because they will break into more crumbs than the skinnier pretzels do.
Strawberry Jell-O – No further explanation really – buy the original strawberry Jell-O for this recipe. The sugar free version can be substituted if you'd like, however, those tend to set up slightly softer than the full sugar version and you may not get as clean of a slice once this dessert chills and sets.
Strawberries – We used fresh strawberries, both because we liked the look, and the firm fresh-fruit texture.  Unsweetened frozen sliced strawberries can also be used however – see Chef's Tip below for more details.
Cream Cheese – The middle creamy layer in this recipe gets its cheesecake flavor and texture from cream cheese. Just be sure to soften the cream cheese to room temperature to ensure easy mixing. Don't use already-whipped cream cheese.
Cool Whip – This store-bought whipped topping is another ingredient that can't really be substituted if you want the best results. Be sure to allow it to thaw in the refrigerator overnight before making this recipe – don't be tempted to leave it on the counter to thaw, or defrost in the microwave, as it will soften unevenly. If you don't mind a softer finished texture, real whipped cream can be used instead.
Chef's Tip – You can swap in unsweetened, frozen sliced strawberries instead of using fresh. However, you should reduce the amount of water to 1¾ cups (because the frozen will add more water to the gelatin) and add the strawberries still-frozen to the dissolved Jello-O. (Do not thaw the strawberries ahead of time.)
Special supplies needed
Food processor, or a large plastic bag and a rolling pin (for crushing the pretzels)
How do I make Strawberry Pretzel Salad?
Crush the pretzels into coarse crumbs, then combine with sugar and melted butter.
Press the pretzel mixture into a baking dish, evenly spreading to the edges to form a firm crust.
Bake for ten minutes. Let cool.
Whip softened cream cheese and sugar until fluffy.
Fold in softened Cool Whip, then spread the creamy mixture over the cooled pretzel crust.  Refrigerate for at least one hour to firm up.
Dissolve Jell-O in boiling water. Let cool to room temperature (it's fine if the Jell-O starts to thicken a little, but not too much).
Stir the sliced strawberries into the cooled Jell-O, then pour the mixture over the chilled cream filling.
Refrigerate the Strawberry Pretzel Salad until completely set, ideally overnight or at least four hours.
Slice into squares and serve with a dollop of whipped cream and a sliced strawberry on top.
Chef's Tip – If you'd like a smoother top, you can lay the sliced strawberries over the top of the creamy filling, then pour the cooled Jell-O over the strawberries
Frequently asked Questions
How do I store leftovers? Cover and store refrigerated for up to three days.
Can I freeze this dish? We've never tried it and wouldn't recommend doing so.
Can I swap in other fruits and flavored Jell-O? Sure! Leave us a comment below to let us know which variations you've tried and loved!
Can I make this in a pie plate instead? Sure – but you'll need to adjust the quantities down to fit a pie plate instead of a 9×13-inch dish.
Recipe adapted from the Farmer's Almanac
You may enjoy these other Strawberry recipes:
Print
Strawberry Pretzel Salad
Author:

Prep Time:

30 minutes + chilling time

Cook Time:

10 minutes

Total Time:

40 minutes + chilling time

Yield:

12 servings

Category:

dessert

Method:

no-bake (except for crust)

Cuisine:

American
---
Crust
2 cups coarsely-crushed pretzels (start with about 7 ounces of pretzels)
¾ cup butter, melted (1 ½ sticks, 12 tablespoons)
3 tablespoons granulated sugar
Filling
2 8-ounce packages cream cheese, softened to room temperature
1 ½ cups granulated sugar
2 8-ounce containers Cool Whip, defrosted overnight in the refrigerator
Strawberry Topping
1 6-ounce package Strawberry Jell-0
2 cups boiling water
4 cups sliced fresh strawberries
Optional
Whipped Cream or Cool Whip, for garnish
Additional strawberry slices, for garnish
---
Instructions
Preheat oven to 350 degrees F.
Crush the pretzels either by pulsing in a food processor, or placing in a zipper seal bag and crushing with a rolling pin. Just be sure not to crush too much – you ideally want small pieces of pretzel for the crust, but not fine crumbs.
Combine crushed pretzels, melted butter and sugar in a bowl. Pour into an ungreased 9×13-inch baking dish, pressing down firmly to create an even crust. Bake for 10 minutes, then set aside to cool completely.
In a mixing bowl, beat cream cheese and sugar until smooth and fluffy. Fold in thawed Cool Whip, mixing well. Spread evenly over pretzel crust and all the way to the edges (so the Jell-O layer doesn't have room to seep down), then refrigerate until chilled.
Pour gelatin into a large mixing bowl. Add boiling water and stir to completely dissolve. Let cool to room temperature (OK to chill to speed this step up) and even let the Jell-O start to thicken a little, but not too much. *Stir in strawberries, then pour the mixture over cream cheese layer and chill to set. *OR, you can lay the fresh strawberries over the creamy layer, then carefully pour the strawberry gelatin over the strawberries.
Chill at least six hours to fully set, then cut into squares before serving
Add a dollop of whipped cream and a piece of strawberry to the top of each serving if you'd like.
---
Keywords: Strawberry Pretzel Salad, Strawberry Pretzel Dessert