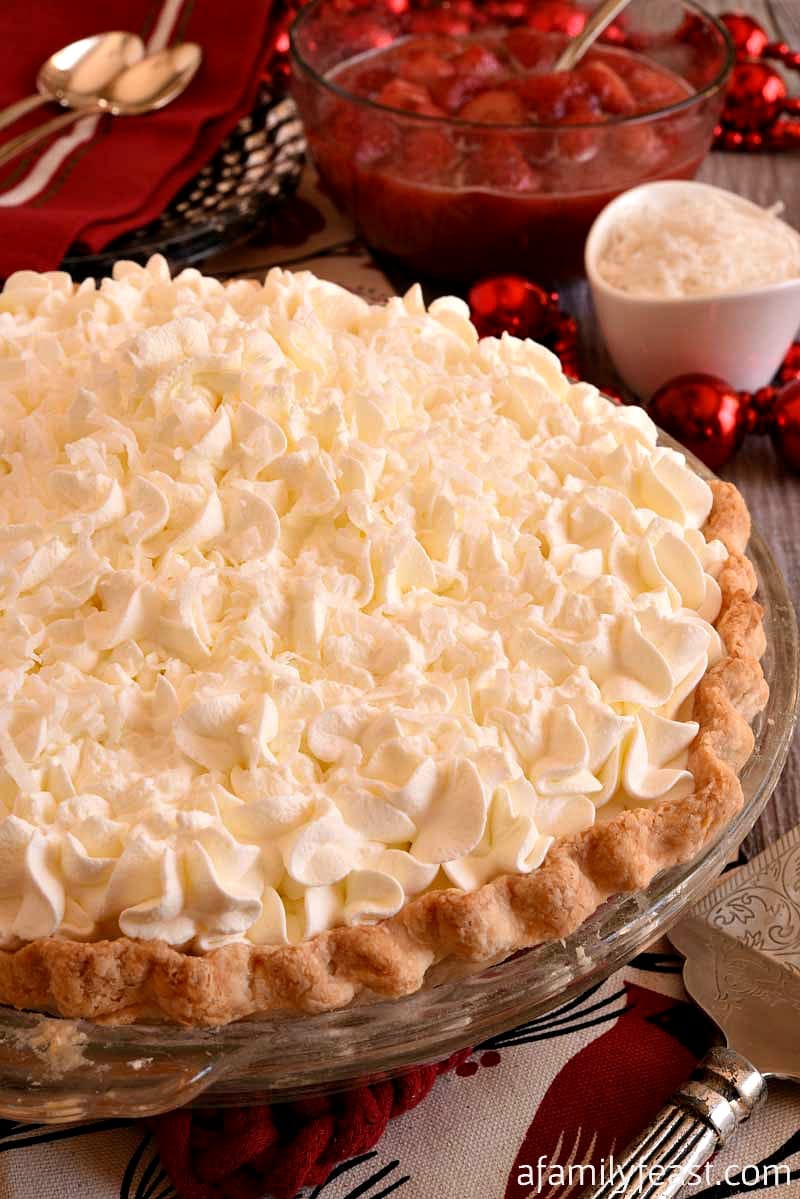 I'm dreaming of a white Christmas…and this White Christmas Pie is very dreamy and delicious!
We found this recipe in a vintage 50th anniversary cookbook compiled by the booster club of Sacred Heart High School in Waterbury, Connecticut – the high school one of my mother's close friends attended as a teen.
Filled with recipes submitted by parents and alumni who attended the school between 1922 and 1972, that cookbook is a very interesting snapshot of mid-century cooking history told through recipes that people loved enough to want to share.
Among all of the recipes in the cookbook, this White Christmas Pie (submitted by Josephine Colasanto) really stood out as one recipe that Jack and I both wanted to try.  It's a baked pie crust filled with a creamy and sweet coconut filling flavored with both almond and vanilla extract.
Although not part of the original recipe, we decided to top our White Christmas Pie with unsweetened whipped cream. The filling of the pie is fairly sweet as written in the original recipe, but by adding whipped cream on top, it really helped to cut down the sweetness. (Plus – it looks so pretty and it creates an even creamier bite!)
The original White Christmas Pie recipe also recommended serving this with either crushed raspberries or strawberries.  We decided to go the strawberry route – dicing fresh berries and tossing them with a little bit of confectioners' sugar to create a simple sauce.
The flavors of the strawberries together with the creamy coconut pie is a winning flavor combination – and the acidity of the berries really balances out the richness of the pie.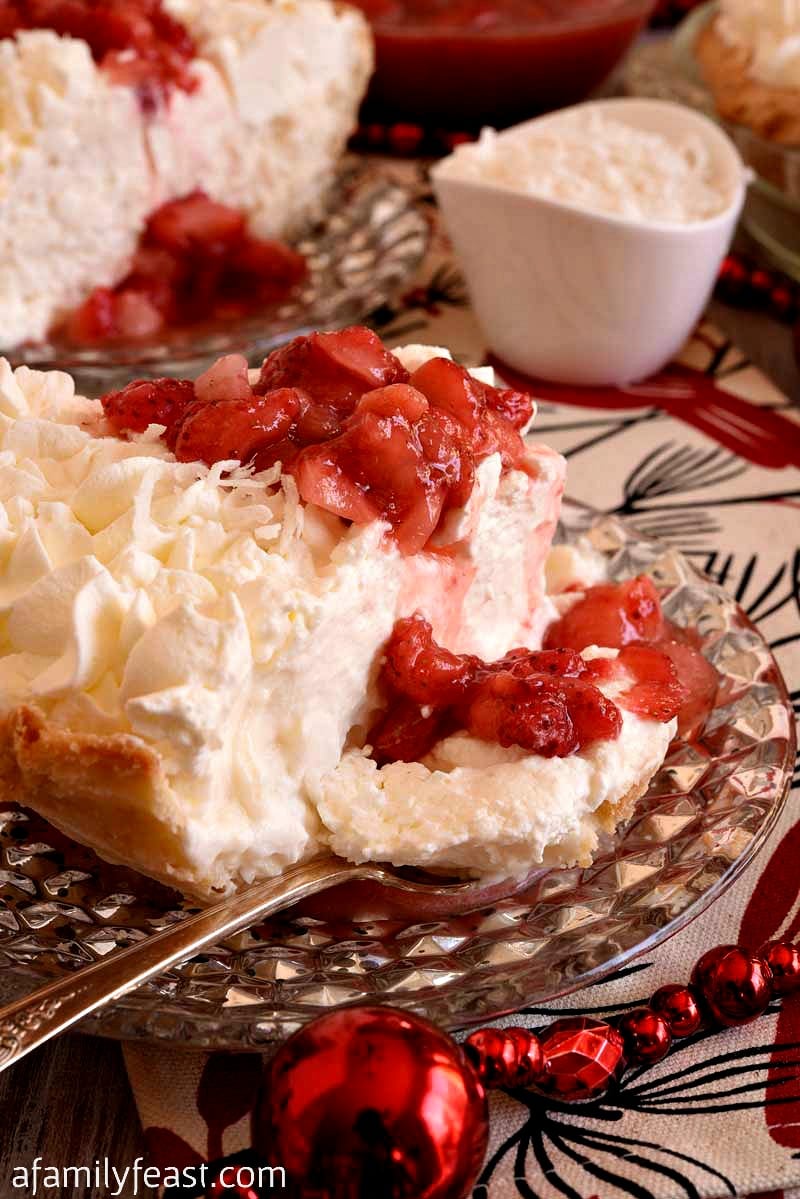 I wouldn't serve this White Christmas Pie any other way – plus the gorgeous red berries against the white creamy pie gives it an especially festive look too. Enjoy!
Print
White Christmas Pie
Prep Time:

1 hour

Cook Time:

35 minutes

Total Time:

1 hour 35 minutes

Yield:

8-10 servings

Category:

dessert

Method:

no-bake

Cuisine:

American
---
To Make a 10" Pie Crust
6 tablespoons unsalted butter
1 ½ cups all-purpose flour
½ teaspoon kosher salt
1 ½ teaspoons granulated sugar
2 ½ tablespoons cold vegetable shortening
¼ cup ice cold water, plus more as needed
Filling
1 envelope unflavored gelatin
¼ cup water
2/3 cup granulated sugar, divided
¼ cup all-purpose flour
½ teaspoon salt
1 ½ cups whole milk
¼ teaspoon almond extract
¼ teaspoon vanilla extract
½ cup heavy cream
3 egg whites
¼ teaspoon cream of tartar
¾ cup shredded coconut plus more for sprinkling over top
2 cups heavy cream as topping
2 cups fresh diced strawberries, for topping
½ cup confectioners' sugar to mix with strawberries
---
Instructions
To make the crust, cut the butter into pats and place flat on a plate. Place the plate in the freezer while you work on the remaining ingredients.
In the bowl of a food processor, place flour, salt and sugar and pulse to combine. Add cold shortening and pulse a few times. Add frozen butter and pulse until the butter is pea size.
Pulse while adding cold water, stop and check by pinching some dough and if it is crumbly, add a tablespoon of water at a time until the dough comes together.
Pour out onto a floured counter and press together into a disc. Wrap tightly with plastic wrap and refrigerate 30 minutes.
Remove dough and on a floured surface, roll dough so that it is two inches larger than your standard 10" pie plate. A 9" pie plate can be used however the filling will be right up to the top. Place the dough over the pie plate and gently press in and up and over the edges. With a knife or scissors, cut extra. Pinch the overhanging dough into a high ridge all around and then go back over and a make decorative edge, again, keeping it high. (I use thumb and index finger on one side and the knuckle of my index finger on the opposite side and pressed together to make a scalloped edge) Place the completed pie dough in the freezer for 30 minutes to set up so that the sides don't collapse while baking.
Preheat oven to 375 degrees and once the pie plate with the dough sits in the freezer for 30 minutes, remove, add parchment and either pie weights or dry beans. (To make the parchment fit, cut parchment into a circle larger than the pie plate and make four slits a few inches long around the edge half way to center so when you place it in the shell, the slits overlap and fit up the sides.) Place in the oven for 20 minutes. Remove pie weights or beans, and with a fork, puncture the bottom in a few places to release steam and place back in the oven without the weights and parchment and bake for 15 more minutes. Cool to room temperature. The shell is now ready to be filled.
While crust is baking, make the filling by first blooming the gelatin. Place gelatin in the water in a small bowl to dissolve and set aside.
In a medium sauce pan, mix 1/3 cup of the granulated sugar, flour and salt. Add milk and whisk to combine. Over medium heat, bring to a boil and cook one minute.
Add gelatin mixture and whisk to combine over medium heat then remove from heat. Whisk in the two extracts then place sauce pan in a bowl with ice to quickly cool.
Beat the ½ cup of heavy cream to soft peaks and set aside.
Beat egg whites with cream of tartar and the remaining 1/3 cup of granulated sugar to stiff peaks and set aside.
Place the filling into the mixer and whip just to make the mixture creamy.
In a large bowl, place cooled whipped filling and gently fold in whipped cream, beaten egg whites and shredded coconut. With a rubber spatula, scrape mixture evenly into baked and cooked pie shell.
Whip the two cups of heavy cream to stiff peaks and using a large pastry bag with a large star tip, make a decorative top over the filling and then sprinkle some coconut over the top.
Dice strawberries and mix in a bowl with the confectioners' sugar. The strawberries will eventually give up enough liquid to mix with the confectioners' sugar to create a sauce.
Cut and serve pieces of the pie with strawberry sauce spooned over the top.
Keywords: White Christmas Pie
You may also like: