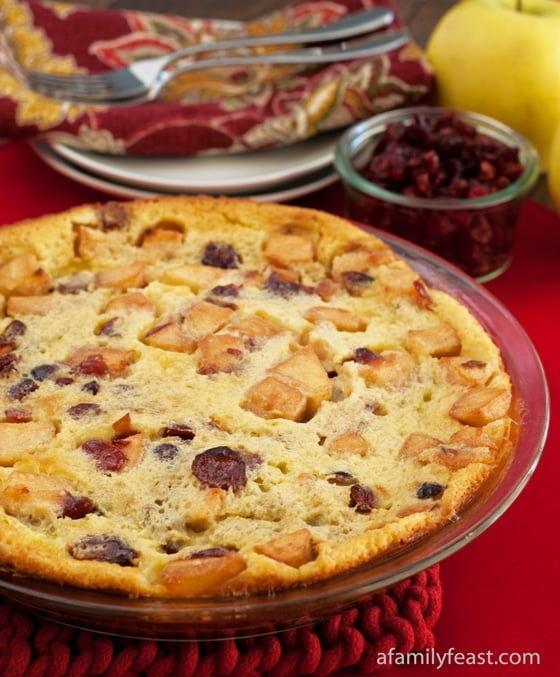 At our house, I am usually the one making dessert.  But the other day, I was pleasantly surprised by some wonderful smells coming from the kitchen.  I followed my nose and found my husband baking this Cranberry Apple Clafoutis!  Jack had been to the dentist earlier in the week and while reading a magazine as he waited, he spotted this delicious-looking recipe printed in Cape Cod Life Magazine.  It looked so good – and so easy – he was inspired to make it himself!
A clafoutis (pronounced kla-fu-ti) is a traditional French dessert where fruit is arranged in a dish, covered with a thick custard and baked.  To be authentic, calfoutis, which means "to fill" is made with black cherries and any variations made with other fruits would be called a "flaugnarde" in France.  The term clafoutis, however, has been more widely adopted as the name for this delicious, warm, baked custard dessert.
And I must say that this cranberry apple clafoutis is pretty amazing!  It can best be described as a cross between a soft pancake and a custardy flan, with the perfect blend of tart and sweet from the apples and cranberries.
It's best served warm out of the oven.  Traditionally served with a sprinkle of powdered sugar on top, this cranberry apple clafoutis would be very delicious served with some vanilla ice cream!
Jack's cranberry apple clafoutis was so good, I'm hoping he'll get the inspiration to make us dessert more often!
Print
Cranberry Apple Clafoutis
---
Prep Time:

15 mins

Cook Time:

30 mins

Total Time:

45 minutes

Yield:

6-8 servings
Ingredients
1 cup dried cranberries
1 cup Golden Delicious apples, peeled and diced
½ cup Apple Jack brandy (we used caramel apple brandy)
¼ teaspoon cinnamon
1 teaspoon lemon zest
3 large eggs
½ cup whole milk
½ cup light cream
½ stick melted butter
1/3 cup sugar
1/3 cup flour
1 teaspoon vanilla extract
1 ¼ teaspoons salt
Powdered sugar or vanilla ice cream for serving (optional)
---
Instructions
Preheat oven to 375 degrees with the oven rack placed in the top third of the oven.
Butter a 9" pie dish.
Over medium heat, simmer cranberries, apples, brandy, cinnamon and lemon zest for 10-12 minutes until syrupy.
Using a blender, food processor or hand mixer, mix eggs, milk, cream, butter, sugar, flour, vanilla and salt on low speed just until combined.
Pour fruit mixture into buttered pie dish. Pour egg mixture over fruit and bake for 25-30 minutes or until a toothpick comes out clean.
Cool slightly and serve warm with powdered sugar or vanilla ice cream.
You may also like:
Slow Cooker Apple Sauce with Cranberries