We're continuing our Cinco de Mayo menu inspiration today with this delicious Spicy Cauliflower Au Gratin! It's the perfect vegetable side dish to serve alongside any main course dishes like our Mexican Pulled Chicken or our Carnitas!
(Actually, this Spicy Cauliflower Au Gratin is so good – no need to wait till Cinco de Mayo…You can serve it year 'round with just any entrée!)
There are three basic steps to this recipe: roasting the cauliflower, making the cheesy cream sauce, and then combining the cauliflower with the sauce and baking it together until the top is golden brown and bubbling!
But the big flavors in our recipe come from roasting the cauliflower in a combination of sriracha seasoning
, red curry paste
, plus other seasonings (all of which you can find at your local supermarket), that together lend a wonderful, zesty flavor to this warm and creamy casserole!
While you can vary the amount of sriracha seasoning you use in our Spicy Cauliflower Au Gratin based on how spicy you want the finished dish, whatever you do – don't leave out the red curry paste! The curry paste lends a more gentle heat to the dish, as well as a fantastic and almost sweet flavor that is the absolute perfect complement to the savory Gruyere Swiss and Parmesan cheeses and other seasonings in the cream sauce in this recipe.
Print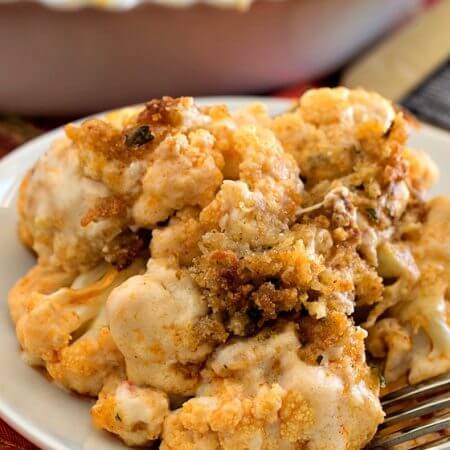 Spicy Cauliflower Au Gratin
Prep Time:

15 mins

Cook Time:

35 mins

Total Time:

50 minutes

Yield:

4-6 servings
---
For the Roasted Cauliflower
1

large head cauliflower

1 teaspoon

Sriracha Seasoninge (now available from McCormick)

½ teaspoon

garlic powder

1 teaspoon

Red Curry Paste (available in supermarkets in ethnic section – we recommend Thai Kitchen brand)

2 teaspoons

champagne vinegar (white wine vinegar if you can't find champagne vinegar)

2 teaspoons

soy sauce

½ teaspoon

sesame oil

2 tablespoons

extra virgin olive oil
For the Au Gratin
1 ¼ cups

whole milk

1 ¼ cups

light cream

4 tablespoons

butter

3 tablespoons

flour

¼ teaspoon

freshly grated nutmeg

¼ teaspoon

dry mustard powder (we recommend Colman's Mustard Powderone !important; margin:0px !important;" />)

¼ teaspoon

kosher salt

¼ teaspoon

white pepper

½ cup

freshly grated Parmesan cheese

1 cup

shredded Gruyere Swiss cheese, divided

¼ cup

seasoned bread crumbs

2 tablespoons

butter, melted
---
Instructions
Preheat oven to 400 degrees.
Trim cauliflower down to bite sized florets discarding stem and leaves.
In a medium bowl mix Sriracha, garlic, curry paste, vinegar, soy sauce and both oils. Add cauliflower and toss. It's OK if not all pieces are covered and do not add more oil.
Pour out onto a parchment lined sheet pan and roast for five minutes. Turn each piece and roast for five more minutes. Remove from oven and hold.
Reduce oven temperature to 375 degrees.
While cauliflower is roasting, in a medium pan heat milk and cream to hot but not scorched.
In another medium to large pan, melt 4 tablespoons butter and add flour over medium heat. Mix and cook for three minutes.
With a wire whip, whip in milk and cream one third at a time whipping as you add. Remove from heat.
Add nutmeg, mustard, salt and pepper and stir. Add all of Parmesan and half of Swiss.
In a small bowl mix bread crumbs, second half of Swiss and the two tablespoons of melted butter.
To assemble, pour one third of the sauce into the bottom of a 1 ½ quart casserole dish.
Remove cauliflower from pan with a slotted spoon leaving all oil in the pan and place over the sauce.
Top with remaining sauce and bread crumb topping.
Bake uncovered for 25 minutes.
Let set for five minutes, and then serve.
---
You may also like: