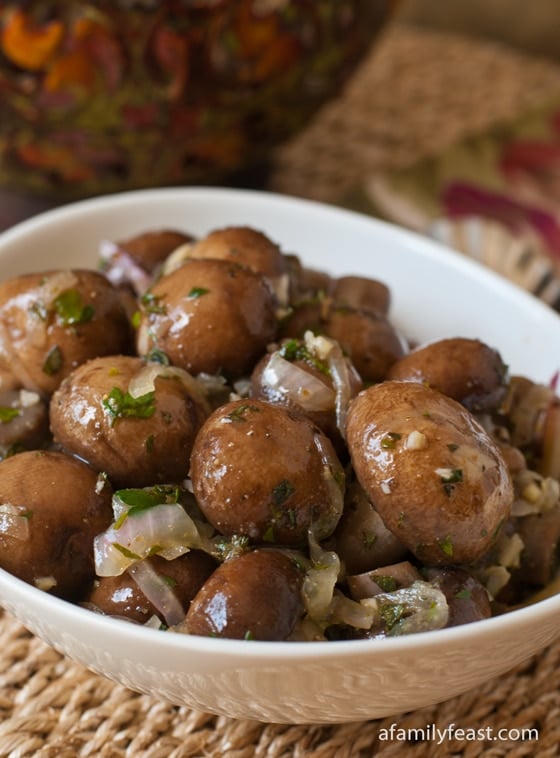 This recipe for Marinated Mushrooms is one that my husband Jack developed many years ago.  At the time, Jack was managing food service for a private club in Boston that catered to politicians, military leaders and celebrities.  Typically – for those high-profile guests – the menu was hand-picked for each visiting dignitary, and special staff was brought in to serve.
But when there was a break in dignitary and celebrity visits, the club turned back into a high-end private dining room with magnificent views of the Boston skyline and surrounding suburbs.  For those dinners, Jack's team served a standard menu that was developed and then approved by the president of the association that owned and managed the office building.
There was one item that the association president insisted on having available every day possible – these marinated mushrooms – and we're sharing this delicious recipe with you today!
The mushrooms are lightly blanched in boiling water until tender, then drained and cooled.   Then the mushrooms are marinated in a mixture of garlic, onions, herbs and spices, as well as Madeira wine, sherry, Dijon mustard, a touch of sugar and olive oil – all of which give these mushrooms a wonderful depth of flavor!  These super flavorful marinated mushrooms should be chilled at least overnight before serving to ensure that the flavors are absorbed into the mushrooms, then served slightly chilled or at room temperature.
These marinated mushrooms are a fantastic side to a steak or other hearty meat and potatoes dinner – but they are also great served at a summer cookout!
Print
Marinated Mushrooms
Prep Time:

12 hours

Cook Time:

5 mins

Total Time:

12 hours 5 minutes

Yield:

2 cups
---
1

pound Cremini mushrooms (baby portabella)

1 quart

water

1 teaspoon

salt

2

cloves garlic passed through a garlic press

1/3 cup

red onion sliced thin and in quarters

2 tablespoons

white wine vinegar

1 teaspoon

salt

¼ teaspoon

black pepper

½ teaspoon

ground coriander

1 tablespoon

dried Greek or Mediterranean oregano

1 tablespoon

chopped fresh parsley

1 teaspoon

dried thyme leaves

¼ cup

Madeira wine

¼ cup

cream sherry

1 tablespoon

Dijon mustard

1 tablespoon

sugar

½ cup

extra virgin olive oil
---
Instructions
Clean the mushrooms of all visible dirt.
Bring water and salt to a boil in a medium to large pot and place cleaned mushrooms into pot. Cover, bring to boil and simmer on low boil for five minutes. Drain and cool mushrooms.
Place the remaining ingredients, except the olive oil, in a medium bowl and whisk to combine. Slowly drizzle in the olive oil whisking while you pour.
Add the cooled mushrooms and place in a sealed container or zip lock bag and refrigerate at least overnight or longer. Serve slightly chilled or at room temperature.
---
You may also like: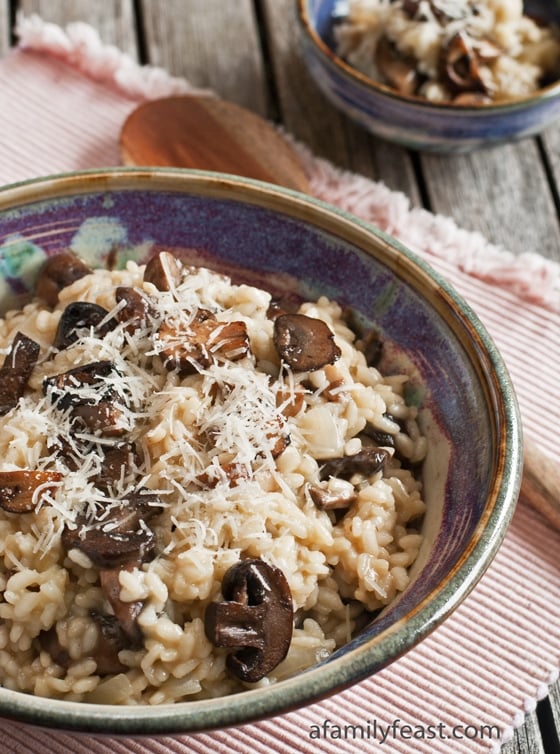 Sausage Stuffed Mushrooms with Mascarpone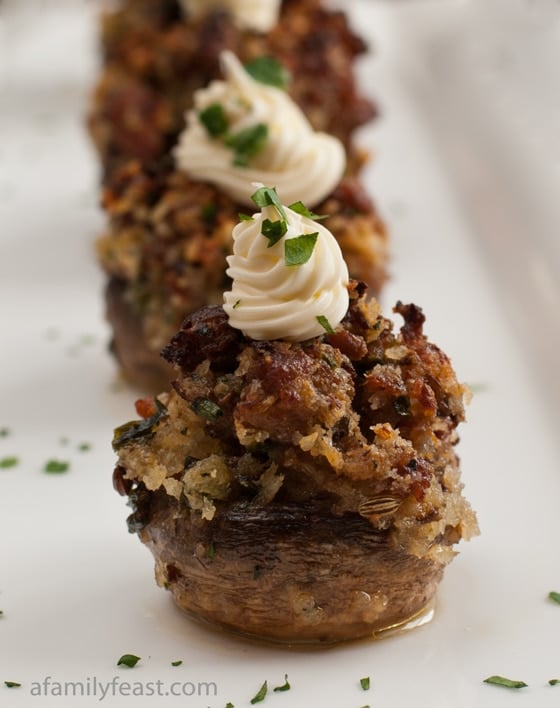 Chicken Breasts with Mushroom and Onion Dijon Sauce
Filet Mignon with Mushroom Sauce