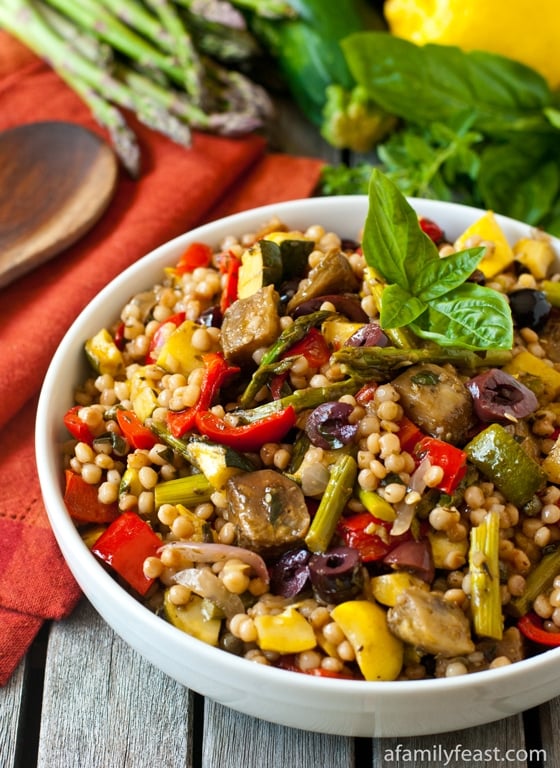 We are absolutely loving the fresh veggies at our local farmer's market right now, and this Israeli Couscous Salad with Mediterranean Roasted Vegetables is the perfect way to enjoy in-season vegetables!
A medley of asparagus, zucchini, yellow squash, eggplant, red bell pepper, and onion are roasted in the oven until caramelized, and then tossed along with toasted Israeli couscous in a flavorful vinaigrette.   Kalamata olives, capers and fresh basil and oregano are also added – giving this salad wonderful Mediterranean-inspired flavors!
We've been so busy this summer – constantly on the go – and I love dishes like this Israeli couscous salad with Mediterranean roasted vegetables.  This recipe serves six to eight generous-sized portions so it's great for a light and healthy dinner, and any leftovers make a great lunch-on-the-go the next day!
You can even add some cooked chicken to this salad if you'd like!  And Jack also added some feta cheese to his leftovers – which works really well with the other briny, Mediterranean flavors in this Israeli couscous salad.  And with all of the yummy roasted vegetables included – you're eating healthy too!
Recipe adapted from The Food Network.
Print
Israeli Couscous Salad with Mediterranean Roasted Vegetables
Prep Time:

30 mins

Cook Time:

30 mins

Total Time:

1 hour

Yield:

6-8 servings
Ingredients
For the Salad
½ pound medium asparagus spears cut into one inch pieces
½ pound zucchini cut into one inch pieces
½ pound yellow squash cut into one inch pieces
½ pound peeled eggplant cut into one inch pieces
1 large sweet red bell pepper cut into one inch pieces
¼ cup red onion sliced thin
3 tablespoons extra virgin olive oil
½ teaspoon salt
1 tablespoon Greek or Mediterranean dried oregano
1 teaspoon garlic powder
½ cup pitted and sliced Kalamata olives
2 tablespoons chopped fresh basil
2 tablespoons drained capers
¼ teaspoon freshly ground black pepper
½ pound Israeli couscous
2 teaspoons salt
Vinaigrette, see below
½ cup crumbled feta cheese (optional)
For the Vinaigrette
1 tablespoon minced shallots
2 tablespoons lemon juice
1 teaspoon lemon zest
2 tablespoons balsamic vinegar
2 teaspoons red wine vinegar
½ teaspoon salt
¼ teaspoon freshly ground black pepper
½ cup extra virgin olive oil
Instructions
Preheat oven to 425 degrees.
In a large bowl, place asparagus, zucchini, yellow squash, eggplant, red pepper, onion, oil, salt, oregano, and garlic powder. Mix to combine and pour out onto a sheet pan in a single layer.
Roast vegetables for 10 minutes, flip and roast for 10 more. They should be slightly browned but still have some bite to them.
Place vegetables back into large bowl and add olives, basil, capers and the ground black pepper.
In a large dry pan over medium high heat, toast couscous until slightly brown. Toss or stir often during browning so they don't burn. Bring 2 quarts of water to a boil with the two teaspoons of salt and add the toasted couscous. Cook 8-10 minutes just until they are no longer hard but not too soft. (Al Dente)
While couscous is cooking, make the vinaigrette. Place all vinaigrette ingredients except the oil into a medium bowl and whisk. Slowly drizzle in oil while you whisk. Set aside.
Once couscous is cooked, drain thoroughly in strainer and add hot couscous to roasted vegetable mixture. Toss slightly then add in vinaigrette. Toss again. Let sit for 30 minutes at room temperature so couscous can absorb the vinaigrette and flavors.
If you are adding the feta cheese, add this in now, however the finished dish is very good as is. Serve immediately.
You may also like:
Grilled Summer Vegetable Salad