Free up oven space this Thanksgiving and make this delicious Slow Cooker Sourdough Stuffing with Turkey Sausage and Apples in your crockpot instead!
This Slow Cooker Sourdough Stuffing with Turkey Sausage and Apples is sponsored by Peapod as part of our ongoing partnership. All opinions are 100% mine.  
This Slow Cooker Sourdough Stuffing with Turkey Sausage and Apples is so good – it may steal the show from your Thanksgiving turkey! Seriously – THIS is the side dish that everyone will be going back to the buffet for seconds!
Not only will your guests love this stuffing – you'll also love how easy it is to make! This Sourdough Stuffing with Turkey Sausage and Apples is cooked in the slow cooker so it won't take up oven space while you are cooking the rest of your Thanksgiving dinner.
You'll simply cook up some flavorful turkey sausage plus mushrooms, celery and onion – then toss it together with dried cubes of sourdough bread, apples, and walnuts, plus turkey stock, eggs and seasonings. Pour it all into the slow cooker and let it cook while you do the rest of your holiday meal prep.
Cooking for and entertaining a crowd of people during the holidays can get very hectic!  Make things a little easier on yourself and let Peapod take care of the grocery shopping for you!
Instead of battling the crowds at the supermarket, simply shop for your groceries online – then arrange Peapod's grocery delivery at a time when it's convenient for you. (This is a huge time saver!)
Peapod also offers shoppable recipes – meal kits with everything you need to make a delicious recipe. Just add those to your shopping cart on Peapod.com along with the rest of your grocery order. To learn more about Peapod's grocery delivery service, visit them here.
And, to make this delicious Slow Cooker Sourdough Stuffing with Turkey Sausage and Apples click on over to FromThePod.com – there you'll find this recipe as well as many other delicious recipes from me and my fellow bloggers.
Print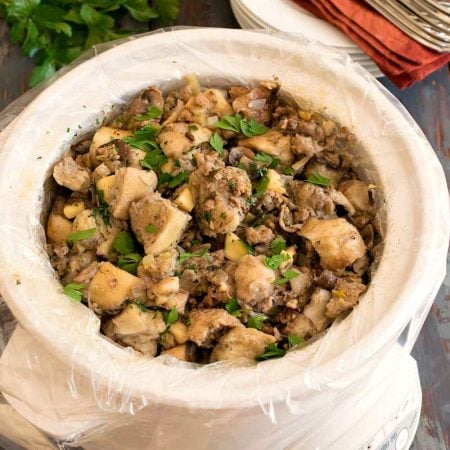 Slow Cooker Sourdough Stuffing with Turkey Sausage and Apples
Author:

Prep Time:

1 day 45 minutes

Cook Time:

4 hours 15 minutes

Total Time:

29 hours

Yield:

8-10 servings

Category:

side dish

Method:

slow cooker
---
1 ½ Nature's Promise Sourdough Loaves, cut into 1 ½-inch cubes (each loaf is 16 ounces – you will need about 24 ounces total of sour dough bread cubes for this recipe)
1 cup (2 sticks) butter, divided
1 ½ cups celery diced
1 ½ cups onion, diced
8 ounce package Baby Bella mushrooms, sliced
1 pound uncooked Shady Brook Farms Turkey Italian Sausage (sweet), removed from casings
2 Gala apples, peeled, cored and diced (Hold in a bowl of cold water until ready to add to the stuffing to avoid oxidization)
1 cup walnuts, coarsely chopped
2 whole eggs, beaten
¼ cup fresh Italian flat leaf parsley, chopped – plus additional for garnish if desired
1 ½ teaspoon kosher salt
1 teaspoon freshly ground black pepper
2 teaspoons Bell's poultry seasoning
1 teaspoon dry ground sage
1 teaspoon dry thyme
½ teaspoon dry marjoram
1 quart turkey or chicken stock
Supplies
A larger slow cooker (5-quart size or larger)
1 Reynolds Kitchens™ Slow Cooker Liner
---
Instructions
One day ahead: Spread sourdough bread cubes on a baking sheet and allow the bread to sit uncovered so it gets stale and dry.  Alternately, place the baking sheet of bread cubes in a 250 F degree oven for a few hours to dry out and harden if necessary.
Place stale or toasted bread cubes in a very large bowl.
In a large sauté pan, place half the butter, and melt over medium high heat. Add celery, onions and mushrooms and sauté for two minutes.
Add the uncooked turkey sausage meat that was removed from the casing and continue to cook until no longer pink, about three more minutes.
Remove from heat and add to the bowl with the bread and toss.
Melt the other half of the butter and stir into the mixture.
Add all other ingredients and toss again. Let stuffing sit in the bowl for 15 minutes to allow the bread to absorb some of the liquid, then toss one last time.
Line your large slow cooker with the Reynold's Slow Cooker Liner and pour in the stuffing.
Cover the slow cooker and set temperature on high for two hours. Reduce to low and cook another two hours.
Pour stuffing into a serving bowl, toss and serve.  Sprinkle with additional chopped parsley for garnish (if desired.)
---
Keywords: Thanksgiving, stuffing, slow cooker