Part stuffing, part mashed potatoes – this Maine Potato Stuffing is a must-make side dish for the holidays!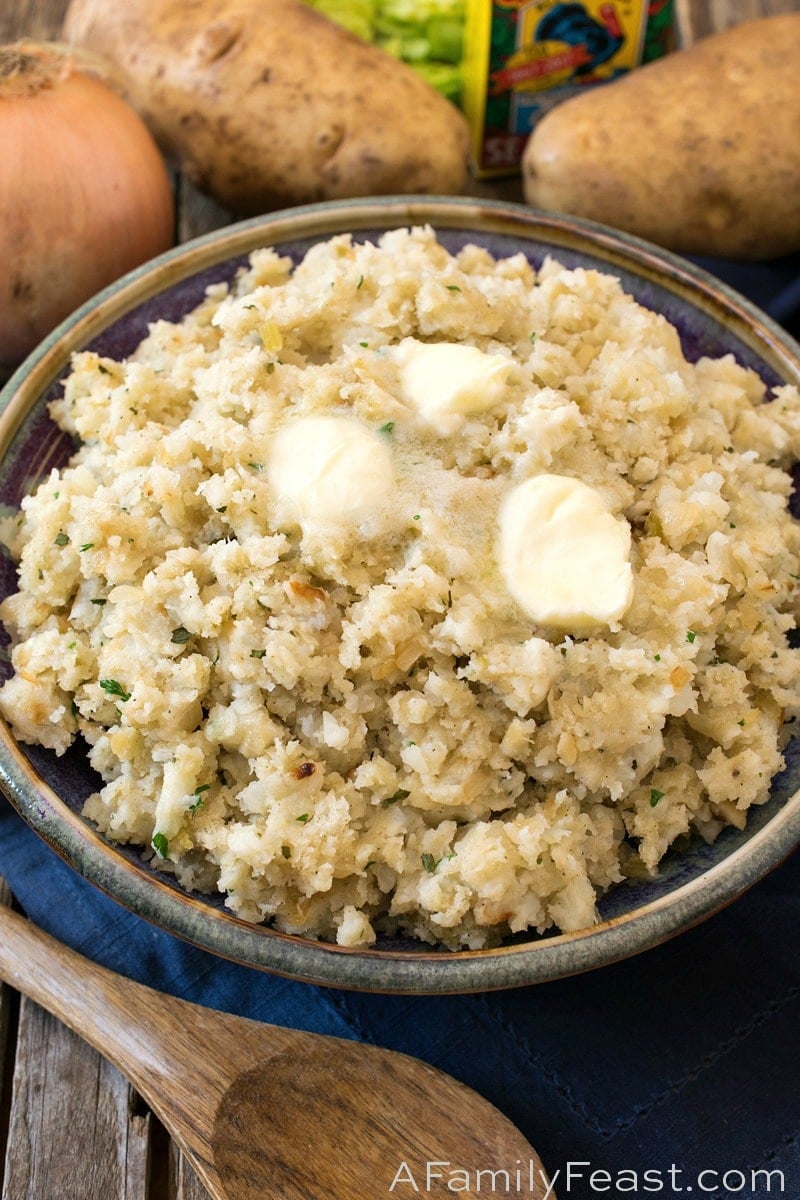 After years of recipe research and development, Jack and I were fairly certain that we had read about (or cooked ourselves) every possible variation of Thanksgiving stuffing recipe that exists. Then – happily – we learned about Maine Potato Stuffing, and we wondered how on earth we never knew about potato stuffing before?!
This Maine Potato Stuffing is part bread stuffing, part mashed potatoes, and 100% delicious! (We're so excited to share this recipe with you today!)
How do you make Maine Potato Stuffing?
Tender russet potatoes are mashed and combined with coarse crumbs made from sourdough bread, then mixed with onions and celery sautéed in butter. You'll also stir in some half-and-half, and the mixture is simply seasoned with Bell's Seasoning, salt and pepper, plus some chopped fresh parsley too.
Served with even more butter on top, this super easy no-bake Maine Potato Stuffing is a great option when you are tight on oven space as you prep your Thanksgiving dinner menu.  And – this delicious side dish can really take the place of serving both mashed potatoes and stuffing as separate sides.
What is the origin of Maine Potato Stuffing?
Reading around online, there seems to be a lot of debate about both the origin of potato stuffing, as well as the ingredients that should be put into it!
Some say potato stuffing recipes originated with the Pennsylvania Dutch, others say it's a German recipe. Some Canadians claim this delicious side dish for their own, while others say it's from Maine – which is known for their potato crops. Maybe they are all true – but being New Englanders ourselves and finding this recipe by Yankee Magazine, we're sticking with calling it Maine Potato Stuffing! 😉
The second 'great debate' is over the ingredients: celery or no celery, milk or no milk; Bell's Seasoning vs savory seasoning.  (We included celery, half and half and Bell's – so you know which side of the argument we stand!)
But no matter who invented it, or whose recipe you follow to prepare it, Maine Potato Stuffing is delicious!
Adapted from Yankee Magazine.
You may enjoy these other potato side dishes:
Print
Maine Potato Stuffing
Author:

Prep Time:

40 minutes

Cook Time:

10 minutes

Total Time:

50 minutes

Yield:

12 servings

Category:

side dish

Method:

stovetop

Cuisine:

American
---
12 tablespoons butter, divided (1 ½ sticks plus more for serving)
2 ½ cups onion, diced small
1 cup celery, diced fine
1 16-ounce loaf sour dough bread (one-pound loaf), about 6-7 cups after processing into crumbs
2 teaspoons Bell's Seasoning (or other poultry seasoning of your choice such as Savory)
1 ½ teaspoons kosher salt
½ teaspoon white pepper
2 tablespoons fresh parsley, minced
3 pounds russet potatoes
1 cup half & half
---
Instructions
Place one stick of butter in a medium skillet or sauté pan and heat over medium heat. Once melted, add onions and celery and sauté for ten minutes or until the vegetables are tender and the onions are starting to caramelize. Remove from heat and add the rest of the butter. It will just melt into the onions as you prepare the rest of the dish. Set aside.
Remove crust from the sour dough loaf and cut the remaining bread into cubes. Place in a food processor and process until the bread is coarsely chopped. Don't over process.
Pour this into a large bowl and add the Bell's (or other poultry seasoning of your choice), salt, pepper and parsley and toss.
While the onions are cooking, peel and cut the potatoes into one-inch pieces and place in a pot of salted water and boil until fork tender, about 5-10 minutes.
Heat the one cup of half & half to hot. OK to heat in microwave about one minute.
Drain the potatoes then place back in the pan with the hot half & half and coarsely mash leaving some chunks.
Toss the bowl of bread with the onion and butter mixture then add this to the mashed potatoes and stir with a wooden spoon.
Taste and adjust seasoning if needed, then serve in a bowl with additional butter over the top.
---
Keywords: potato stuffing