Anytime I see super fresh Brussels sprouts at the market, I usually fill up a bag to take home,  I am more than a little obsessed with this recipe (just ask my husband Jack) 🙂 , but being in the midst of the hottest week of the summer – the last thing I wanted to do was turn on the oven! So instead, I made this delicious, easy Shaved Brussels Sprout Salad.
Just a few flavorful ingredients, plus an easy homemade vinaigrette – and this Shaved Brussels Sprout Salad makes a light and delicious meal. It's also a wonderful side to serve alongside any grilled meat and also delicious served on top of a pulled pork sandwich!
To make this Shaved Brussels Sprout Salad, it really helps to use a mandoline to get a close, thin shave as you slice the fresh Brussels sprouts.  (I used this one – it works very well and is not expensive at all!) Also be sure to use the safety guard that comes with your mandoline, or use a cut-resistant glove as you shave the Brussels sprouts to protect your fingers!
We combined the shaved Brussels sprouts with dried cranberries, toasted walnuts, and thinly sliced red onion, then tossed it all with a simple homemade vinaigrette before piling it onto a serving platter.
The finishing touch on this Shaved Brussels Sprout Salad is sprinkle of crumbled goat cheese flavored with honey. (The extra sweetness from the honey is a perfect complement to this easy salad!)  If you can't find honey-sweetened goat cheese, just use regular goat cheese and drizzle a small amount of honey over your Shaved Brussels Sprout Salad before serving.
Print
Shaved Brussels Sprout Salad
Prep Time:

20 mins

Cook Time:

5 mins

Total Time:

25 minutes

Yield:

4-6 servings
---
Description
*If at all possible, look for goat cheese flavored with honey for this salad. If you can't find it at your local supermarket, use regular, unsweetened goat cheese and then drizzle honey over the top of the salad.
---
Vinaigrette
¼ cup

extra virgin olive oil

2 tablespoons

white balsamic vinegar

1 teaspoon

Dijon mustard

¼ teaspoon

granulated sugar
Pinch of salt

4

–

5

grinds of freshly cracked black pepper
Salad
1 cup

walnuts

1

pound Brussels sprouts

1 cup

dried cranberries

½ cup

thinly sliced red onion

2 ounces

goat cheese with honey (or plain goat cheese), crumbled
Honey, optional (*see note below)
---
Instructions
In a small bowl, add vinaigrette ingredients and whisk to blend. Set aside.
In a dry skillet, lightly toast the walnuts over low heat until golden brown. Remove from heat and set aside to allow the walnuts to cool completely.
While the nuts cool, rinse and drain the Brussels sprouts, leaving the stem end untrimmed but removing any bruised leaves. Dry wet Brussels sprouts by patting with a paper towel.
Using a mandoline (this one works well on the thinnest setting) or very sharp knife, hold onto the stem end of each sprout and carefully shave the Brussels sprouts into very thin slices, discarding the tough stem ends. (One pound of whole sprouts should yield about 5-6 cups shaved.) Place sprouts into a large mixing bowl.
Coarsely chop cooled walnuts and add to mixing bowl with sprouts along with dried cranberries and red onion to the bowl. Toss gently to combine.
When ready to serve, whisk the vinaigrette ingredients once more, then pour over the Brussels sprouts mixture, tossing gently again to evenly coat the salad.
Place dressed salad onto a serving platter, then sprinkle with goat cheese. (*See note above if using plain goat cheese and optional honey.)
---
Disclosure: This post contains affiliate links.
You may also like:
Oven Roasted Brussels Sprouts with Bacon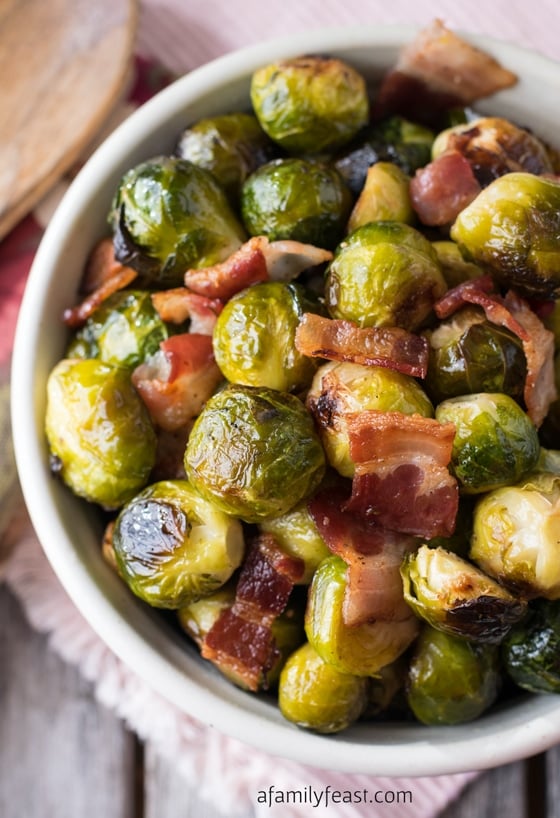 Brussels Sprouts and Bacon Pizza
Oven Roasted Brussels Sprouts with Mustard and Shallots