Our grill has been working overtime this summer, and these Sesame Chicken Skewers with Srirachi-Soy Dipping Sauce are a light and healthy option for a delicious summertime meal.   These skewers are great to prepare ahead of time, and they take just minutes to grill after a day at work or the beach!
What really makes these sesame chicken skewers so special is a combination of the sriracha-soy dipping sauce, plus a spice 'shake' that gets sprinkled over the grilled chicken and vegetables when serving.
First – let me tell you about the sriracha-soy dipping sauce! Jack and I are both fairly new to the sriracha bandwagon, and we're so glad that we've finally joined in!  I've seen the red squeeze bottles with the rooster on them for years at the market, and it also seems to be a popular ingredient in recipes these days – but we actually never tried sriracha until recently.  Jack loves any kind of hot pepper sauce so he was an easy sell, while I prefer a more mild spiciness.  I have to say, this dipping sauce is fantastic – the sriracha gives it a gentle heat and the peppery flavor is great with soy sauce, lime juice and a little brown sugar for sweetness!
Then the shake is made with toasted sesame seeds and crushed black pepper corns and coriander seeds.  It not only adds great flavor, but also a little bit of bite and texture to the tender grilled chicken and vegetable skewers.
A squeeze of lime completes these sesame chicken skewers with sriracha-soy dipping sauce, and served over a bed of rice – this is a meal that is sure to become one of your summer favorites!
Adapated from: License to Grill
(Affiliate Link)
Print
Sesame Chicken Skewers with Sriracha-Soy Dipping Sauce
Prep Time:

45 mins

Cook Time:

25 mins

Total Time:

1 hour 10 minutes

Yield:

6-8 servings
---
For the Spice shake
3 tablespoons

whole coriander seeds

1 tablespoon

whole black pepper corns

3 tablespoons

sesame seeds
For the Dipping sauce
1/3 cup

soy sauce

2 tablespoons

fresh lime juice (

one

lime)

1 tablespoon

brown sugar

1 teaspoon

Sriracha hot sauce (more or less depending on how hot you like it) Tabasco can be substituted
For the Skewers
2

pounds boneless skinless chicken breasts cut into about

20

large chunks

4

scallions (white and green parts), chopped fine

2 tablespoons

fresh minced ginger

2 tablespoons

sesame seed oil

2

large red bell peppers halved, seeded and the halves quartered (

8

pieces per pepper)

2

medium red onions, skinned but root left on, cut into 8 wedges per onion (Note: Leaving the root on will prevent them from falling apart while grilling.)

½ teaspoon

Kosher salt

¼ teaspoon

freshly ground black pepper

2

limes quartered for garnish
Prepared white Basmati rice, for serving
---
Instructions
If using wooden skewers, soak in water for at least one hour.
To Prepare the Shake:
In a small sauté pan over medium heat, dry roast coriander, peppercorns and sesame seeds. Shake the pan often and cook for 2-3 minutes or just until you see a bit of smoke. Remove immediately to cool.
If you have a small food processor, like this one, process toasted spices until finely crushed.
If not, lay the toasted spices out in a sheet tray and crush with the bottom of a heavy skillet. Set aside for serving.
To Prepare The Dipping Sauce:
Combine the soy sauce, lime juice, brown sugar and sriracha. Set aside for serving.
To Prepare the Skewers:
In a large bowl, combine chicken, scallions, ginger and sesame seed oil. Toss well.
Begin threading chicken, peppers and onions on skewers alternately. Either end should have chicken or onion as the pepper will slip off at the ends. The onion should be pierced straight through each layer so it stays on the skewer as it cooks. Pour any leftover ginger mixture over the skewers. Sprinkle the salt and pepper over each skewer.
Over a medium grill, oil the grates with an oil soaked paper towel. Grill the skewers about 5-7 minutes per side and remove when the chicken is done and the vegetables are tender. Pull open the largest piece of chicken to test for doneness. It should be cooked through.
Grill the lime wedges if desired to add char marks.
Place the skewers on a platter and sprinkle with the spice shake on all sides and garnish with the grilled lime wedges. (Save any leftover spice shake for other grilled recipes.) Serve over white Basmati rice, along with the dipping sauce and a grilled lime wedge.
---
You may also like:
Lemon-Glazed Swordfish Skewers Over Rice
Pork and Apple Skewers With Orange Balsamic Glaze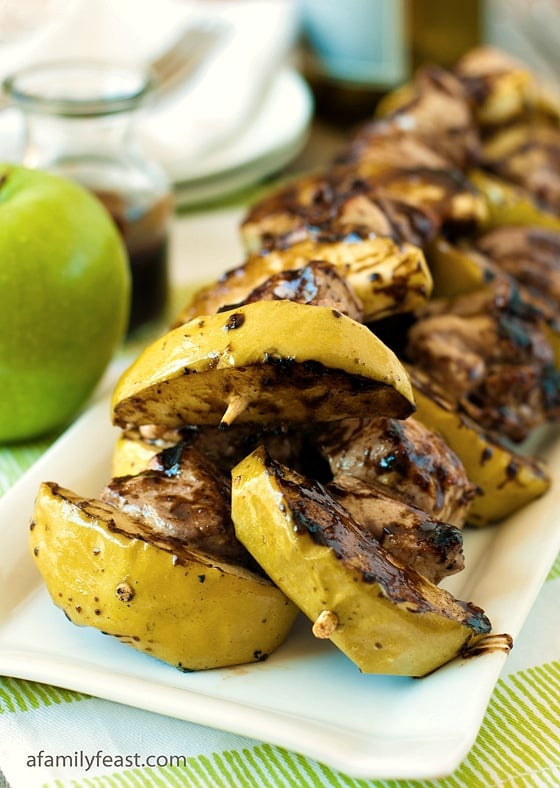 Grilled Sweet Potato Salad with Sweet & Sour Bacon Dressing