We eat sweet potatoes all the time at our house.  Not only are they delicious, but sweet potatoes are loaded with vitamins and nutrients that are believed to offer disease-preventing, cancer-fighting and immune-boosting benefits!  (No wonder sweet potatoes are sometimes called a superfood!)
But in the middle of the summer – the last thing we want to do is turn on the oven – especially if we're grilling the rest of our dinner.  This Grilled Sweet Potato Salad with Sweet and Sour Bacon Dressing is a delicious alternative to a baked sweet potato!
Thick slices of sweet potato are quickly blanched in a pot of boiling water and then grilled for a few minutes which gives the potatoes a wonderful caramelized taste and color.  Then a warm dressing made with bacon, onions, white wine vinegar, olive oil and sugar is poured over the sweet potatoes – and the delicious sweet and sour plus bacon flavors are a great complement to the warm and earthy sweet potatoes!
This grilled sweet potato salad with sweet and sour bacon dressing makes a delicious side dish to a thick, juicy grilled steak and a tossed salad.  Enjoy!
Print
Grilled Sweet Potato Salad with Sweet and Sour Bacon Dressing
Prep Time:

10 mins

Cook Time:

20 mins

Total Time:

30 minutes

Yield:

4-6 servings
---
3

medium or

2

large sweet potatoes, peeled and cut into

one

inch thick slices.

3 tablespoons

vegetable oil
Salt and freshly cracked black pepper to taste

4

slices bacon, diced medium.

1

medium red onion, peeled and thinly sliced

1 tablespoon

minced garlic

1/3 cup

white wine vinegar

1/3 cup

extra virgin olive oil

¼ cup

sugar
Salt and freshly cracked black pepper to taste

¼ cup

chopped fresh parsley
---
Instructions
Blanch sweet potato slices in a large pot of boiling salted water, about 8-10 minutes. They should be firm and cooked but not mushy. Drain and cool to room temperature.
In a small bowl combine potato slices, oil, salt and pepper and toss. Place on a hot grill and cook until well browned, about 3-5 minutes. Remove and place in a medium bowl. Set aside.
In a large sauté pan, cook bacon until they just start to crisp, about 6 minutes. Remove the bacon to paper towels and leave all but 2 tablespoons of bacon fat in the pan.
Add the onion slices and cook for 2 minutes stirring occasionally. Add the garlic and cook for 2 more minutes. Remove pan from heat and stir in the vinegar, oil, sugar, cooked bacon, salt and pepper. Pour this mixture over the grilled sweet potatoes, top with chopped parsley and serve.
---
You may also like:
Spinach Salad with Warm Bacon Dressing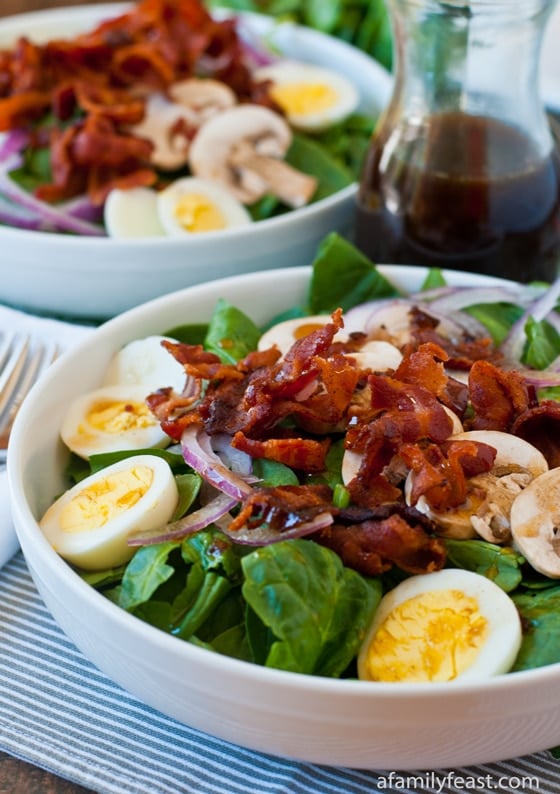 Grilled Yellow Potatoes with Mustard Sauce
Grilled Summer Vegetable Salad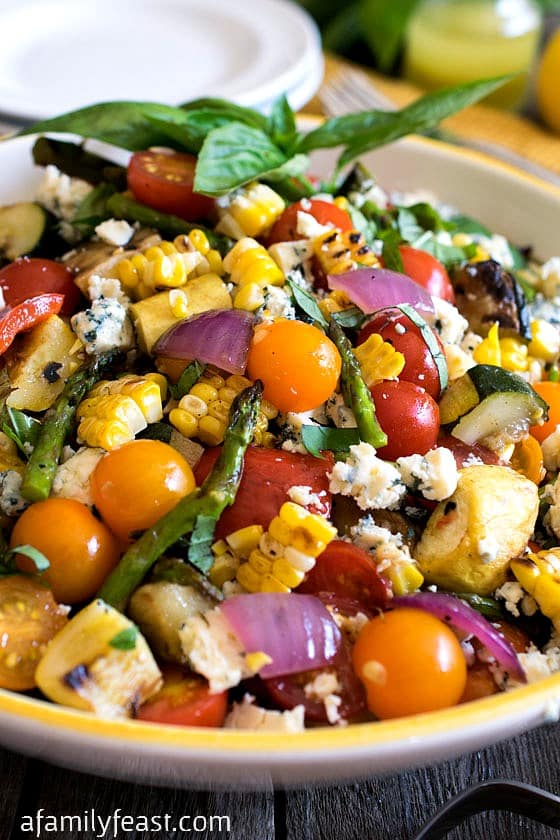 Mashed Sweet Potatoes with Kale and Boursin