My husband Jack and I have a long-running, good-natured argument about the correct way to say the word scallops! According to Jack, the "a" in scallops should be pronounced like in the word "ball" while I grew up saying the "a" like in the name "Hal."
We're both correct (at least according to Wikipedia) – and considering how much we both love and enjoy eating scallops (and – how much we both love to be right) that's a very good thing. And another very good thing – this recipe for Sea Scallops with Cipollini Onions and Pasta!
This recipe combines simple but super-flavorful ingredients to create one fantastic dish! Pasta shells are tossed with tender cooked sea scallops that have been sautéed with pancetta and onions. Then a wonderful pan sauce is made using white wine, garlic, lemon zest, parsley and basil, and freshly grated parmesan and peas are added at the end.
Our sea scallops with cipollini onions and pasta recipe is adapted from The Tra Vigne Cookbook
, one of our favorite cookbooks. We followed Chef Michael Chiarello's basic cooking method from the original recipe, but adapted the ingredients based on what we had on hand in our own kitchen, and to suit our own tastes.
And – in case you'd like to read a bit more about what to look for when buying and cooking scallops for your recipes, click here for some great tips.
Print
Sea Scallops with Cipollini Onions and Pasta
Prep Time:

20 mins

Cook Time:

20 mins

Total Time:

40 minutes

Yield:

4-6 servings
---
Description
If fresh peas are not available, feel free to use frozen peas but stir them in at end of the recipe as all of the ingredients are combined together (see step #12).
---
1

pound ciplollini onions (pearl onions or boiling onions will also work in this recipe but cooking times will vary)

2 ounces

diced pancetta

1 tablespoon

extra-virgin olive oil

1

pound sea scallops, muscle removed, rinsed and patted dry

½

pound of dry shell past,a or your favorite pasta of similar pasta thickness

1 ½ teaspoons

minced garlic

1 cup

dry white wine

1 ¼ cups

of vegetable stock

½ teaspoon

sea salt (Kosher if sea salt is not available)

¼ teaspoon

freshly ground black pepper

2 cups

fresh uncooked peas, about 100-125 fresh pea pods shucked, if sold that way. (See note above if fresh peas aren't available and you need to use frozen peas instead.)

3 tablespoons

fresh basil, chopped

1 ½ tablespoons

fresh flat leaf parsley, chopped
Zest from

half a

lemon

1 tablespoon

unsalted butter

½ cup

grated Parmesan cheese, plus more for serving
---
Instructions
Heat a medium pot of water to boil and add onions, skin and all. Cook for three minutes and drain and place in an ice bath. Cut off root end and squeeze from other end to pop out onions. Set aside.
Heat a large pot of salted water for the pasta.
Heat a large skillet or sauté pan to medium high and add olive oil and pancetta and cook to crisp. Remove cooked pancetta and set aside.
Add onions to pan and brown, about four or five minutes. Remove to a dish and set aside.
Place scallops in pan being careful not to let them touch or overcrowd the pan and sear for about a minute on each side. (No more than three minutes total). Remove to the dish and set aside. (They will not be fully cooked yet)
Place dry pasta into boiling water and cook to package directions, just slightly underdone.
While pasta is cooking add garlic to sauté pan and cook for 30 seconds.
Add wine to pan and scrape up any browned bits from bottom.
Add stock, browned onions and salt and pepper and cover. Boil covered for about 8-10 minutes or until onions are tender (time varies by size of onion). If liquid evaporates before onions are tender, add more stock or water until they cook through.
Remove cover and add raw peas and cook for 2 minutes. If using frozen, skip this step and add the peas at the end of the recipe.
Add all other ingredients including seared scallops and any liquid collected at bottom of dish.
Add cooked pasta and about half a cup of pasta water to pan. Heat and stir until pasta and scallops are cooked through. Adjust seasoning if needed.
Serve with additional Parmesan cheese and cooked crisp pancetta over each dish.
---
Disclosure: This post contains affiliate links.
You may also like these other scallop recipe: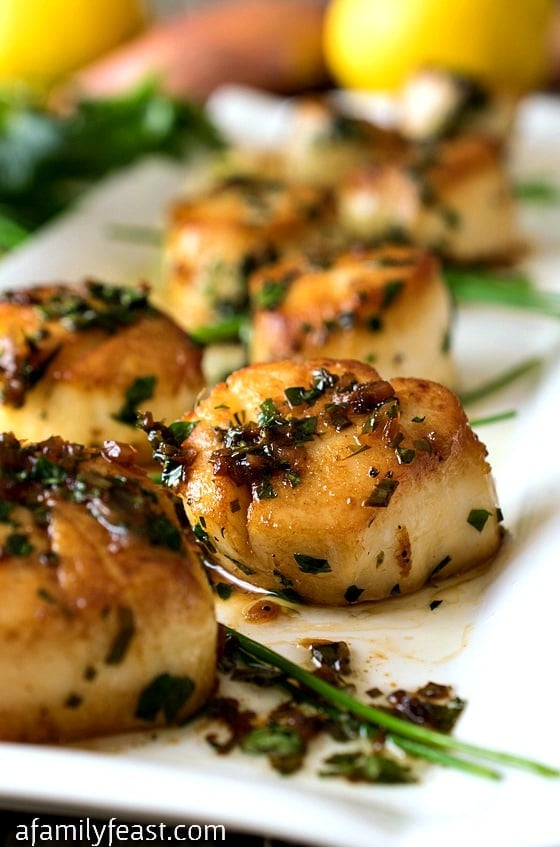 Scallops alla Veneziano with Parmesan Toasts