Whenever our grandson, JC, comes over to our house for a visit, I always like to make him a special treat – and this delicious and refreshing POM Pomegranate Sherbet was my latest recipe to try!
JC is such a great kid – responsible and kind, a high honors student, and he's like a sweet, big brother to Emma, our six year old*.  Like many people these days, JC eats a gluten-free and dairy-free diet.  He has Tourette Syndrome, a neurological disorder that is characterized by a body or facial tic along with a vocal tic that lasts for longer than a year.  As you might imagine, the diagnosis was quite devastating, and even though his tics are fairly mild compared to others with Tourette's, anything that makes you 'different' is tough for a pre-teen kid!  So JC's mother, Courtney, did a ton of online research where she learned that gluten and dairy (but especially gluten) can be a big trigger for kids with Tourette's.  After consulting with JC's doctors, and in addition to some medications, Courtney has JC on a gluten-free and dairy-free diet – and it really seems to help minimize the tics associated with his Tourette Syndrome.**
So Jack and I are always very careful to make sure that we prepare gluten-free and dairy-free foods (and desserts – after all, what 11-year-old kid doesn't want dessert!) that JC can eat!  This POM pomegranate sherbet is very easy to make with only three ingredients – POM pomegranate juice, a can of coconut milk and honey – and it's a refreshing and light summer dessert!  Just gently heat the ingredients enough so that the coconut milk solids and the honey dissolve into the pomegranate juice, cool and then churn in an ice cream maker.  You can actually drink it as a slushy right after churning, or freeze for a few hours before eating.
In JC's words, this POM pomegranate sherbet is, "Amazing!"  It's not too sweet (you can add more honey if you'd like) and the coconut milk gives it a slightly tropical flavor along with the sweetness from the pomegranate juice.  It's a perfect summertime treat!
Recipe adapted from glutenfreeeasily.com
*Many people ask how it's possible that we have an 11-year-old grandson and a 6-year-old daughter.  Jack was previously married a number of years ago and had two children, Tim and Courtney.  Courtney is JC's mom.  After Jack and I married, Emma was born a few years later – and that is how our family came to be!
**Clinical research is split on whether dietary changes help the tics associated with Tourette's.  A gluten-free and dairy-free diet has greatly helped JC, but we would encourage you to speak to your doctor for additional information.
Print
POM Pomegranate Sherbet
Prep Time:

6 hours 20 mins

Cook Time:

10 mins

Total Time:

6 hours 30 minutes

Yield:

6-8 servings
---
2 cups

POM pomegranate juice

1

14-ounce can full-fat coconut milk

½ cup

honey (or more to taste)
---
Instructions
Add all ingredients to a medium sauce pan and warm, over medium heat, until the coconut milk solids and the honey have completely dissolved in the juice. (Do not bring to a boil.)
Remove from the heat and pour the mixture into a bowl. Chill in the refrigerator, stirring occasionally so that the pomegranate juice and coconut milk don't separate. You'll want to chill the mixture (about an hour or so) until it's cool enough to churn but not so cold that the coconut milk starts to solidify again.
Churn in an ice cream maker according to your manufacturer's instructions.
Freeze 4-6 hours before eating.
---
You may also like:
Chocolate Banana Smoothie (Vegan and Gluten Free)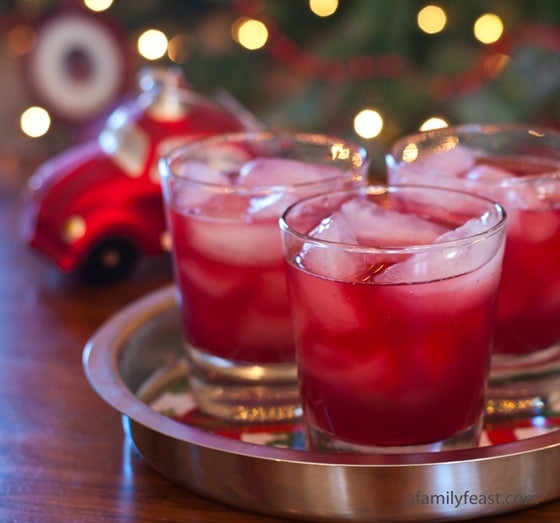 Pork Tenderloin with Pomegranate Pan Sauce