Risotto Carbonara has the same traditional flavors of a classic carbonara dish – but swaps in Arborio rice for the pasta.
This Risotto Carbonara is my latest comfort food obsession! Creamy arborio rice is combined with smoky bacon and zesty Genoa salami in a rich and cheesy sauce.
This is absolutely delicious, and you can serve it for dinner with a simple salad on the side. Or, it can be served as a side dish alongside grilled or roasted meats.
What is Risotto Carbonara?
Let's break it down:
Risotto is a northern Italian rice dish cooked with broth until it reaches a creamy consistency.
Carbonara is traditionally a pasta dish made with egg yolks, hard cheese (such as Parmesan and/or Romano), cured pork, and freshly cracked black pepper.
Our Risotto Carbonara is a delicious marriage of the two – combining the same smoky flavors of a carbonara in creamy risotto instead of pasta.
Ask my husband Jack – who will tell you that I almost always order spaghetti carbonara when we go out to dinner. So when I say that Risotto Carbonara is even better – then you know this dish must be good!
Before you run out to the supermarket to buy the ingredients to make this dish – I should note one thing. Jack came up with the idea of adding diced Genoa salami to our Risotto Carbonara, which is not a typical carbonara ingredient. (Most are made with bacon.)
Ever since we made this quiche recipe years ago, we've loved adding some lightly fried salami to some of our dishes. Genoa salami has a unique taste – and when fried – has a sweet/salty almost candy-type texture and flavor, and it was fantastic added to this Risotto Carbonara! If you prefer, you can just use all bacon instead.
You may enjoy these other risotto recipes:
Print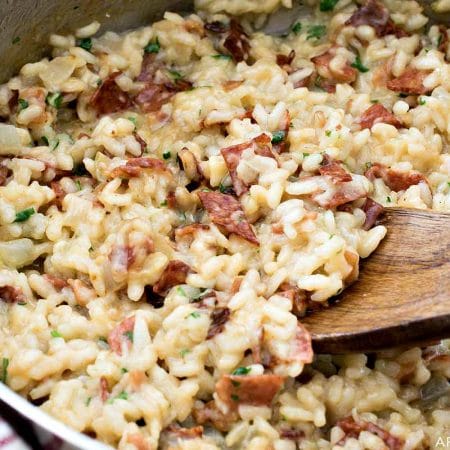 Risotto Carbonara
Author:

Prep Time:

30 minutes

Cook Time:

45 minutes

Total Time:

1 hour 15 minutes

Yield:

6 servings

Category:

entree

Method:

stovetop

Cuisine:

Italian
---
1 tablespoon extra-virgin olive oil
4 ounces bacon, diced
4 ounces sliced Genoa salami, diced
3 cups chicken stock, homemade if possible
2 tablespoons butter
1 cup onions, diced
1 tablespoon garlic, minced
Pinch red pepper flakes
1 cup Arborio rice
¼ cup white wine
2 egg yolks
2 tablespoons heavy cream
½ cup freshly grated Parmesan cheese
½ cup freshly grated Romano cheese
2 tablespoons Italian flat leaf parsley, chopped
½ teaspoon white pepper
Salt as needed (depending on how salty your stock is)
---
Instructions
Before you begin, have all ingredients measured out. Risotto needs attention once you start cooking it.
In a medium heavy bottomed pan or Dutch oven, over medium heat, add the olive oil and once hot, add the bacon.
Cook the bacon five minutes until almost crisp. Remove with a slotted spoon and set aside.
Add the salami and cook only 1-2 minutes to slightly crisp, being careful not to burn. Remove with a slotted spoon and add to the bacon.
Pour the fat into a bowl and wipe the inside of the hot pan with a wad of paper towels to pick up and dark pieces or sediment.
Heat the stock in a separate small sauce pan and keep hot.
Return the Dutch oven to medium heat and measure in two tablespoons of the bacon fat along with the butter.
Once the butter has melted, add the onions and cook three minutes.
Add the garlic and red pepper flakes and cook one minute then add the rice and cook for two minutes.
Add the wine and once the wine evaporates, reduce the heat to medium low and start adding hot chicken stock one half cup at a time, making sure that each addition gets absorbed in before adding more.
After about 15-20 minutes, all of the stock should be in and absorbed. Cover the pot and remove from heat and let sit five minutes.
While the rice sits, in a medium bowl, beat the egg yolks and heavy cream.
After the rice sat for five minutes, scoop out spoonfuls of the rice and whisk into the cream and egg mixture to temper the eggs. After adding a cup or so, stir this mixture back into the rice pot.
Off heat add in the reserved cooked bacon and salami, the Parmesan and Romano cheese, the chopped Italian parsley and the white pepper.
Taste and add only enough salt to season the rice. The bacon and salami are salty and your stock may be salty, so you may not need any additional salt.
Stir and serve and if it gets too thick, loosen with additional stock or water.
---
Keywords: risotto carbonara