This 100+ year old recipe for Italian Ricotta Pie has been passed down through generations.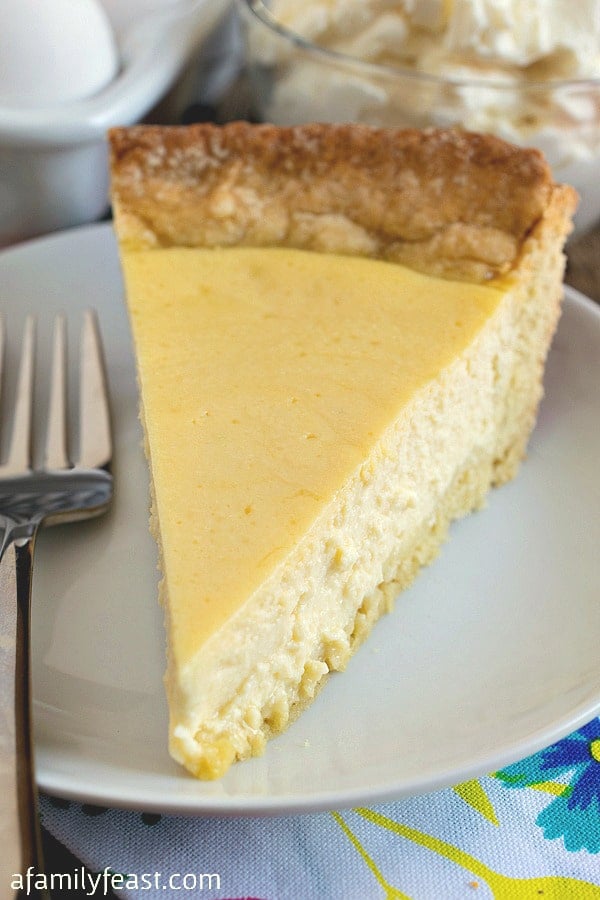 We're sharing this Italian Ricotta Pie as part of an ongoing Ambassadorship with Peapod. All opinions are 100% mine.
Today we're sharing a treasured family recipe from my husband's side of the family. This recipe for Italian Ricotta Pie was part of a collection of handwritten (and very weathered) recipes that we were lucky enough to inherit from Jack's grandmother.
Italian Ricotta Pie is a classic, traditional recipe – often served at Easter. Like so many of the other passed-down recipes that we've recreated here on A Family Feast, this 100+ year-old family recipe was vaguely written, and it lacked some exact ingredient measurements. So – it actually took us three attempts to get this Italian Ricotta Pie recipe just right! (You'll also notice that Jack's grandmother called it a 'cake' but it is baked in a pie plate!)
I think our Italian Ricotta Pie will make any fan of traditional Italian foods very happy!  (Especially those of you who love Italian desserts!)
This pie has a lightly sweetened, very moist ricotta cheese filling, and a thick, rustic crust with hints of both vanilla and almond flavors. Interestingly – this recipe does not use butter in the crust. Extra virgin olive oil is used instead – and it totally works – giving the crust a crispy, flaky and almost cookie-like texture on the outer edges, and the bottom crust under the ricotta cheese filling is slightly cake-like in texture.
You can buy all of the ingredients to make this Italian Ricotta Pie – as well as everything else you'll need to prepare your Easter dinner – from Peapod's grocery delivery service. Peapod carries thousands of items including Easter candy, holiday hams, and so much more – just like your local supermarket.  You can even place your grocery order from the Peapod app! Just decide on the date and time of your grocery delivery – and Peapod will bring your groceries to your home or office.
Print
Italian Ricotta Pie
Author:

Prep Time:

30 minutes

Cook Time:

1 hour 20 minutes

Total Time:

1 hour 50 minutes

Yield:

Serves 6-8

Category:

dessert

Method:

baking

Cuisine:

Italian
---
Description
Please note: The dough for the crust is very delicate and very soft. This is normal and if it breaks as you put it into the pie plate, it can easily be repaired by pressing the tear together. (So don't worry at all if it doesn't roll out and transfer perfectly to the pie plate.)
---
Crust
1½ cups all-purpose flour
1 teaspoon baking powder
1/3 cup granulated sugar
2 egg yolks (save egg whites for filling)
1/3 cup whole milk
1/3 cup good quality olive oil
1 teaspoon vanilla extract
1 teaspoon almond extract
Flour for dusting your counter
Filling
2 cups whole milk ricotta cheese
½ cup granulated sugar
3 whole eggs, beaten
2 egg whites (saved from making the crust)
1½ teaspoons vanilla extract
---
Instructions
Preheat oven to 350 degrees F.
Bring 2 or more quarts of water to boil on stove. In the bottom rack of the preheated oven, place a baking dish such as a 9×13-inch baking dish and fill with the hot, boiled water. Place another oven rack directly over that to next rack position.
In a large bowl, sift flour, baking powder and sugar. Stir to combine.
In a smaller bowl combine egg yolks, milk, olive oil, and both extracts.
Make a hole in the center of the flour and pour in liquid. With a wooden spoon, mix to combine. (If the mixture gets too difficult to combine with a wooden spoon, used your hands to finish mixing).
Flour your countertop well and place the dough ball in the center, pressing to form a round disc. Keep flouring, pressing and flipping. Flour a rolling pin and gently roll to a circle an inch or two larger than a deep dish 9-inch pie plate.
Either fold the dough in half and place over half the pie plate, flipping other half over or roll the dough onto your rolling pin than back over the pie plate. Again, the dough is soft and delicate so be gentle.
Use your fingers to form and press the dough into the confines of the pie dish, crimping the top edge all the way around (as you would any other pie) by pinching with thumb and index finger. Set aside, the shell is not pre-baked.
Make the filling by placing the ricotta in a large bowl and mixing in sugar until combined.
Add whole eggs, egg whites and vanilla and stir to combine with a wooden spoon. If lumpy, use a wire whisk to smooth out.
Pour directly into unbaked crust. Cover the crust edge with foil or pie crust shield so the edges don't get too browned as the pie bakes.
Place pie in the center of oven on the rack over the water bath and bake for one hour and ten minutes. Turn off oven but leave the pie in the oven for ten more minutes. (Don't open the oven door during any of the time that the pie is in the oven.)
Carefully remove the pie from the oven and place on a wire rack to cool completely. (Cool completely before refrigerating – if you put the pie in the refrigerator while still warm, it will weep slightly and collect moisture on top.) Chill overnight uncovered.
Once chilled, cut and serve.
---
Keywords: Easter, ricotta pie
You may also like these other recipes featuring Peapod:
Slow Cooker Tex-Mex Chicken Stew