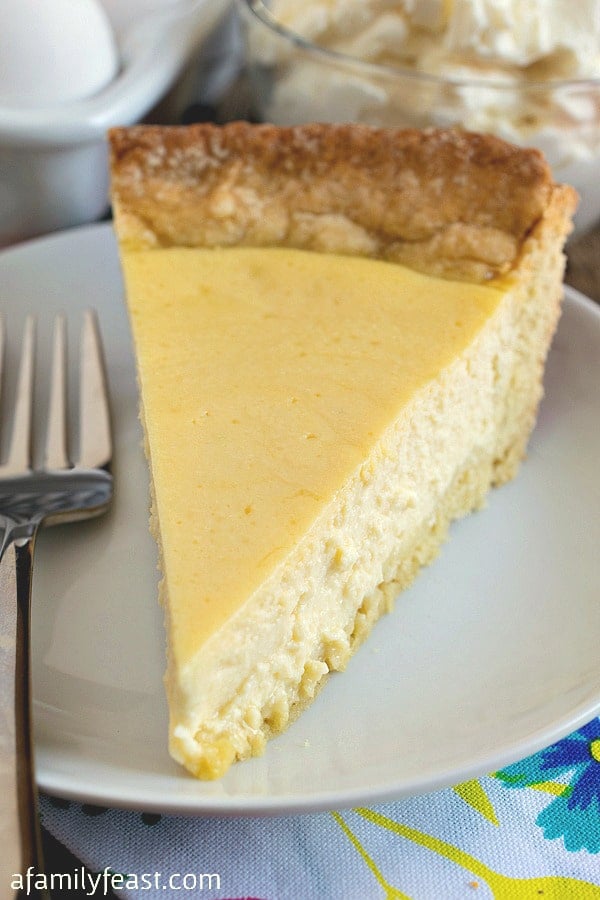 We're sharing this Italian Ricotta Pie as part of an ongoing Ambassadorship with Peapod. All opinions are 100% mine.
Today we're sharing a treasured family recipe from my husband's side of the family over on From The Pod. This recipe for Italian Ricotta Pie was part of a collection of handwritten (and very weathered) recipes that we were lucky enough to inherit from Jack's grandmother.
Italian Ricotta Pie is a classic, traditional recipe – often served at Easter. Like so many of the other passed-down recipes that we've recreated here on A Family Feast, this 100+ year-old family recipe was vaguely written, and it lacked some exact ingredient measurements. So – it actually took us three attempts to get this Italian Ricotta Pie recipe just right! (You'll also notice that Jack's grandmother called it a 'cake' but it is baked in a pie plate!)
I think our Italian Ricotta Pie will make any fan of traditional Italian foods very happy!  (Especially those of you who love Italian desserts!)
This pie has a lightly sweetened, very moist ricotta cheese filling, and a thick, rustic crust with hints of both vanilla and almond flavors. Interestingly – this recipe does not use butter in the crust. Extra virgin olive oil is used instead – and it totally works – giving the crust a crispy, flaky and almost cookie-like texture on the outer edges, and the bottom crust under the ricotta cheese filling is slightly cake-like in texture.
You can buy all of the ingredients to make this Italian Ricotta Pie – as well as everything else you'll need to prepare your Easter dinner – from Peapod's grocery delivery service. Peapod carries thousands of items including Easter candy, holiday hams, and so much more – just like your local supermarket.  You can even place your grocery order from the Peapod app! Just decide on the date and time of your grocery delivery – and Peapod will bring your groceries to your home or office.
To learn more about Peapod's grocery delivery service, visit them here.
And – for this delicious Italian Ricotta Pie recipe (plus many more delicious recipes), click on over to From the Pod.
You may also like these other recipes featuring Peapod:
Slow Cooker Tex-Mex Chicken Stew