This fantastic citrusy homemade Ponzu Sauce can be used as a dipping sauce, condiment, marinade, or stir fry sauce!
Ponzu Sauce is a classic Japanese condiment that is absolutely delicious!  It's a tart and tangy sauce made from citrus, mirin and other seasonings – and it is most commonly served mixed with soy sauce.
How do you make ponzu sauce?
Our homemade ponzu sauce is a blend of reduced-sodium soy sauce, orange juice, lemon juice and lemon zest, mirin (a sweet rice wine with a vinegary tang), shichimi (a Japanese 7-spice blend), katsuobushi (dried skipjack tuna) or bonito flakes, and kombu (an edible dried sea kelp).
Before we scare you off with that ingredient list – we've listed some substitutions in the recipe below as well as links to where you can buy the exact ingredients on line.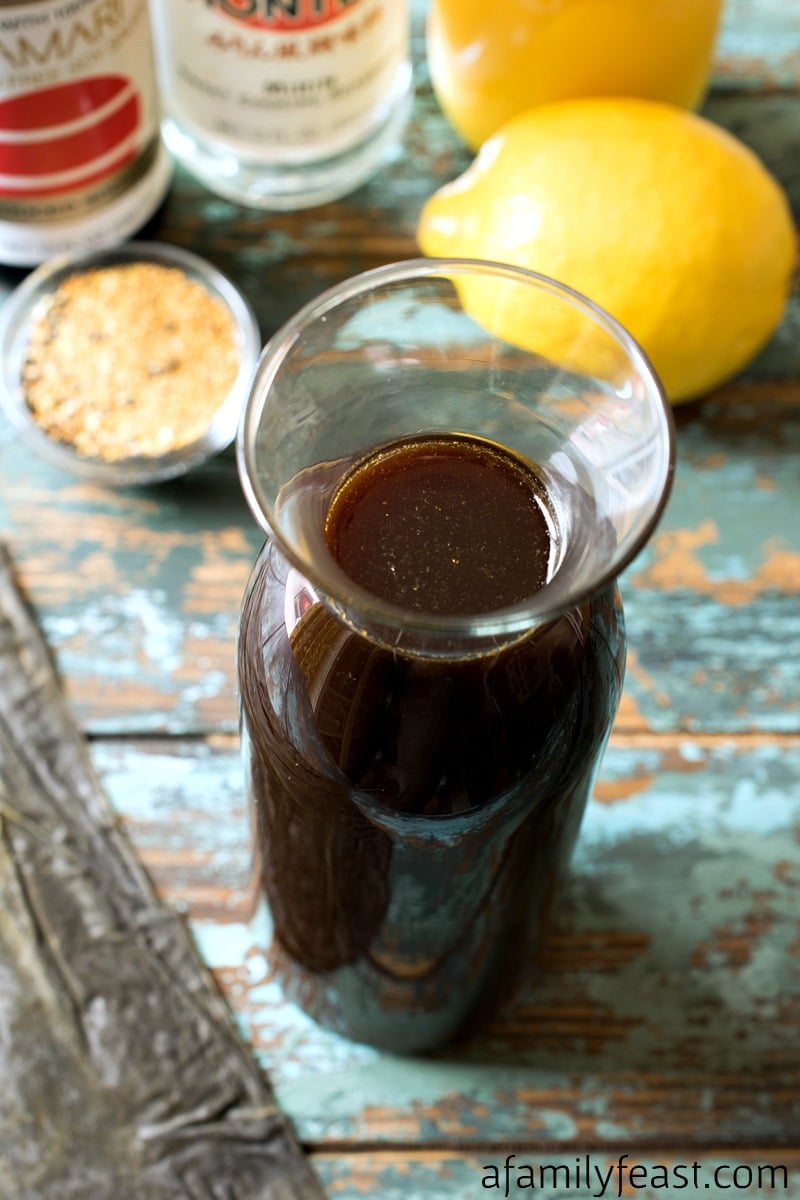 All of the ingredients steep together in the refrigerator overnight, then it is strained before using.
After your first taste of this wonderfully versatile sauce, you'll recognize a distinctive flavor profile of citrus and soy sauce very similar to a vinaigrette. But you'll also notice the deep richness from the dried fish and seaweed, plus a gentle kick of spiciness from the shichimi.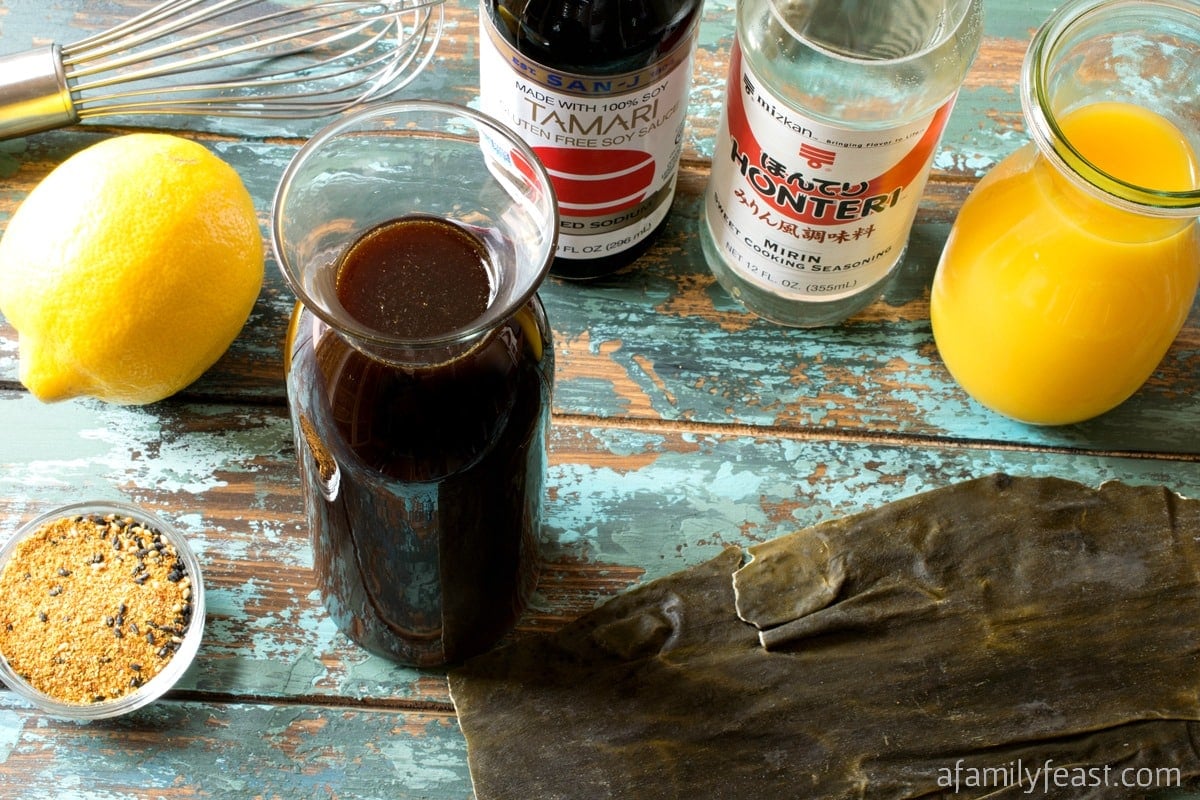 How do I use ponzu sauce?
Ponzu sauce can be used as a dipping sauce for dumplings, sprinkled over your favorite Asian entrée, used as a marinade (in fact – see our Ponzu marinated pork chops recipe here), or used as a sauce for stir-fry meats and vegetables.
I predict – after making this easy ponzu sauce recipe – you are going to want to use this on everything!
You may also like these other homemade Asian-inspired sauce recipes:
Disclosure: This post contains affiliate links.


Print
Ponzu Sauce
Author:

Prep Time:

8 hours 10 minutes

Total Time:

8 hours 10 minutes

Yield:

2 cups

Category:

Sauce

Cuisine:

Asian
---
Description
* Some of the ingredients listed below are optional and you'll simply be left with a delicious citrus-infused soy sauce. But if you able to find and use all of the ingredients, you'll be rewarded with a fantastic ponzu sauce. (See more in the Notes below.)
---
1 cup reduced sodium soy sauce
6 tablespoons orange juice (carton or fresh squeezed)
Zest from one lemon
6 tablespoons lemon juice
6 tablespoons mirin (see substitution in the Notes below)
¼ teaspoon shichimi or common red pepper flakes*
¼ cup katsuobushi or bonito flakes (optional)*
1 4X6 inch piece of dried kelp (kombu), optional*
---
Instructions
Mix all ingredients in a bowl and allow to steep in the refrigerate overnight.
The next day, strain out solids before using.
---
Notes
Mirin is a typical Japanese condiment and is a sweet rice wine with a vinegar tang. You can substitute mirin in this recipe by mixing 6 tablespoons of dry white wine with 1 tablespoon granulated sugar.
Shichimi, katsuobushi and kombu are optional. They soak overnight and are strained out before using. You can substitute red pepper flakes for the shichimi and omit katsuobushi and kombu if you can't find. We found all three at my local supermarket in the Asian aisle. Katsuobushi is skipjack tuna dried and flaked, (also called bonito flakes) and kombu is simple dried kelp. Both add a salty briny taste to the sauce, which is why we used low sodium soy sauce.