Peach Fritters are a simple dessert that can be made with fresh, frozen, or canned peaches.
Summertime means sweet, fresh peaches are on special at the supermarket – so NOW is the perfect time to make these easy and delicious Peach Fritters!
What is a fritter?
Fritters are essentially deep-fried, bite-sized foods that can be either sweet or savory. Granted, some fritters (like this recipe) are baked, but most often fritters resemble a crispy, fried doughnut hole that includes other ingredients in the batter such as fruit or vegetables.
How do you make Peach Fritters?
You can make our peach fritters with fresh peaches in the summer, or feel free to use frozen or canned when peaches aren't in season.
Peel and dice your peaches into quarter-inch pieces. Drain any excess liquid if necessary.
Next, whisk together all-purpose flour, baking powder, salt, cinnamon, nutmeg, allspice, and ginger in a large mixing bowl.  In a separate bowl, beat together eggs, milk, and vanilla extract.
Add egg mixture to the flour mixture – then whisk to combine. Fold in the diced peaches.
Using a small scoop, drop the fritter batter (just a few scoops at a time) into a heavy bottomed Dutch oven or other deep pan with vegetable oil that has been heated to 325 degrees F.
Note: It's very important to avoid overheating the oil – otherwise the outside of your Peach Fritter will over-brown before the inside cooks through. Use a deep-fry thermometer to monitor that 325 degree F temperature – and adjust the heat under your pan up or down as needed.
Once the Peach Fritters are cooked through, place on a cooling rack to drain and cool. Sprinkle with powdered sugar to serve. (This dusting wand does a great job!)
Peach Fritters are crispy on the outside, with a tender, peach-studded cake on the inside. These fritters make a great dessert, but they can also be served for breakfast.
You may enjoy these other fritter recipes:
Print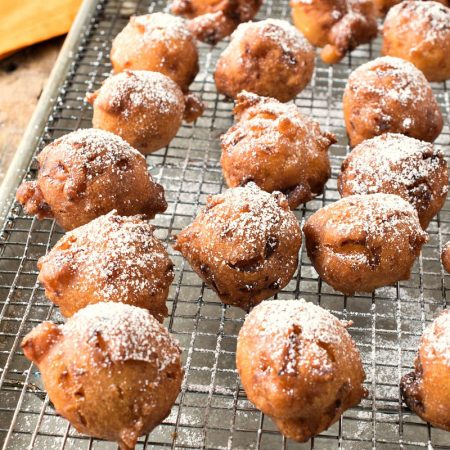 Peach Fritters
Author:

Prep Time:

15 minutes

Cook Time:

10 minutes

Total Time:

25 minutes

Yield:

2 dozen

Category:

dessert

Method:

deep fried

Cuisine:

American
---
Ingredients
2 generous cups peeled and ¼-inch diced peaches (fresh, frozen or canned)
1 cup plus 2 tablespoons all-purpose flour
2 teaspoons baking powder
½ teaspoon salt
1 teaspoon ground cinnamon
Few grinds nutmeg
¼ teaspoon allspice
½ teaspoon ground ginger
2 whole eggs
3 tablespoons granulated sugar
¼ cup whole milk
½ teaspoon vanilla extract
Vegetable oil, for frying
Powdered sugar, for dusting
---
Instructions
Peel and dice peaches. If using frozen or canned, place in a strainer over a bowl. After draining, you should have two cups but OK if it is a little more or less, it won't matter in the finished batter.
In a large bowl whisk flour, baking powder, salt, cinnamon, nutmeg, allspice and ginger.
In a smaller bowl beat eggs with sugar, then beat in milk and vanilla.
Add wet to dry and whisk.
Switch to a wooden spoon or rubber spatula and fold in the drained peaches.
Heat a heavy bottomed pot with three inches of vegetable oil to 325 degrees F. It is important not to go above that temperature or the outside will over-brown and the inside will not cook through. Use whatever means you have (candy thermometer, etc.) to maintain that 325 degrees F. temperature.
Line a sheet tray with a cooling rack.
Use a one-ounce scoop and scoop 12 fritters into the oil, which is half the batter.
Use a spider or small strainer or tongs to flip and move the fritters around so they don't brown on one side. Keep doing this for five minutes. Remove one to the pan with the rack and cut it in half to make sure it is cooked through. If the batter is still wet, cook the rest for another minute or so to finish cooking. If the inside is cooked, remove them all to the rack to drain.
Wait for the oil to come back to 325 degrees F and repeat for the remaining 12.
To serve, dust with powdered sugar.
---