These Baked Zucchini Fritters with Smoky Dipping Sauce are a kid-friendly snack for after school, or a delicious appetizer for any game day party.
Aside from the occasional date night with my husband Jack, most of our socializing these days centers around our eleven-year-old daughter's friends, and their parents. Luckily for us, they are a really great group of parents, we have common interests (like really good food!), the kids all get along, and we feel lucky to have met each other!
This time of year, most of our get-togethers start centering around watching weekend football. Each family takes a turn hosting the game day party at their house, and we all chip in, bringing drinks plus a snack or appetizers, and dessert for everyone to enjoy.
But we can't forget about feeding the kids – and these Baked Zucchini Fritters with Smoky Dipping Sauce are a snack that both kids and grownups will love!
We made this recipe for the first time over the summer as a way to use up some of zucchini from our backyard garden. Even the picky eater in our house gave this recipe the thumbs up – and that says a lot! 😉
How do you make Baked Zucchini Fritters with Smoky Dipping Sauce?
Shredded and drained zucchini is mixed with eggs, cheese (two kinds – Parmesan and white cheddar), panko bread crumbs, garlic, scallions, and other seasonings, plus a squeeze of fresh lemon juice.
The mixture is scooped out into about two dozen portions, then placed on a cookie sheet lined with buttered parchment paper and flattened into little patties. Before baking, brush some additional melted butter on the top so the fritters turn a nice golden color while baking in the oven.
While the Baked Zucchini Fritters are in the oven, mix up a delicious Smoky Dipping Sauce. It is simply mayonnaise, sour cream, relish, scallions, and Worcestershire sauce, plus smoked paprika and other seasonings. (Feel free to use sweet paprika if you prefer a milder sauce.)
How do you serve Baked Zucchini Fritters with Smoky Dipping Sauce?
Once the baked zucchini fritters are out of the oven, pile them up on a plate with the sauce on the side – and dig in!  The fritters have a delicious, golden crispy outside, and a soft and tender cheesy zucchini inside. (The perfect snack!)
Can these Baked Zucchini Fritters be made ahead?
Absolutely! Mix up a double batch, bake, then freeze some of them in a single layer on a sheet pan until frozen solid.  Place the frozen Baked Zucchini Fritters in a zipper seal plastic bag – then when you're craving a healthy snack, bake in a preheated oven (350 degrees F for about 5 to 10 minutes) until warmed through.
You may enjoy these other snack ideas:
Print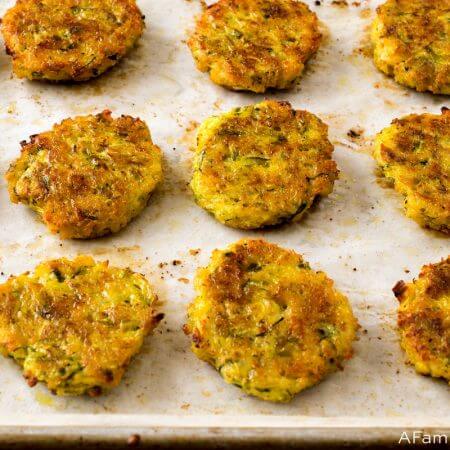 Baked Zucchini Fritters with Smoky Dipping Sauce
Author:

Prep Time:

30 minutes

Cook Time:

30 minutes

Total Time:

1 hour

Yield:

2 dozen

Category:

appetizer

Method:

baked

Cuisine:

American
---
4 cups zucchini (about 3 medium zucchini), see instructions
1 teaspoon kosher salt
2 whole eggs beaten
2 teaspoons finely grated garlic (use a garlic press)
¼ cup scallions minced fine
1 cup panko bread crumbs
2 tablespoons grated Parmesan cheese
Zest from ½ lemon
2 cups sharp white cheddar, grated on fine holes of box grater
4 tablespoons butter, melted
Optional dipping sauce
1 cup mayonnaise
¼ cup sour cream
¼ cup drained zucchini relish (see recipe here), or any other favorite relish
2 tablespoon scallions minced fine
2 teaspoons Worcestershire sauce
½ teaspoon smoked paprika (more if you like it really smoky)
½ teaspoon white pepper
½ teaspoon onion powder
---
Instructions
Grate half the zucchini on the large holes of a box grater and the second half on the fine holes of a box grater. The larger pieces give the snacks structure and the fine pieces help bind the mixture. Place in a dish towel over a colander and sprinkle on the salt. Let this sit over the sink for 30 minutes while you prepare the other ingredients.
Preheat oven to 425 degrees F.
In a medium bowl, mix eggs, garlic, scallions, panko, Parmesan, lemon zest and cheddar cheese.
After the 30 minutes, pull up the sides of the dish towel and twist the top and squeeze as much liquid as possible out of the zucchini. Then add to the bowl and mix to combine.
Line a sheet tray with parchment paper and brush with some of the butter.
Use a one-ounce scoop and scoop out 24 balls lined up 4×6 on the prepared sheet tray.
Flatten each ball to about a half inch high while pressing in the sides to neaten them up.
Brush with the remaining butter and bake for 12 minutes. Flip each one over and bake for another 12-15 minutes or until golden on both sides.
While zucchini snacks are cooking, make optional sauce by combining all sauce ingredients. Refrigerate until needed.
Serve warm with the optional dipping sauce.
---
Keywords: zucchini, fritters, baked