Who says snacking and eating healthy can't go hand in hand? Our Mediterranean Nachos are a delicious way to eat more veggies!

With summer entertaining still in full swing – I'm noticing a bit of a food trend with our family and friends. More and more of our guests are choosing to eat the healthier snacks that we serve as part of our party menu!
I certainly don't blame them – we love our veggies too! And it's not just because they taste so good – but because eating vegetables and other healthier foods make us feel good too. (And it's all about balance, right?)
So with healthier eating in mind, we came up with this Mediterranean Nachos recipe to serve at a recent weekend get together. Crispy pita chips are loaded up with an assortment of chilled, diced fresh vegetables – then topped with dollops of a creamy Greek yogurt sauce.
Feel free of course to top your Mediterranean Nachos with your own mix of favorite vegetables.  We used colorful bell peppers, cucumbers, diced red onion, Kalamata olives, chopped pepperoncini, chick peas, feta cheese and scallions – all of which went deliciously well with our creamy, lemony Greek yogurt sauce that was flavored with fresh oregano, shallots, garlic and chives.
These Mediterranean Nachos were a huge hit with our family and friends, and I predict your guests will love these nachos too! We'll be serving these again during our Fall game day parties.
Print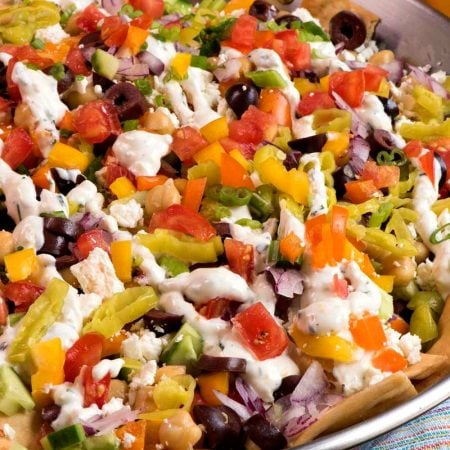 Mediterranean Nachos
Prep Time:

20 minutes

Total Time:

20 minutes

Yield:

8-10 servings
---
1 cup diced tomato
1 teaspoon kosher salt
2 tablespoons extra virgin olive oil
2 tablespoons shallots, minced fine
1 tablespoon fresh garlic, minced fine
2 cups whole milk Greek yogurt
Juice from half a lemon
Zest from half a lemon
1 tablespoon fresh oregano (don't use dried)
2 teaspoon chives, minced fine
1 teaspoon kosher salt
1/2 teaspoon freshly ground black pepper
10-ounce bag pita chips (we used Stacy's Pita Chips which are firm and crisp)
½ cup diced yellow bell pepper
½ cup diced orange bell pepper
1 cup diced English or mini cucumber
2 tablespoons diced red onion
¼ cup sliced Kalamata olives
¼ cup sliced drained pepperoncini
1 cup garbanzo beans (chick peas)
½ cup crumbled feta cheese
2 tablespoons diced green tops of scallions for garnish (optional)
---
Instructions
Place the tomatoes in a strainer over a bowl and cover with salt. Let sit while you prepare the rest of the recipe. When ready to use, rinse off salt and pat dry.
In a medium sauté pan over medium heat, add oil and cook the shallots and garlic for 2-3 minutes until translucent but not browned. Remove from heat to cool.
In a medium bowl, place yogurt, lemon juice, lemon zest, oregano, chives, salt and pepper.
Add cooled garlic and shallot mixture and whisk to combine.
If you have one, place in a squeeze bottle to drizzle over the chips or simply use a spoon to distribute.
To assemble, place pita chips on platter and drizzle half of the yogurt dip over the chips.
Top with all other ingredients except scallion tops. Finish with the remainder of the dip dotted across the top and then add scallion tops over the dip.
Serve immediately.
Disclosure: This post contains affiliate links.
You may also like: