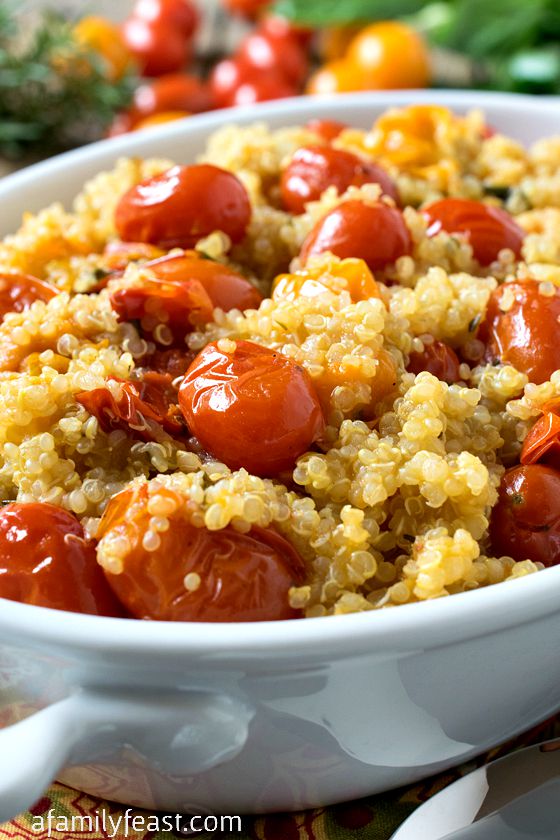 We first made this delicious recipe for Pan Roasted Tomatoes with Quinoa last summer when we had tons of ripe tomatoes growing in our garden.
But with the availability of grape and cherry tomatoes all year round at the supermarket, this Pan Roasted Tomatoes with Quinoa is a quick and easy side dish that we enjoy anytime of the year.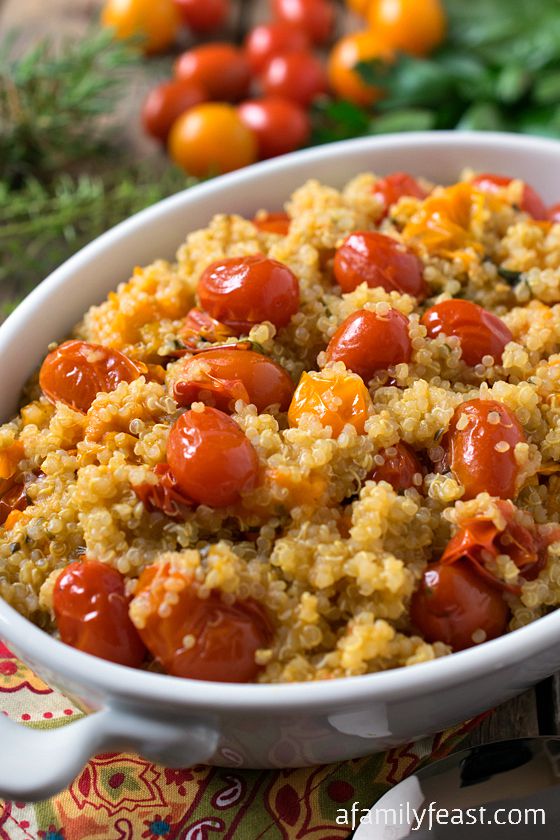 We start by cooking the quinoa in chicken or vegetable stock (your choice) which gives this healthy superfood additional delicious flavor. Then we sauté grape tomatoes in a large pan with some extra virgin olive oil, garlic, and a blend of your favorite fresh herbs. We used basil, parsley, rosemary and thyme – but any fresh herbs you prefer will work in this recipe.  We also used a mix of red and orange grape tomatoes, but all red tomatoes are just fine too!
Once cooked, toss the tomatoes and the cooked quinoa together and you're done!  And, although we typically enjoy these Pan Roasted Tomatoes with Quinoa as a healthy side dish, it also makes a delicious, light meatless meal.
Print
Pan Roasted Tomatoes with Quinoa
Prep Time:

15 mins

Cook Time:

25 mins

Total Time:

40 minutes

Yield:

2-4 servings
Ingredients
1 cup quinoa
2 cups chicken or vegetable stock, or water
3 tablespoons extra virgin olive oil
2 cloves garlic, finely minced
2 pints cherry or grape tomatoes
2 tablespoons chopped fresh basil, plus more for garnish
2 tablespoons chopped fresh flat-leaf parsley, plus more for garnish
2 teaspoons chopped fresh rosemary
2 teaspoons chopped fresh thyme
Salt and pepper to taste
Instructions
In a saucepan, combine quinoa and chicken stock and bring to a boil. Cover and reduce heat to low. Simmer quinoa for about 15 minutes or until tender. Drain any excess cooking liquid (be sure to use a fine-mesh strainer so that the small quinoa grains don't fall through). Return quinoa to the pot, cover and allow to rest.
While the quinoa rests, in a large sauté pan, heat the olive oil over medium heat. (Be sure to select a sauté pan large enough that the tomatoes will be in a single layer as they cook.)
Add the garlic to the oil and cook for about 30 seconds – being careful not to let the garlic burn.
Add the tomatoes, basil, parsley, rosemary, thyme, salt and pepper.
Reduce the heat to low and cook for 5 to 7 minutes, stirring frequently so that all sides of the tomatoes roast evenly, until the tomatoes start to soften and lose their firmness.
Remove from the heat. Add cooked and rested quinoa to the sauté pan with the tomatoes and toss together. Add salt and pepper to taste, if desired.
Serve immediately.
You may also like:
Quinoa Salad with Pecans, Oranges and Currants
Quinoa with Spinach, Artichokes and Chicken