Oatmeal Snickerdoodles have the soft and chewy texture of an oatmeal cookie with the flavor of a snickerdoodle cookie!
A few weekends ago we rented the movie, The Sound of Music, for my eight-year-old daughter. Emma had been singing the song, Do-Re-Mi around the house, and after telling her how much I had loved watching The Sound of Music as a child – I discovered that she had never seen it!
So while Emma and I watched the movie together (she too loved it by the way!), my husband Jack was busy in the other room – but listening in. He soon joined us to watch – and Jack kept commenting, "I didn't know this song was from The Sound of Music!" And I was amazed to learn that Jack also had never seen the movie himself – although he seemed to know all of the songs!
So that very same weekend, I commented to Jack that I wanted to make my Oatmeal Snickerdoodles to share here on A Family Feast. Second surprise of the weekend – Jack had never eaten a Snickerdoodles cookie! (What else has he been missing out on!?!)
So knowing Jack's huge love of oatmeal raisin cookies – I knew that he would love these Oatmeal Snickerdoodles! This recipe is one that I got years ago from an old college roommate. Back then, it was the first time I myself had Snickerdoodles – and I didn't realize at the time that this version – with oatmeal added to the batter was not a 'classic' Snickerdoodles cookie.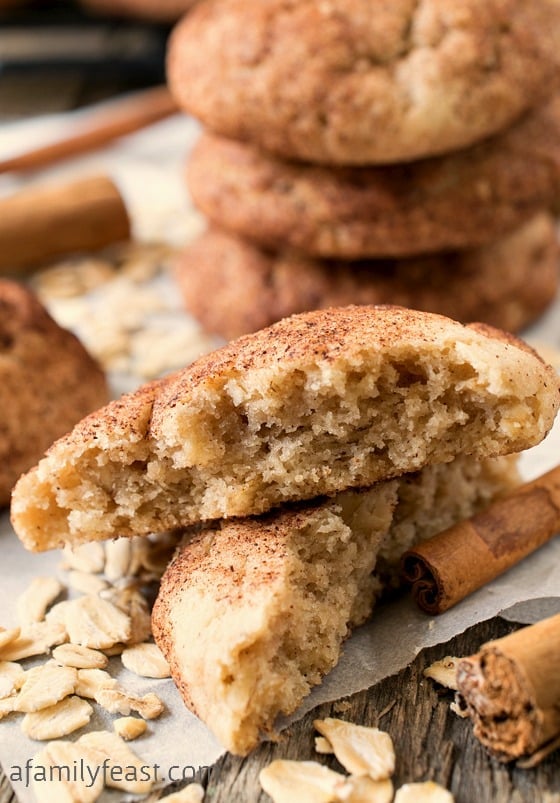 But I've always loved the different soft and chewy texture that the oatmeal lends to these Oatmeal Snickerdoodles – and to this day, a plain old classic Snickerdoodle cookie – while still delicious – seems a little too cake-like for me!
So – what perfect way to spend your weekend…watching The Sound of Music while eating some of these Oatmeal Snickerdoodles! Enjoy!
Print
Oatmeal Snickerdoodles
Prep Time:

20 mins

Cook Time:

8 mins

Total Time:

28 minutes

Yield:

2 1/2 dozen

Category:

cookies

Method:

baking

Cuisine:

American
---
2 cups

all-purpose flour

¾ cup

quick oats (not rolled oats)

½ teaspoon

baking soda

1 teaspoon

cream of tartar

½ teaspoon

ground cinnamon

¼ teaspoon

salt

1 cup

butter, softened

½ cup

brown sugar

½ cup

granulated sugar

1

whole egg

1 teaspoon

vanilla extract
Topping
2 tablespoons

granulated sugar

2 ½ teaspoons

ground cinnamon
---
Instructions
Preheat oven to 400 degrees F.
In a medium bowl, mix flour, quick oats, baking soda, cream of tartar, cinnamon and salt to combine.
In the bowl of a stand mixer with a paddle attachment, combine butter and both sugars and beat until fluffy. Add egg and vanilla and mix again.
With mixer running, slowly add dry to wet to form a thick dough. Mix just to combine. (Can also be done by hand with a wooden spoon).
Divide dough into 30 balls rolling by hand.
Line two cookie sheets with parchment paper.
Combine sugar and cinnamon in a medium bowl and roll each dough ball in sugar mixture then onto cookie sheets (15 per tray). Flatten just slightly leaving them thick.
Bake 8-9 minutes or until edges are firm and tops are golden.
Slide parchment onto cooling racks and after two minutes, use a spatula to remove from parchment then back onto racks to cool further. (The cookies come out puffy then deflate a bit as they cool.)
Keywords: oatmeal snickerdoodle
You may also like:
Cranberry Walnut Oatmeal Cookies
Saigon Cinnamon Ginger Cookies