This Shaved Brussels Sprouts with Bacon recipe is a quick and easy side dish that cooks up in just minutes!
One of the most popular recipes on A Family Feast is our Oven Roasted Brussels Sprouts with Bacon recipe – but let's face it. Once warm weather comes around, the last thing you really want to do is turn on the oven in your kitchen!
Our Shaved Brussels Sprouts with Bacon is the answer! Just use a mandoline (this inexpensive handheld mandoline works perfectly) to shave your Brussels sprouts into very thin slices.
Next, fry up some chopped bacon. Then use the rendered bacon fat to sauté the Brussels sprouts shavings until tender. Toss the cooked bacon with the cooked sprouts – plus a little bit of salt and pepper to taste – and you're done.
These Shaved Brussels Sprouts with Bacon are so simple – and so good!
Print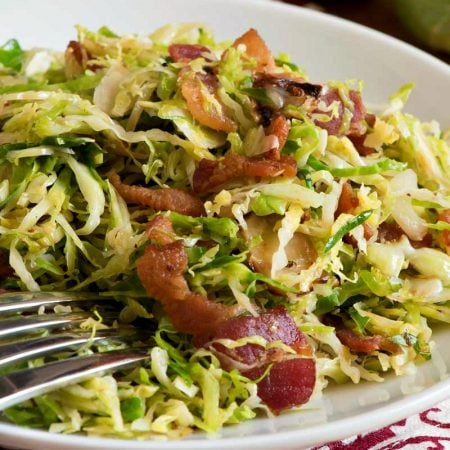 Shaved Brussels Sprouts with Bacon
---
1½ pounds Brussels sprouts (larger sprouts are easier to shave, but smaller sprouts will also work fine)
12-ounce package bacon (we used apple wood)
Non-stick pan spray
1 teaspoon kosher salt
½ teaspoon freshly ground black pepper
---
Instructions
Using a mandoline on the setting that cuts 1/8th-inch slices, hold the stem, slice all of the Brussels sprouts and discard the stems. Set shavings aside.
Cut the bacon into pieces by slicing the whole 12-ounce slab of slices in half, then stack and slice.
Heat a large sauté pan over medium high heat and once hot, spray* with pan spray. (*Pull pan off flame before spraying pan.)
Add bacon and cook until just short of crisp, about 5-8 minutes.
Use a spider or slotted spoon and remove the bacon to a bowl or plate.
Pour off all but ¼ cup of the bacon fat.
Add the shaved sprouts and sauté about ten minutes or until your desired doneness. We like them a little underdone so ours were cooked in eight minutes.
Add the reserved bacon, salt and pepper and cook just to heat.
Serve immediately.
Disclosure: This post contains affiliate links.
You may also like:
Brussels Sprouts and Bacon Pizza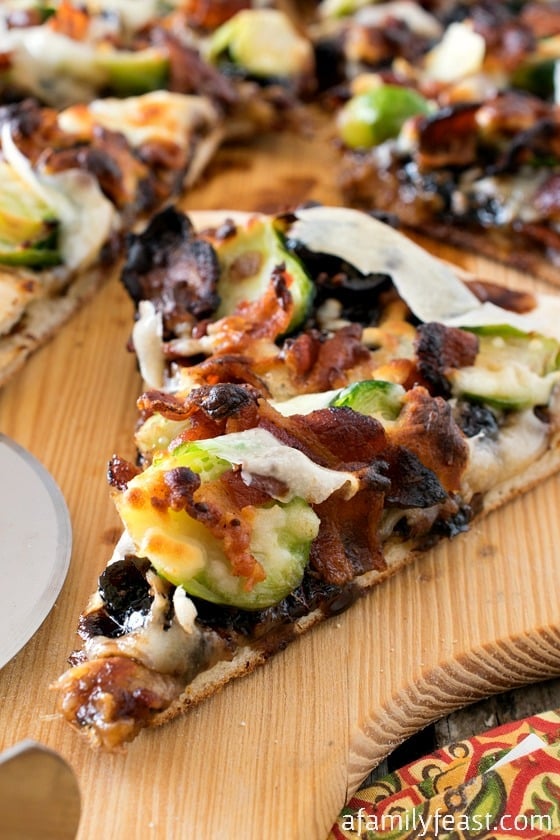 Brussels Sprouts with Lemon Aioli