Moo Goo Gai Pan combines tender chicken, mushrooms, and other veggies in a deliciously savory sauce. Throw this together for an easy weeknight meal.
Don't be intimidated – thinking you'll need all kinds of specialty ingredients to make this classic Asian dish at home. Moo Goo Gai Pan is actually quite simple to make and it can be made with ingredients that are easy to find at the supermarket.
What is Moo Goo Gai Pan?
It's a chicken and mushroom stir-fry dish, with Cantonese origins, that is popular at many Chinese-American restaurants.  The name Moo Goo Gai Pan literally translates to mushroom chicken slices.
In addition to the sliced mushrooms and chicken, this dish can include a variety of other vegetables such as carrots and snow peas. It can be prepared as a stir-fry, as we did today, but some restaurants prepare it as a boiled dish instead. (Both ways are delicious!)
Each ingredient is cooked until tender, then tossed in a silky and savory sauce made with wine or broth, soy sauce, oyster sauce, and a little bit of sesame oil.
The key to this dish is to slice the meat as thinly as possible. Then it's marinated in an egg white mixture before it is coated with vegetable oil and cornstarch. This process is called velveting and it results in perfectly tender bites!
Why you'll love this Asian chicken recipe!
Fresh ingredients and pantry staples come together into one fantastic meal.
It's a balanced meal – with meat, veggies, and rice.
Once everything is prepped, it's ready in just 15 minutes.
Key ingredients and substitutions
Shaoxing wine – Find this rice wine at your local supermarket or liquor store, or use sherry if it isn't available. Mirin is another great substitute, but you will need to reduce the added sugar by half.
Oyster sauce – This thick dark sauce tastes almost like an Asian barbecue sauce. Equal parts soy sauce and hoisin can be used as a replacement for this ingredient.
Chicken – Because of how the meat is sliced, boneless, skinless breasts work best. However, thigh meat can be used if you prefer.
Mushrooms – We used a combination of button and shiitake mushrooms for variety and flavor. You can stick to one or the other if you prefer.
Stock – Store bought is fine, but we like to use our homemade. Be sure to heat it first so the wok stays nice and hot after each addition.
Ginger – You'll mince fresh ginger for this recipe. But, in a pinch, you can swap in an equal amount of ginger paste if you have that on hand.
Scallions – Also known as green onions, we only use the white part of the scallion for this recipe.
White pepper – Not only is the flavor milder than black pepper, but you won't see the black speckles in your finished Moo Goo Gai Pan sauce.
Chef's Tip

Add some flair to the carrots by slicing them into flower petal shapes! Simply cut a groove along the length of the carrot before running it over a mandolin. To remove the fibrous string from the snow peas, grab the stem, twist back, and pull before snapping off the other end.
Special supplies needed
Large wok – A long-handled wok will make it easier to toss the different Moo Goo Gai Pan ingredients. If you don't have one, choose a large skillet with slanted sides and stainless steel, since you need to cook on high heat.
How to make Moo Goo Gai Pan
Prep everything first, because this dish comes together quickly once you start to cook. Keep each vegetable separate since they will be cooked in stages.
Marinate the sliced chicken for about 20 minutes, then add vegetable oil and cornstarch to make a velvety consistency.
Sear the breast meat in a wok in hot oil, working in batches then transfer to a clean bowl when done. Let the oil get hot again between each batch.
Cook the vegetables in the order listed, adding stock, ginger, and garlic where noted. Then return the meat to the wok.
Toss with the sauce mixture until everything is well coated and warmed through.
Serve your Moo Goo Gai Pan over steamed rice.
Chef's Tip

For easier slicing, place the chicken breasts on a lined baking sheet and freeze until firm but not solid – about 20 minutes.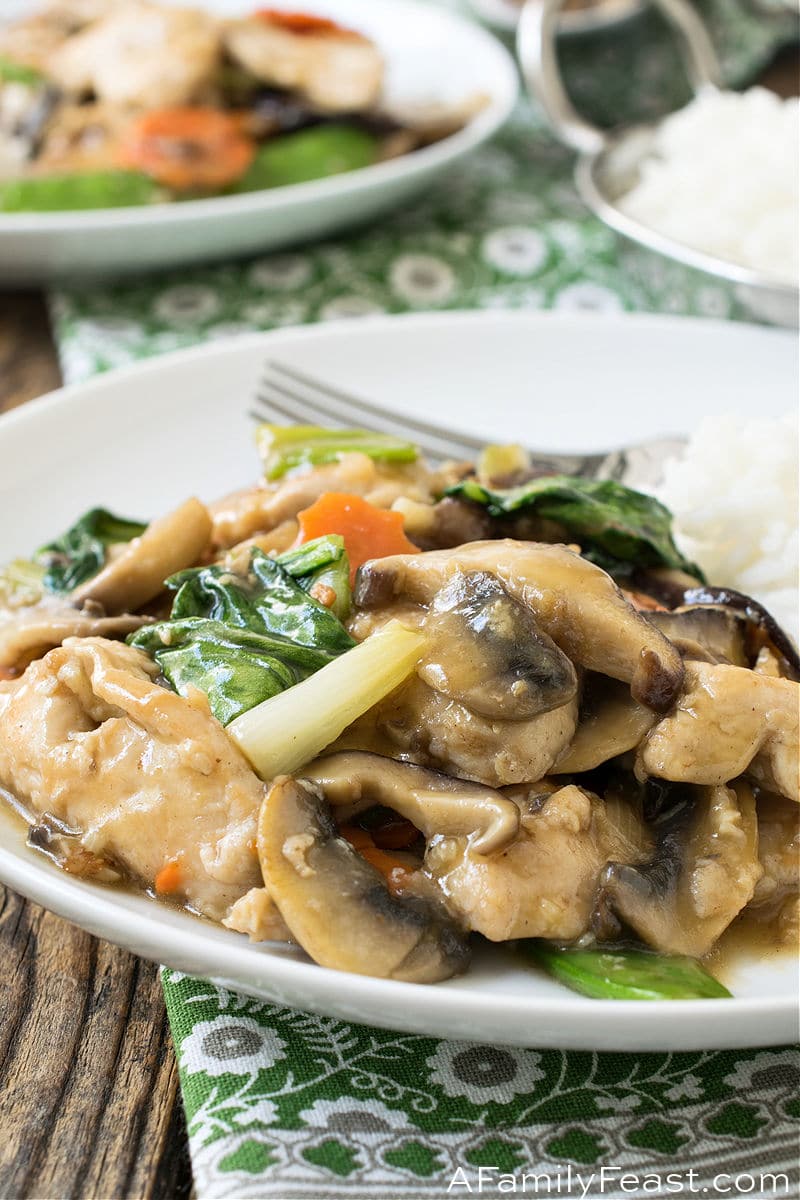 Frequently Asked Questions
What else can I add to this Asian chicken recipe? Bamboo shoots and water chestnuts are popular ingredients. Add these with the snow peas.
Can I double it? Yes and no. You can easily prep double the amount of ingredients, but you will need to split them between two separate woks for best results.
Is moo goo gai pan high in sodium? The sauce can contain a lot of salt, so use low-sodium versions of both the soy and oyster sauces if that is a concern for you.
Can I make it ahead of time? While it's best enjoyed freshly cooked, you can easily prep all of the vegetables and mix together the sauce the night before. Store covered in the refrigerator, then transfer to the counter to remove the chill when you get started on the meat.
What is the best way to clean and cut bok choy? Cut off the ends and rinse each stalk separately. Then pat dry with a paper towel. For this recipe, slice off the leafy tops and chop the white stalks into bite sized pieces.
How do I store leftovers? Transfer to an airtight container and refrigerate for 3 to 4 days.
You may enjoy these other Asian-inspired meals:
Print
Moo Goo Gai Pan
Author:

Prep Time:

1 hour

Cook Time:

15 minutes

Total Time:

1 hour 15 minutes

Yield:

8 servings

Category:

entree

Method:

stir-fry

Cuisine:

Asian
---
White rice, for serving
Sauce
2 tablespoons Shaoxing wine (*see substitutions in notes)
1 tablespoon soy sauce
1 tablespoon oyster sauce
1 teaspoon granulated sugar
1 teaspoon sesame oil
Other ingredients
1 cup thin sliced carrots
3 ounces in weight bok choy or Nappa cabbage (Stems cut into one-inch pieces and leaves separated)
4 ounces button mushrooms sliced (3 cups)
4 ounces Shiitake mushrooms, knob of stem discarded, stems sliced in half and caps sliced (3 cups)
1 cup heated chicken stock, divided
1 large bunch scallions, white only cut into one-inch pieces
2 teaspoons minced fresh garlic
2 teaspoons minced fresh ginger
3 ounces snow peas, see notes
Chicken
1 pound boneless skinless chicken breasts
1 egg white
¼ teaspoon white pepper
1 tablespoon soy sauce
1 tablespoon vegetable oil
1 tablespoon corn starch
¼ cup vegetable oil for cooking
---
Instructions
For best results, all ingredients should be prepped in advance before beginning to cook.
Make the sauce by whisking all the sauce ingredients in a small bowl. Set aside.
If serving with rice, start cooking that now.
Prepare all of the vegetables but keep everything separate as they will be cooked at different times.
For the carrot slices, I cut a grove along the outside length of the peeled carrots before slicing thinly on a mandolin to form flower pedal shapes. This is optional. For the snow peas, grab the stem end, twist back and pull along the inside seam to remove the fibrous string. Then snap off the other end.
Once everything is prepped, lay the chicken breasts on your cutting board and after trimming, cut in half the long way so you have two thick logs. Then start cutting each thick log from one end to the other against the grain on the bias.
Place the chicken pieces in a large bowl and mix in the egg white, white pepper and soy sauce and let sit 20 minutes.
After 20 minutes, add the tablespoon of vegetable oil and the corn starch and work that in until the corn starch dissolves. This process will make a velvet texture to the chicken once cooked.
Heat a large wok over high heat and leave on high throughout the process. Have a large clean bowl standing by to hold the cooked chicken while you cook the rest of the dish.
Once the wok is smoking hot, add the quarter cup of oil and when that is hot, swirl around so it coats the wok sides and add in one quarter of the wet chicken. Using a long handled slotted spoon and long handled tongs and separate the pieces, flip each over and cook for about one minute total then remove to the waiting bowl with the slotted spoon, leaving the oil in the wok. Once the oil is back to hot, continue cooking the chicken the same way, total four batches. The chicken may not be fully cooked at this point, which is fine.
Let the oil heat back up (if you need more oil, add a tablespoon or two if needed).
Add carrots and bok choy stalks and stir fry one minute.
Add both mushrooms, stir fry one minute then add half of the hot chicken stock and cover the wok for one minute. Any large pot cover is fine, it doesn't need to completely cover the wok, just the food.
Remove cover and add the scallions, garlic and ginger and cook and stir one minute.
Add the snow peas and bok choy greens and cook one minute.
Add remaining hot chicken stock along with the reserved sauce and reserved cooked chicken and stir and toss to heat and coat.
Remove from the heat and serve over white rice.
---
Notes
Shaoxing wine is found in supermarkets and liquor stores and can be substituted with sherry or Mirin or sake. If substituting with Mirin, cut sugar in recipe by half.
Keywords: Moo Goo Gai Pan