Mexican Pesto Shrimp with Rice cooks up in just minutes! A flavorful cilantro pesto coats every bite of this fresh, fantastic shrimp dinner. Serve it spooned over fluffy white rice.
We're always looking for new shrimp recipes – and this Mexican Pesto Shrimp with Rice is our new favorite!  From start to finish, it takes about thirty minutes to prepare a healthy and delicious meal your entire family will love!
Why you'll love Mexican Pesto Shrimp with Rice
The entire dish can be made in about the same time as it takes to cook up a pot of rice on the stove.
Your taste buds will dance and sing with so many delicious flavors.
It's healthy and a complete meal all on its own.
What is Mexican Pesto?
Click here to read all about it!  Like a traditional Italian pesto recipe, it combines herbs, garlic, cheese, nuts and oil – but we swapped in ingredients found in Mexican cuisine including cilantro, Pepitas, and Cotija cheese. It's fresh, zesty, and fantastic!
Key ingredients and Substitutions
Mexican Pesto – See our recipe here. You can make this pesto ahead of time.
Large uncooked shrimp – Buy shell-on, deveined shrimp, 16-20 shrimp per pound. Frozen shrimp is fine and often better than buying fresh shrimp, unless you live near a reputable seafood market.
Sweet cherry tomatoes – We found a few brands in our supermarket produce section that have terms like 'flavor bombs' and 'sweet bon-bons' that are sold in clear plastic packages with the tomatoes still attached to the stem. If those are not available, any sweet cherry or grape tomato will so.
Special supplies needed
Large sauté pan (a grill pan will also work)
How do I make Mexican Pesto Shrimp with Rice?
Prepare the rice according to package instructions. While it cooks…
Make the Mexican Pesto, following this recipe here.
Sauté the tomatoes in a hot pan with a little oil – just until the skins start to blister. Set aside.
Peel the shell from the shrimp, then sear in the skillet with a little bit of oil until tender and cooked through.
Toss the cooked shrimp with some of the prepared pesto, then gently fold in the tomatoes.
Serve over cooked rice.
Chef's Tip –

This is a very easy dish to prepare and it comes together quickly. We suggest having all of the ingredients measured out and ready before you begin to cook. Read more about Mise en Place here.
Frequently asked Questions
Can I make this dish ahead of time? You can make the pesto ahead of time and cook the rice too. But, for best results, cook the shrimp and tomatoes when you are ready to eat.
How do I store leftovers? Cover and store refrigerated for up to two days.
How do I reheat leftovers?  A quick zap in the microwave is the best way to warm up any leftovers – just be sure not to reheat so much that the shrimp overcooks and becomes tough.
Can I freeze this dish?  The pesto can be frozen, and cooked rice too. Cooked shrimp will lose some of its firmness after thawing, and the tomatoes will get mushy so we don't suggest freezing this dish.
Can I make tacos with this pesto shrimp? Absolutely! Skip the rice and serve the pesto shrimp and tomatoes as shrimp tacos with some lettuce or cabbage in a flour tortilla.
You may enjoy these other Shrimp recipes:
Print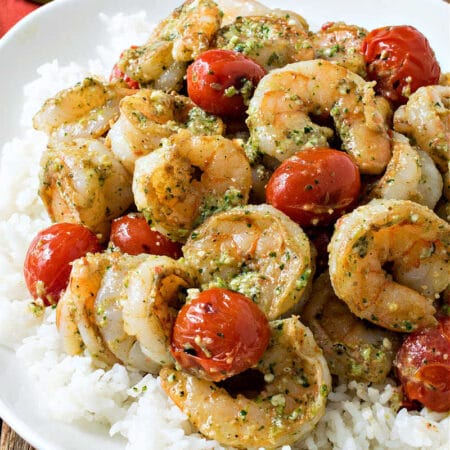 Mexican Pesto Shrimp with Rice
Author:

Prep Time:

15 minutes

Cook Time:

15 minutes

Total Time:

30 minutes

Yield:

4 servings

Category:

entree

Method:

stovetop

Cuisine:

Mexican
---
2 cups dry white rice
1/4 cup prepared Mexican Pesto, see recipe here
2 pounds raw shell-on de-veined shrimp, 16-20 per pound
1 teaspoon kosher salt
½ teaspoon freshly ground black pepper
3 tablespoons vegetable oil, divided
1 cup sweet cherry or grape tomatoes
---
Instructions
Prepare the white rice, per package instructions.
Make the Mexican Pesto, following this recipe.
Peel the shrimp (removing tails too) and pat dry with paper towels. Salt and pepper both sides.
In a large skillet over medium high heat, add one tablespoon of oil and blister the tomatoes long enough to get slightly browned on the outside and the skin just starting to shrivel, about two minutes. Remove to a bowl and set aside.
In the same skillet, add one more tablespoon of oil and cook half the shrimp, about 1-2 minutes on each side. Remove to a large bowl and repeat with remaining oil and shrimp.
Add one-quarter cup of pesto and toss to coat.
To serve, place cooked rice on a platter, top with the cooked shrimp and distribute the blistered tomatoes around the platter and serve.
---
Keywords: Pesto Shrimp, Mexican Pesto Shrimp with Rice