Mexican Pesto combines fresh cilantro, garlic, pepitas, Cotija cheese, jalapeno peppers, olive oil, and other seasonings into a zesty, creamy pesto.
After cooking many of our delicious Mexican and Tex-Mex recipes, we often find ourselves with a big bunch of cilantro in the refrigerator drawer. Luckily, my husband Jack is a master at finding ways to use up leftovers, so nothing goes to waste.
This delicious Mexican Pesto – also called cilantro pesto – is a great way to use up fresh cilantro when you have it on hand. Like traditional Italian pesto recipes, this combines fresh herbs with garlic, nuts, cheese and oil – with a decidedly Mexican flair – and it gets an extra kick of heat from jalapenos in the mix.
Why You'll Love Mexican Pesto
It's a quick and easy way to add zesty flavors to many dishes.
This sauce is very versatile. It goes great on shrimp and other seafood, as well as meat and poultry. You can also toss it with pasta or rice.
You can make it extra spicy or not – adjust the amount of jalapenos in the recipe to suit your tastes.
Key ingredients and Substitutions
Cilantro – Put that leftover cilantro to good use in this pesto recipe! Some other recipes include a combination of cilantro and basil in their Mexican Pesto – and you can certainly do that too if you'd like.
Garlic – Every pesto recipe needs fresh garlic. Always buy fresh garlic and avoid the jarred stuff – it just isn't the same.
Pepitas – Pepitas are pumpkin seeds without the shells, and they can be found in most supermarkets theses days. They play the same role as pinenuts in a traditional Italian pesto – giving the pesto body and flavor. We toasted the pepitas, which helps give this recipe deep, nutty flavor.
Cotija cheese – This crumbly Mexican cheese adds fantastic flavor and texture to the pesto, and many supermarkets carry it these days in the gourmet cheese section. In a pinch, you can substitute feta cheese. Feta, however, has a saltier flavor so you may want to skip the added salt in this recipe. You could also use Queso Fresco, which is a plain white cheese made from raw cow or goat's milk.
Peppers – A jalapeno adds some mild heat to the pesto and is an optional ingredient. You could substitute with Serrano pepper for hotter flavor, or a green bell pepper for very mild flavor.
Lime – Both lime juice and lime zest add some acidity and flavor. Fresh is always best, rather than buying bottled lime juice.
Olive oil – Only use a good-quality extra virgin olive oil for the best results.
Spices – Coriander, cumin, salt and pepper finish out the Mexican Pesto's flavor profile.
Special supplies needed
Food processor
Heavy-bottomed pan (such as cast iron) to toast the pumpkin seeds, and pan-roast jalapeno and garlic
Zester or Microplane
How do I make Mexican Pesto?
Toast the pepitas in a pan, then set aside.
Pan-roast garlic and jalapeno in the same heavy-bottomed pan.
Place the toasted pepitas in the food processor and process to a fine crumb. Pour into a bowl or plate, then set aside.
Place the remaining ingredients (except the olive oil and ground seeds) into the food processor and blend until they reach a paste consistency.
Add the ground seeds to the cilantro mixture and pulse to combine.
Drizzle the oil into the pesto while pulsing to finish mixing together.
Serve at room temperature over shrimp, fish, meats or pasta.
Chef's Tip –

Like any pesto, air is your enemy when it comes to freshness and maintaining a bright green color, so cover your pesto as soon as possible to prevent oxidization. (Note: Cilantro won't oxidize as quickly as fresh basil.)  Once you've poured your pesto into a jar or container, press a piece of plastic wrap right down to the surface of the pesto so no air gaps exist. Or spoon your Mexican Pesto into small zipper seal food bags, and squeeze out the air. These bags can be frozen for later use.
Frequently asked Questions

Can I make Mexican Pesto ahead of time? Yes – but be sure to store in an airtight container with the surface sealed.
How do I store Mexican Pesto? Pour into a container, place plastic wrap right down over the surface, then cover and refrigerate. (Stir to mix again before using.)
Can I freeze pesto? Yes, this pesto freezes very well. Spoon into zipper-seal bags with the air squeezed out.
How to I serve Mexican Pesto? Our Mexican Pesto Shrimp with Rice recipe is one delicious option! You can also toss this with pasta or rice, or simply spoon over grilled meats.
Is Mexican Pesto the same as Chimichurri? No – while they are both made with fresh herbs, garlic and oil, pesto also has nuts and cheese added. Click here for our Chimichurri recipe.
You may enjoy these other Mexican recipes:
Print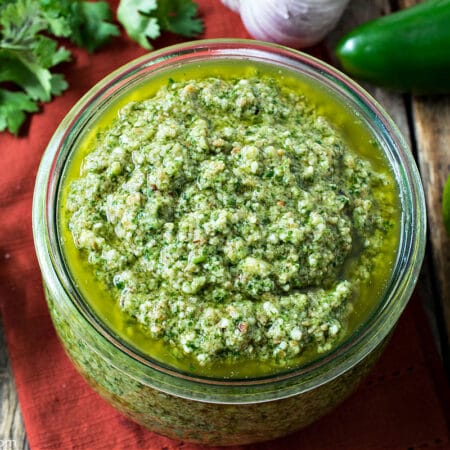 Mexican Pesto (Cilantro Pesto)
Author:

Prep Time:

15 minutes

Cook Time:

15 minutes

Total Time:

30 minutes

Yield:

2 cups

Category:

sauce

Method:

food processor, blender, toast

Cuisine:

Mexican

Diet:

Vegetarian
---
1 medium bunch cilantro including stems
½ cup pepitas (shelled pumpkin seeds)
1 large garlic clove
1 small jalapeno seeded and stemmed and cut into quarters lengthwise (optional ingredient or replace with green bell pepper)
2 teaspoons fresh lime zest
1 ½ tablespoons freshly squeezed lime juice
½ teaspoon kosher salt
¼ teaspoon freshly ground black pepper
½ teaspoon ground coriander
½ teaspoon ground cumin
5 ounces Cotija Mexican cheese (Half of a 10-ounce package)
½ cup good quality extra virgin olive oil
---
Instructions
Cilantro is typically packed with minimal rinsing and can be very sandy. It really needs to be rinsed under cold water. Using the stems, break the head up to fit into a strainer and rinse thoroughly in cold running water. Shake out excess and set aside. Again, do not discard the stems.
In a high heat pan such as cast iron or carbon steel, over medium high heat, dry toast the pepitas until they brown and start to snap in the pan. Shake often while they toast and remove as soon as they are browned. Pour into a plate to cool slightly and set aside.
In the same pan, toast the pepper quarters and the whole garlic to brown all sides. Be careful not to get the garlic too dark on any side as it will be bitter if burned. Remove from the pan.
In the bowl of a food processor, add the pepitas and process to a fine grind and then remove (about like coarse sugar size).
Add the cilantro, garlic, hot pepper, lime juice, lime zest, salt, pepper, coriander, cumin and the Cotija cheese and process to a coarse paste.
Add the ground seeds back in and pulse a few times to mix.
Pour the oil in through the top in a drizzle as you pulse to combine. Taste and add more salt or pepper if needed and pulse again.
The final consistency should be coarse with some texture to it and not completely puréed.
Serve over cooked shrimp, fish or meats or toss with pasta or rice. Pesto is meant to be added after foods are cooked and not before.
Store leftovers sealed with a piece of plastic touching the surface to stop oxidization. Or freeze in zipper seal bags with all air squeezed out.
---
Notes
You don't need much pesto to coat shrimp, fish or meats. Use sparingly to start. You can always add more, but you can't take it back once added.
Keywords: Mexican Pesto, Cilantro Pesto