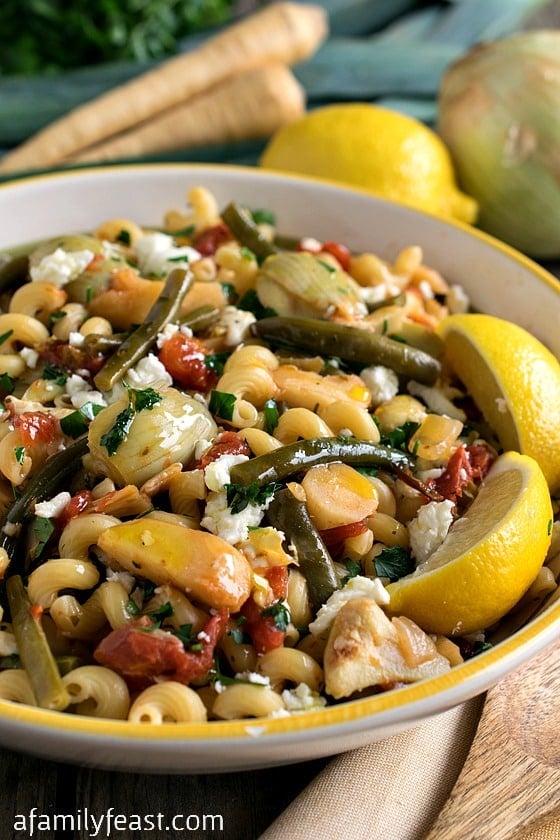 Today, I'm passing the keyboard over to my husband Jack so he can share the inspiration behind today's recipe for Mediterranean Pasta Primavera! (I love being told that I am right about something – and seeing it in writing is even better!) 😉 Here is Jack in his own words:
I'll be honest here: I bought parsnips, leeks and green beans with the intention of adding them to a Lamb, Tomato and Barley Soup we were making from Martha's old recipe box. (If you ever saw me cooking in our kitchen, then you would see that I love taking a recipe and making it my own – adding new ingredients and changing it up to make it an even better recipe!)
But Martha talked me into staying true to her original soup recipe (and since she is just so darned cute), I agreed and left the soup recipe unchanged. (OK honey, you were right, your soup recipe is fantastic as it is!) So – what to do with the three vegetables I bought?
Then I remembered a dish that we served a few times in one of the restaurants I managed which used Mediterranean-inspired ingredients and flavors to make a delicious non-meat vegetable and pasta dish. Originally we made this Mediterranean Pasta Primavera for a few of our vegetarian customers, but it was so good, eventually more of our customers started to ask for it as well.
This Mediterranean Pasta Primavera is a great main course meatless meal, and it's also delicious served as a side dish alongside your favorite steak, chicken or pork.
Print
Mediterranean Pasta Primavera
Prep Time:

20 mins

Cook Time:

30 mins

Total Time:

50 minutes

Yield:

6-8 servings
---
2 tablespoons

good quality extra virgin olive oil

2

–

3

medium leeks, white only cleaned of sand, cut into large chunks (about

1 ¼ cups

)

1 cup

onion, diced

12 ounces

parsnips peeled and cut on the bias about a half inch thick

¼

pound fresh green beans trimmed and cut in half

4

garlic cloves minced (

2 tablespoons

)

2 teaspoons

dry oregano
Juice from

½

a lemon

2

15-ounce cans diced tomatoes with juice

¼ cup

fresh parsley chopped, plus additional for garnish

1

14-ounce can of artichoke hearts drained and quartered

12 ounces

dry pasta of your choice (we used Cellentani)

4 ounces

feta cheese crumbled, plus more for garnish
Additional good quality extra virgin olive oil, for garnish
Lemon wedges, for garnish
---
Instructions
Have a large pot of hot water standing by to cook pasta towards end of recipe.
In a very large non-stick sauté pan or skillet, heat oil over medium high and add leeks, onions and parsnips and cook for five minutes, stirring and turning often (the parsnips start to brown and become caramelized). Add green beans and cook for four more minutes, again turning often. Add garlic and oregano and cook for one more minute. Add lemon juice to deglaze just for a few seconds.
Add the two cans of diced tomatoes, cover, reduce to a simmer and cook for 5-10 minutes until beans are almost cooked. Add parsley and artichokes and hold on low covered while you cook the pasta.
Cook pasta in boiling water until almost tender. Drain and add back to pan then pour sauce over pasta. Heat over medium high to absorb some of the liquid and blend the flavors.
Add the 4 ounces crumbled feta cheese, toss and serve.
As you serve each portion, top with additional feta, additional chopped parsley and then drizzle a little olive oil over the tops. Serve with a lemon wedge which then gets squeezed over top by the dinner guest.
---
You may also like: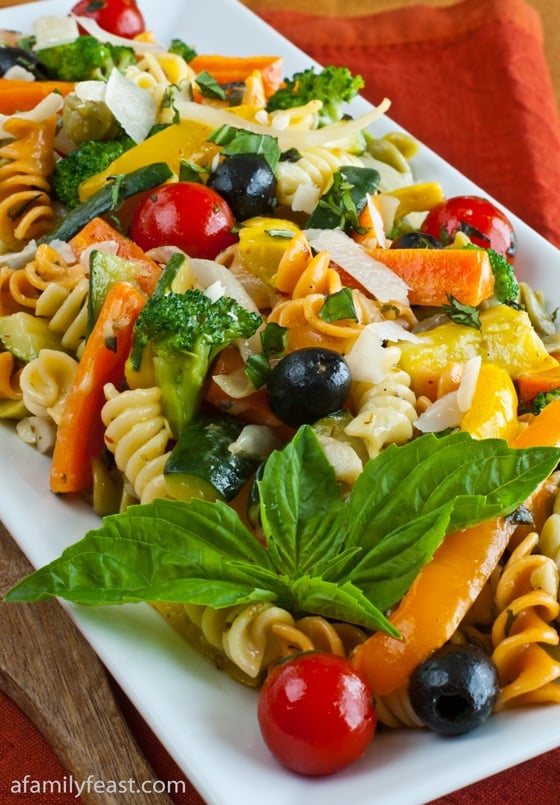 Braised Chicken Limoncello with Green Beans