Krupnik is a very delicious, spiced honey vodka beverage that is served warm for the holidays.
Thanks to sharing recipes here on A Family Feast for the last seven-plus years, both Jack and I have been researching and exploring foods from each other's family heritages.
We both recently joined some Facebook recipe-sharing groups – one that focuses on Polish family recipes (my side of the family) and another on Italian family recipes (Jack's side of the family). What a treasure trove of recipe inspiration – plus it's a lot of fun to see how passionate people are about their family recipes and heritage!
Someone in that Polish recipe group shared this Krupnik recipe. It was copied from an old Polish cookbook (although they didn't say which one). By the looks of it, I suspect this recipe came from one of those cookbooks compiled by the ladies at church or other local community group.
Jack and I both saw the post – and immediately we wanted to give it a try! My parents never drank alcohol, so it wasn't a recipe I remember from my family's holiday get-togethers. But – I have to say – Krupnik is quite delicious!
What is Krupnik?
Krupnik is an ancient Polish recipe for a vodka and honey drink, traditionally served on Christmas Eve during Wiglia – the Polish Christmas vigil dinner. It's believed to date all the way back to the Middle Ages.
On a side note: The word "krupnik" is derived from the word "krupa" which means pearl barley – so that is why you might sometimes see a Polish barley soup called by the same krupnik name.
How do you make Krupnik?
Krupnik takes about ten minutes to assemble and 30 minutes to simmer – but then you'll need to let it sit for about a week so the sediment from the spices and other ingredients have a chance to settle before drinking. (Plan accordingly if you want to serve this at your holiday parties.)
You'll want to buy Polish vodka that is made with potatoes – and our local liquor store suggested the Chopin label. (They told us that it is made in Poland from locally-sourced potatoes, which gives it a distinctive taste you won't find in other types of vodkas that are not made with potatoes. Plus, it's distilled four times for smoothness.)
You'll combine the vodka with a mixture of honey, water, cinnamon sticks, whole cloves, a piece of whole nutmeg, vanilla bean, and the peel from half of a naval orange that have been simmered together.
Strain the vodka-spice mixture into a sterilized bottle, and let it sit for about a week in a cool, dark location. It's totally normal to see sediment at the bottom of the bottle – that sediment is just the spices you used to flavor the vodka settling as it sits.
How do I serve Krupnik?
Before serving your Krupnik, siphon off the clear liquor from the bottle into a saucepan. (You can discard the sediment.)
Krupnik can actually be served cold, warm, or hot – although hot or warm is traditional. We warmed our Krupnik just shy of simmering, then poured it into a heat-safe carafe for serving in cordial glasses.
Na zdrowie! (Click here for translation.) *Please drink responsibly.
You may enjoy these other holiday cocktails:
Print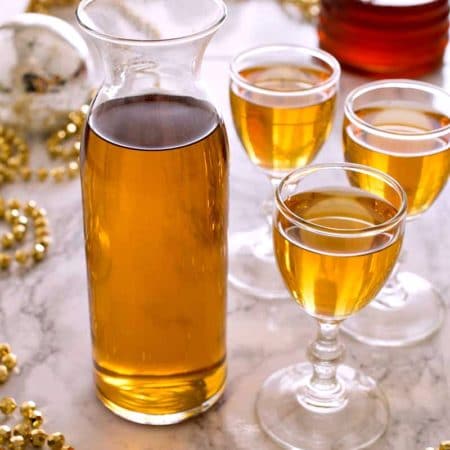 Krupnik (Honey Vodka)
Author:

Prep Time:

10 minutes

Cook Time:

30 minutes

Total Time:

40 minutes

Yield:

6 servings

Category:

beverage

Method:

stovetop

Cuisine:

Polish
---
1 cup honey
1 cup water
4 cinnamon sticks
6 whole cloves
¼ piece of a whole nutmeg
1 vanilla bean
Peel of half a naval orange
2 ¼ cups Polish vodka
---
Instructions
Place honey, water, cinnamon sticks and cloves in a sauce pan.
Wrap a nutmeg in a dish towel and whack with the back of a knife and pick out a piece about a quarter the size of the whole nutmeg and place in the pan.
Add the vanilla bean and the orange peel and bring to a boil.
Remove from heat and spoon off any foam then bring to a boil again, cover and simmer on low for 30 minutes.
Let sit for 30 minutes off heat.
Remove lid, bring back to a boil and add vodka off heat.
Stir and pour through a coffee filter or cheese cloth into a clean sterilized bottle and let cool. Discard solids.
Cap the bottle top and let sit in a cool dark place for one week.
After a week, siphon off the liquid and discard the sediment that sinks to the bottom.
Serve cold, warm or hot.
---
Keywords: krupnik, Polish honey vodka