My husband Jack's Meatloaf with Gravy is pure, delicious comfort food!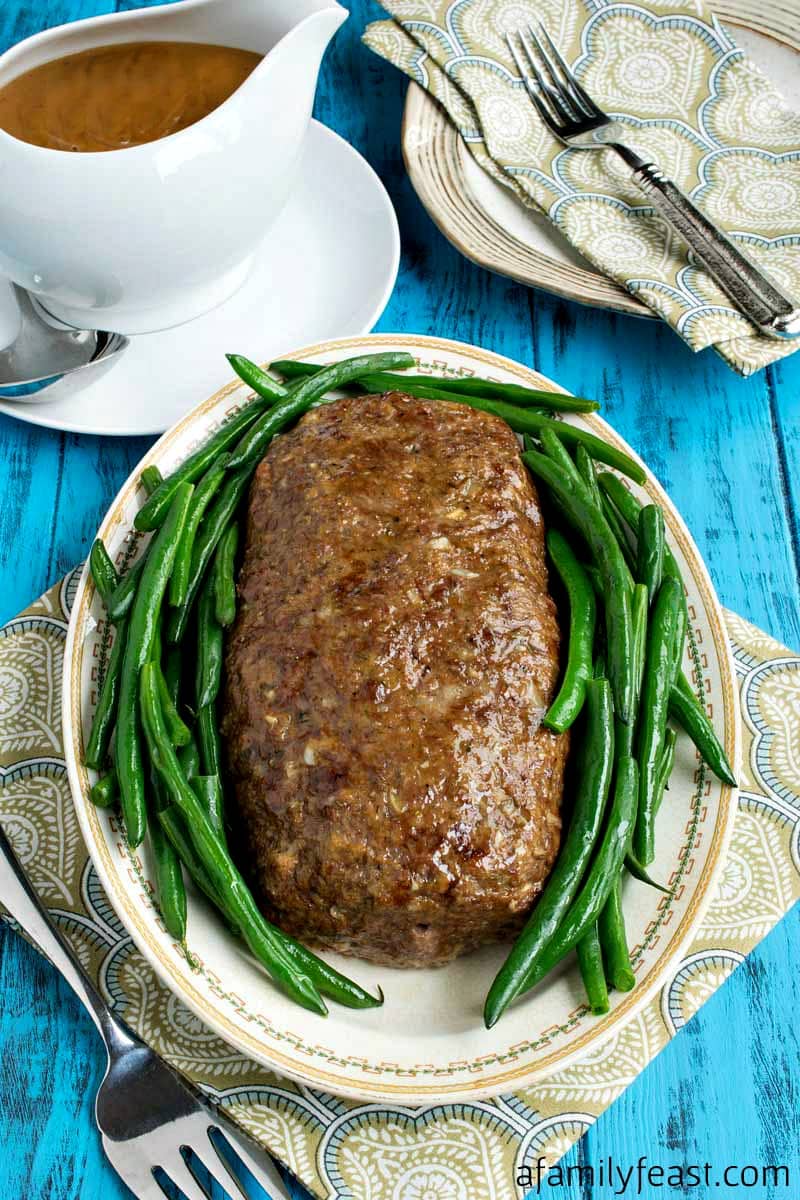 Jack and I both grew up in large families where meatloaf was on the menu quite often. With lots of mouths to feed, meatloaf was an easy and economical way for both of our parents to feed a crowded dinner table of kids. (And, not to mention, leftover meatloaf sandwiches are THE BEST!)
Today's version of this classic comfort food – Jack's Meatloaf with Gravy – is reminiscent of how Jack remembers meatloaf being served when he grew up.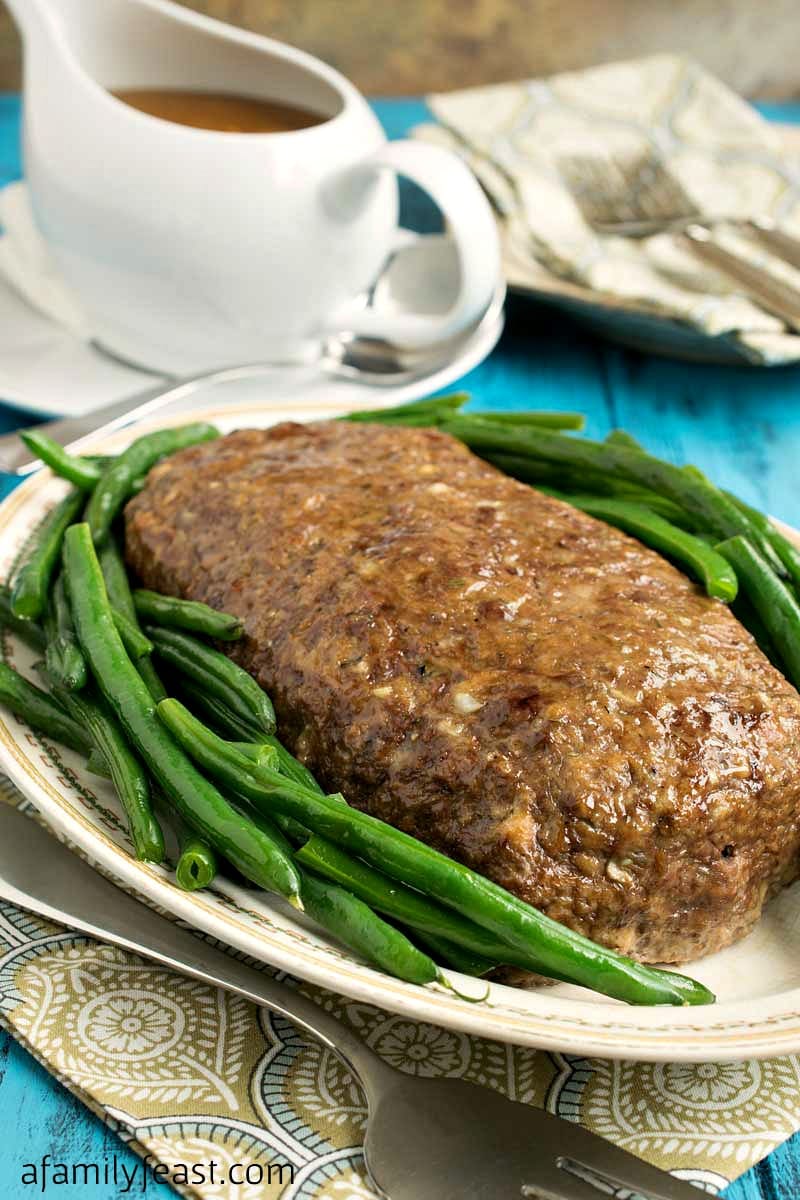 Jack's Meatloaf with Gravy is a moist, hearty and classically-seasoned version made with ground beef that has been simply flavored with onions, garlic, salt, and pepper. He also adds a little bit of dry thyme to the mixture – a seasoning that really enhances the flavor of the beef.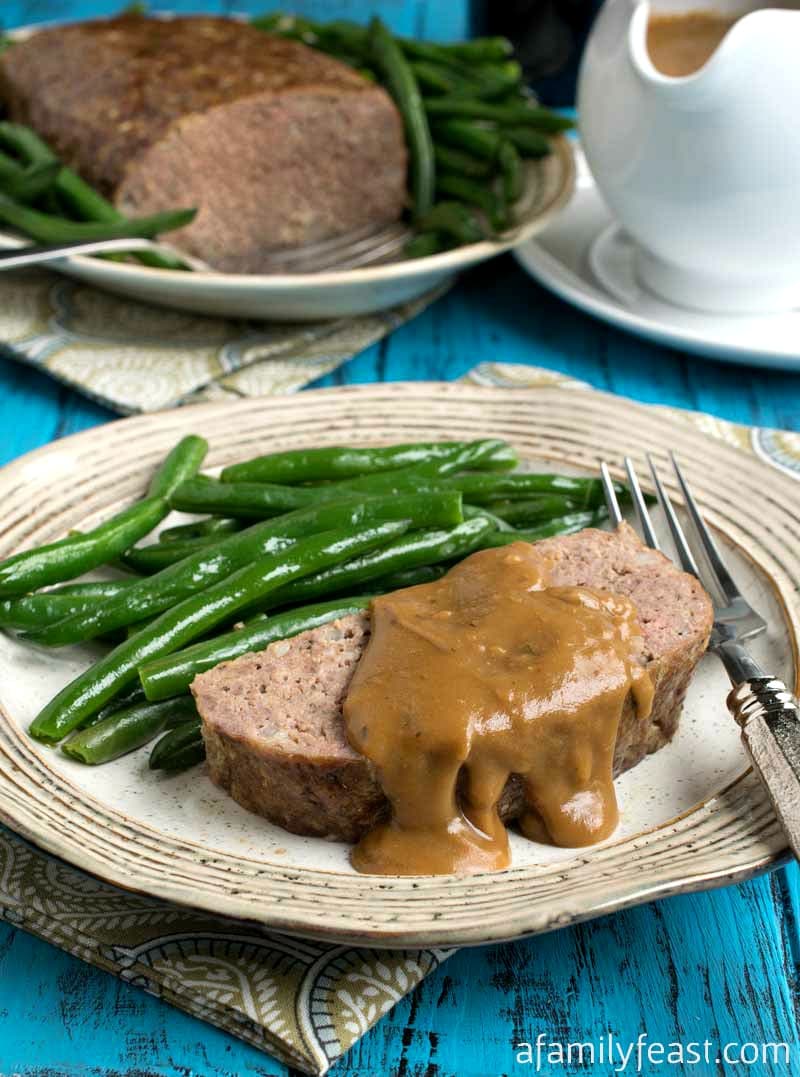 The thick, rich gravy served with Jack's meatloaf has a ton of flavor – in fact, this is a recipe you'll want to refer back to anytime you need a great beef-flavored gravy to serve with your meal but don't have many pan drippings.
(If you really want to take this gravy up a notch – make our homemade brown stock as the base for your gravy. But if you want a quicker meal, a good low-sodium canned beef stock will also work. You can even make the gravy ahead of time, and reheat before serving.)
To serve Jack's Meatloaf with Gravy – simply slice generous portions and spoon the gravy over the top! We love this meal served with our Green Beans with Tarragon and our Roasted Mashed Sweet Potatoes would be another great side dish to round out this wonderful meal.  Enjoy!
This recipe originally appeared on A Family Feast in November 2012. (We were long overdue to take new photos of the recipe!)
Print
Jack's Meatloaf
Prep Time:

1 hour 15 mins

Cook Time:

45 mins

Total Time:

2 hours

Yield:

Serves 8-10
---
For the meatloaf
4

slices white bread, crusts cut off

½ cup

milk

2

pounds 80/20 ground beef

2

eggs (FYI: 1 egg per pound of meat is almost always the rule for meatloaf)

½ cup

finely chopped onion

1 tablespoon

garlic, finely minced

2 teaspoons

salt

¼ teaspoon

freshly ground black pepper

1 teaspoon

dry thyme
For the gravy
---
Instructions
To prepare the meatloaf, begin by soaking the white bread in the milk.
While bread is soaking, add all other ingredients to a large bowl.
With your hands, work the soaked bread until mushed. Add bread and any milk left in the bowl to the beef mixture.
Gently fold and mix all ingredients until blended. Do not over mix or meatloaf will come out tough.
On a parchment lined sheet pan, shape mixture into a loaf. Use a spatula to square off all sides. With wet hands, smooth all surfaces of the loaf. This will stop it from cracking when it cooks.
Place in the refrigerator for one hour to set up.
Preheat oven to 350 degrees.
Place meatloaf in preheated oven on center rack and bake for 45 minutes or until internal temperature reaches 150 degrees with a probe thermometer. Special note on this. Once you pierce the meatloaf with the probe and remove it, a flood of juices will flow out like a faucet. If you probe it and it is done, leave the probe in as it sets. If it needs to go back in the oven, plug the hole. I needed five more minutes and used a metal skewer to plug it. Sounds silly but worked great.
Remove from oven and let rest 15 minutes before cutting and serving.
To prepare the gravy, melt butter in a medium-sized sauce pan. When butter is completely melted, add flour and stir. Cook the flour and butter mixture stirring constantly for 3-5 minutes or until the raw flour smell is gone. (The smell will resemble cooked chestnuts when ready.)
Add the entire can of stock and stir with a wire whisk until blended.
Add milk, thyme, hot sauce, Worcestershire sauce and Kitchen Bouquet. Stir to blend.
Adjust seasoning with salt and pepper to your taste.
Serve the gravy over slices of meatloaf.
---
Disclosure: This post contains affiliate links.


You may also like: