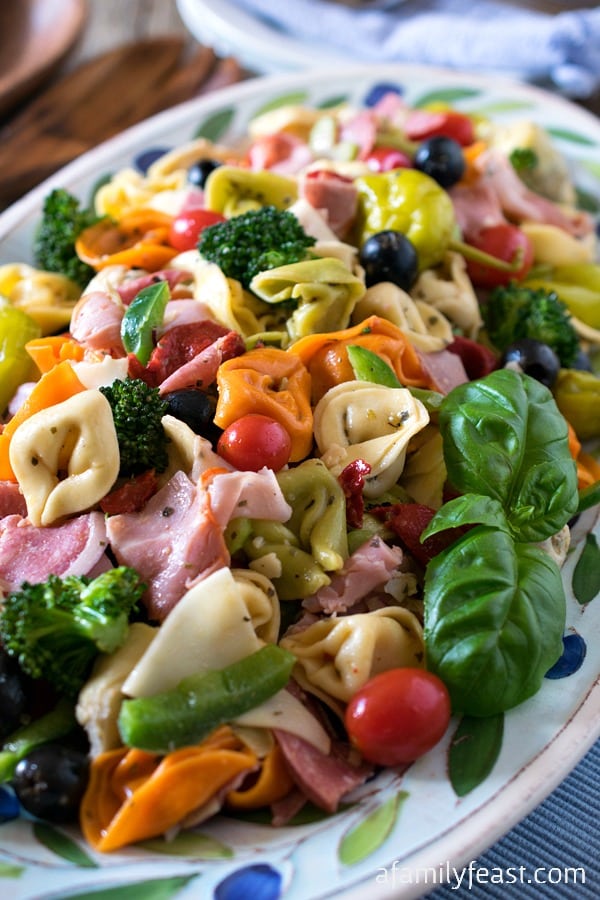 We developed this Italian Tortellini Salad recipe as part of our ongoing Ambassadorship with Peapod.  All opinions are 100% mine.
With the warmer (finally!) weather here, neighborhood parties and barbecues are starting up again – and I have to say – I love being outdoors again! We're very lucky to live in a great neighborhood with several of our daughter's friends living close by, and all of the parents enjoy each others' company too!
Our friends and neighbors also happen to be foodies at heart (I think that's part of the reason we all get along as well as we do!) – and all summer long we enjoy great company, great fun, and great food.
OUR LATEST VIDEOS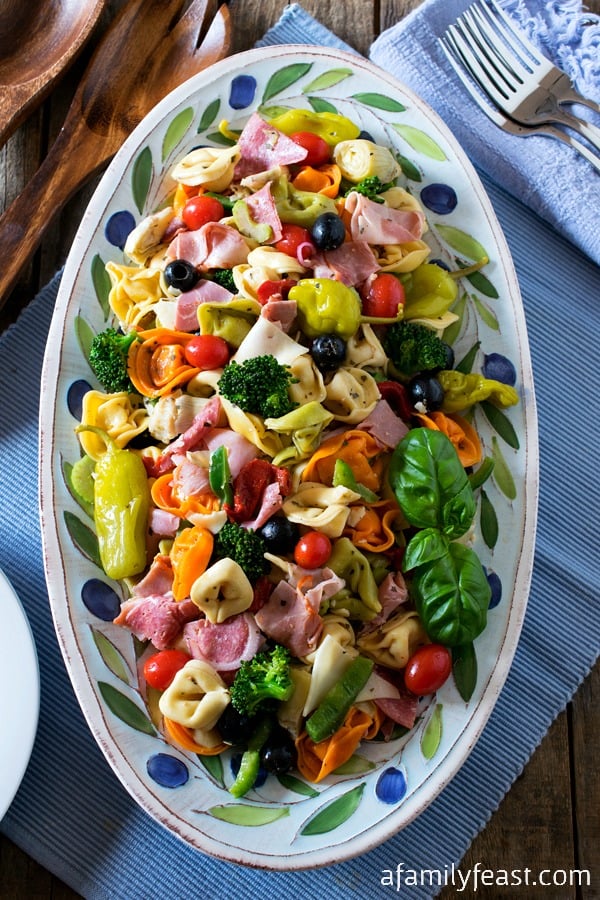 This delicious Italian Tortellini Salad is definitely going to make a regular appearance on the menu at our summer parties!  It's a perfect side dish to serve alongside any grilled foods like burgers, hot dogs, steak or chicken.
To make this Italian Tortellini Salad you'll start by making a simple homemade dressing – then tossing it over cooked, tri-color tortellini pasta, and all sorts of fresh vegetables as well as deli cold cuts and cheeses.
All of the ingredients for this Italian Tortellini Salad, as well as everything else you'll need for your summer parties and barbecues can be ordered through Peapod's grocery delivery service.  It is such a time saver to be able to go online and order the groceries, paper goods, and other supplies we need for our summertime entertaining – AND have it all delivered to our home by Peapod when it's convenient for us!  (Our Memorial Day party planning is going to be sure easy this year!)
To learn more about Peapod's grocery delivery service, visit them here. Peapod is America's leading internet grocer, and they carry more than 12,000 products in all of the same categories as your local supermarket – so you're sure to find everything you need!
To see the recipe for this delicious Italian Tortellini Salad plus many more recipes, just click over to From the Pod.
You may also like these summertime recipes featuring groceries from Peapod: