This easy Italian Pot Roast has flavorful and juicy, fork-tender beef smothered in a deep rich gravy.
Now that the holidays are over, all I really want when the weather outside is cold, dark and stormy is delicious comfort food!
This Italian Pot Roast sure fits the bill when I'm craving something warm and filling – and I also love how easy this meal is to make. About half an hour of prep – then your oven will do all of the work to transform an inexpensive cut of beef into a wonderful family feast!
In Italy, a pot roast is called "stracotto di manzo" – which translates to "overcooked beef."  But all that really means is that the beef is cooked until it is fantastically, fall-apart tender.
How do you make Italian Pot Roast?
You want to buy a three-pound chuck roast – which is not an expensive cut of beef, but it does have a lot of flavor. You'll want to roll and tie the roast (or ask your butcher to do it) so it cooks evenly. Pat it dry with paper towels and season with salt and pepper.
Next, sear the roast on all sides in a large dutch oven – or other large, heavy-bottomed oven-safe pan with a lid.
Once the roast is seared, remove the roast to a plate to rest – then sauté carrots, celery and onions that have been cut into one-inch pieces. After about five minutes, add tomato paste and garlic cloves to the pan, and sauté some more.
Next, deglaze the pan with a deep, dark red wine – such as merlot or burgundy – and simmer until the wine evaporates. Then add a can of crushed tomatoes, sundried tomatoes, beef broth, and herbs including bay leaves, fresh thyme sprigs, and dried oregano and basil.
Nestle the seared roast back into the pan among the vegetables – also pouring in any juices that may have seeped out of the roast as it rested.
Cover and place in the oven to roast for three hours – turning the beef over once in the sauce about half way through the cooking process. After three hours, your Italian Pot Roast will be super tender and ready to come out of the oven.
Gently and carefully move the cooked pot roast to a platter – and let it rest for about ten minutes, covered loosely with a piece of foil. After the ten minutes, cut the string from the roast and slice into thick slices. Lay the slices on a platter.
Remove the bay leaves and thyme sprigs from the sauce in the pan, then spoon over the slices of beef on the platter.
How do you serve Italian Pot Roast?
You have so many delicious options! Italian Pot Roast is wonderful served over mashed potatoes or creamy polenta. Or – serve it with some of our Italian Fried Pasta on the side.
What cuts of beef do I use for Italian Pot Roast?
While a chuck roast is our preferred cut of beef for this recipe, you can also use short ribs or 7-bone roast.
Can I make this in a slow cooker?
Yes – but you'll get the best caramelized flavor, as well as the best roasted texture by making this Italian Pot Roast in the oven, rather than a slow cooker (which essentially steams the food).
If you do decide to make this Italian Pot Roast in a slow cooker, you'll still want to do all of the initial searing and sautéing steps in a skillet first.
You might like these other beef recipes:
Print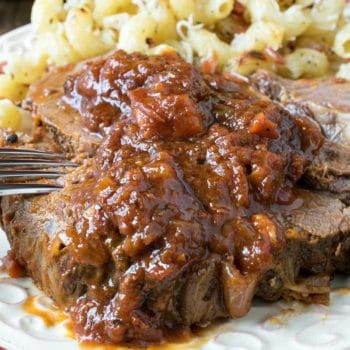 Italian Pot Roast
Author:

Prep Time:

30 minutes

Cook Time:

3 hours 30 minutes

Total Time:

4 hours

Yield:

6 servings

Category:

entree

Method:

roasted

Cuisine:

Italian
---
¼ cup extra virgin olive oil
3 pound chuck roast, rolled and tied
1 teaspoon kosher salt
½ teaspoon freshly ground black pepper
2 cups carrots, cut into one-inch pieces
1 ½ cups celery cut into one-inch pieces
2 cups onions, cut into large dice
4 tablespoons tomato paste
4 whole garlic cloves
¼ cup dark red wine, such as merlot or burgundy
2 bay leaves
8-ounce jar sundried tomatoes in oil, oil drained
1 28-ounce can crushed tomatoes
2 cups beef broth
4 sprigs fresh thyme
1 tablespoon dry oregano
1 tablespoon dry basil
---
Instructions
Preheat oven to 350 degrees F.
In a large Dutch oven, heat olive oil over medium high heat.
Pat roast dry and sprinkle on salt and pepper. Once the oil is shimmering hot, sear the meat on both ends and all the way around the outside. Total time about 15 minutes to sear the whole roast.
Remove the roast to a plate and add the carrots, celery and onions and cook for five minutes, stirring often.
Add the tomato paste and garlic and cook for two more minutes.
Add wine to deglaze. Cook until the wine evaporates.
Add the bay leaves, sundried tomatoes, crushed tomatoes, broth, thyme, oregano and basil and stir. Add the beef back in along with any liquid on the plate, cover and place in the oven for three hours, turning the beef over once about 1 ½ hours into the roasting time.
After the full three hours, remove the meat, let it rest under a sheet of loose foil for 10 minutes.
Remove and discard bay leaves and thyme sprigs then slice the beef and serve with the sauce.
The string should be left on while slicing to hold the roast together. OK to cut off after sliced and plated.
Keywords: Italian Pot Roast, beef