Italian Fried Pasta is crispy, salty, cheesy – and ridiculously good!
After our first bite of this Italian Fried Pasta – it was so good – we couldn't stop eating it!
The inspiration for this Italian Fried Pasta recipe came from a Facebook group that Jack and I both follow – centered around homemade Italian recipes. That group is a treasure-trove of old family recipes, and someone happened to mention that their parents used to fry up leftover pasta and sprinkle it with cheese.
As soon as that fried pasta was mentioned, a number of other group members chimed in – some families added cured meats, others added different seasonings and dried herbs. Every suggestion sounded delicious – so Jack decided to give it a try!
Italian Fried Pasta is ridiculously good – and I can't believe I had never heard of it before! If you love eating the crispy, slightly crunchy edges of a baked macaroni and cheese or these mac and cheese cupcakes – this is similar, but better!
What kind of pasta should I use?
For this recipe, ideally, you want a pasta that will allow some edges to touch the pan as it fries, while others will remain un-fried.
We used Cavatappi, which is a spiral macaroni. But elbows or bow-ties would also work, or any other pasta shape with different textures and edges works best.
How do you make Italian Fried Pasta?
First, you'll cook your favorite pasta in salted water, just shy of al dente. You want the pasta to be a bit chewy. Pour the pasta into a strainer, rinse it with cold water, then allow it to drain completely.
Next, pour the pasta onto a large sheet pan, then use paper towels to blot off any remaining moisture. Once it is dry – pour the pasta back into the pot you first cooked it in (there should be no water left in the pan) and season with kosher salt, freshly ground black pepper, dry basil, and dry oregano.
Heat oil in a large skillet (or even a wok), then add a pinch of red pepper flakes and some whole garlic cloves. Cook the garlic in the seasoned oil, turning frequently so that the outside gets lightly browned, and the inside is soft and tender. Remove the garlic to a cutting board and dice finely.
Next, fry the cooked pasta in two batches. First – add some chopped, diced Genoa salami to the skillet along with half the pasta. Toss and turn the pasta so it fries evenly, but also allowing it to brown and crisp up in spots. This will take about five to ten minutes per batch. Place the fried pasta in large bowl and sprinkle with grated Parmesan and Romano cheeses. (Repeat until all of the pasta is fried.)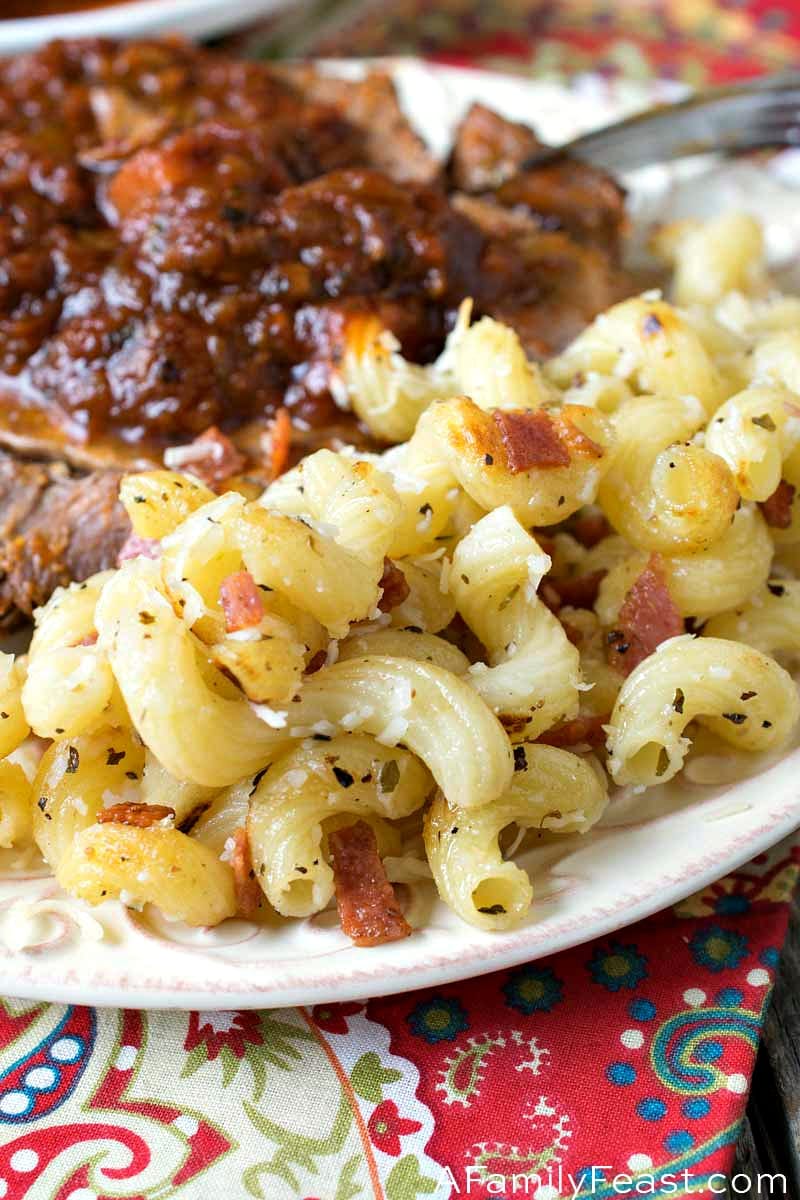 Finally, toss in the previously cooked garlic – and you are ready to serve.
This Italian Fried Pasta is salty and savory – and after one taste, you'll want to devour it! It's satisfying comfort food on its own – or you can serve it as a side dish with our Italian Pot Roast recipe from earlier this week.
You may enjoy these other pasta and noodle dishes:
Print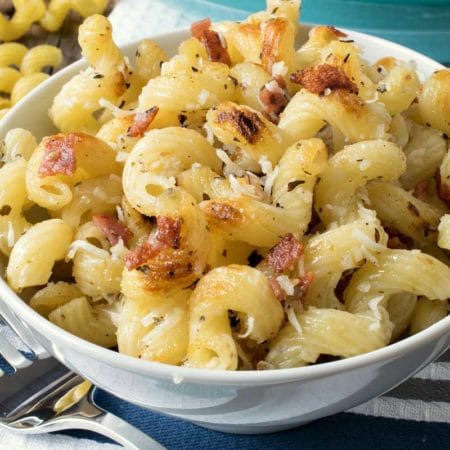 Italian Fried Pasta
Author:

Prep Time:

10 minutes

Cook Time:

20 minutes

Total Time:

30 minutes

Yield:

8 servings

Category:

side dish

Method:

fried

Cuisine:

Italian
---
1 pound spiral macaroni (Cavatappi), or your favorite pasta
¼ cup extra virgin olive oil
Pinch red pepper flakes
4 large garlic cloves, peeled and left whole
1 teaspoon kosher salt
½ teaspoon freshly ground black pepper
1 teaspoon dry basil
1 teaspoon dry oregano
¼ pound Genoa salami, diced small, divided
½ cup grated Parmesan cheese
½ cup grated Romano cheese
---
Instructions
Cook pasta in salted water to about two minutes less than done. (Still a bit chewy). Pour into a strainer, cool with cold water and drain completely.
Line a sheet tray with paper towels and pour drained pasta on top and cover with more paper towels to absorb most of the water.
In a wide heavy bottomed saute pan or wok, heat oil over medium low heat and add pepper flakes and garlic and let cook for 15 or so minutes until garlic is golden brown and soft (keep turning garlic to brown all sides). Remove cooked garlic to your cutting board and dice fine. Set that aside.
Pour half of the oil into a heat proof small bowl. We will be frying the pasta in two batches and need to reserve half of the oil to do so.
Pour the drained and dried pasta into the empty pan you cooked it in and toss with the salt, pepper, basil and oregano.
Heat half the oil over high heat and once hot, add half of the salami and half of the seasoned pasta and fry for 5-10 minutes until some of the pasta pieces start to brown and develop a crust. I tossed mine every minute, so they had time to brown on the bottom, then I tossed and let them brown some more. Each of my batches took about eight minutes. Use a strainer or spider and remove to a large bowl and toss with half of each cheese.
Heat the remaining oil and once hot, repeat the process for the salami and pasta and cheese.
Add the two batches together along with the cooked chopped garlic from earlier, and pour into a serving bowl and enjoy.
---
Keywords: Italian Fried Pasta