Here's the real IKEA Swedish Meatballs recipe – straight from IKEA stores.
Like a lot of companies these days, IKEA just shared their iconic Swedish Meatballs recipe with the world – so we had to give it a try!
Sure – we already have our own Swedish Meatballs recipe here (and it's delicious) – but I have to admit that I really enjoy the version sold at IKEA restaurants inside their stores.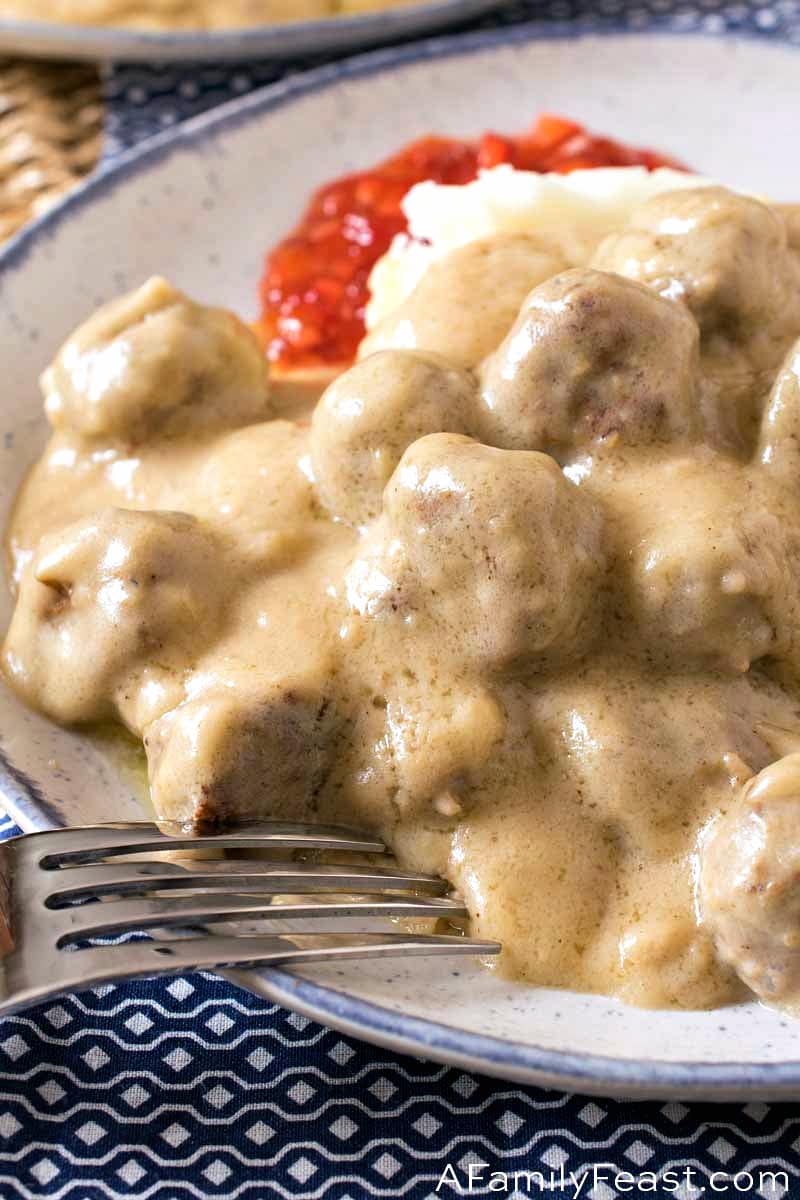 What makes IKEA Swedish Meatballs so special?
IKEA Swedish Meatballs are tender and delicious with a wonderful, savory cream sauce on top.
They serve the meatballs with mashed potatoes and green beans, plus a spoonful of IKEA's sweet lingonberry jam on the side. The sweet-tart jam is a wonderful complement to the savory meatballs, and it also helps cut through the richness of the sauce.
Finally, after a day of wandering the stores aisles – all of the meals at IKEA are surprisingly affordable and delicious, and a great way to feed a hungry family.
What did we think of the recipe?
Jack and I both thought that the taste of this homemade version of IKEA's Swedish Meatballs was pretty spot on – and we'd totally make this recipe again! Like most great meatball recipes, it's a mix of both beef and pork which gives them a wonderful flavor and soft texture.
Note that the recipe, as written, makes a lot of sauce (you could probably cut the sauce recipe in half and still have enough) and this homemade recipe seemed thicker, creamier and lighter in color than the sauce served over the meatballs at the stores.
But the flavor is very much the same (delicious!) and the meatballs are soft and tender – just like you'd order at IKEA restaurants.
You can see the actual IKEA recipe here. We adapted our recipe slightly to reflect US Customary Measurements – only because that's how we (and most of our US-based readers) cook.
Give this IKEA Swedish Meatballs recipe a try – then let us know what you think!
You may enjoy these other meatball recipes:
Print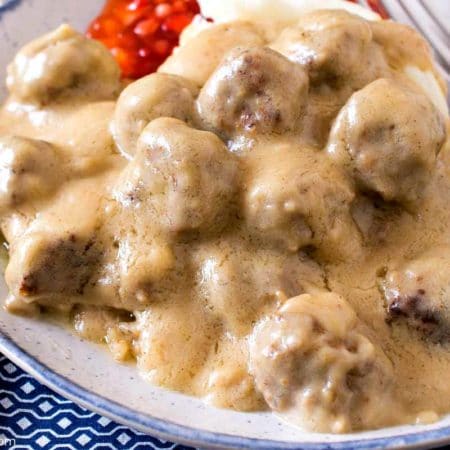 The Real IKEA Swedish Meatballs Recipe
Author:

Prep Time:

45 minutes

Cook Time:

30 minutes

Total Time:

1 hour 15 minutes

Yield:

8 servings

Category:

entree

Method:

baked

Cuisine:

Swedish
---
Meatballs
1 ½ pounds ground beef 85/15
¾ pound finely ground pork
1 cup onion, finely diced
1 tablespoon fresh garlic, finely minced
1 cup plain bread crumbs
2 whole eggs
¾ cup whole milk
1 teaspoon kosher salt
½ teaspoon freshly ground black pepper
4 tablespoons olive oil, divided
Sauce
1 ¼ cups vegetable stock
1 ¼ cups beef stock
1 ¼ cups heavy cream
2 tablespoons soy sauce
2 teaspoons Dijon mustard
2 teaspoon olive oil
6 tablespoons butter
¾ cup all-purpose flour
For Serving
---
Instructions
In a large bowl, mix ground beef, ground pork, onion, garlic, bread crumbs, eggs, milk, salt, pepper and one tablespoon of oil. Mix just enough to combine and try not to overmix.
Use a one-once scoop and scoop out 55 one-ounce meatballs. Line them up on your cutting board and run a knife through each one which will yield 110 half-ounce pieces.
Roll each into a ball and line up on a sheet tray covered in parchment. Keep your hands wet while rolling.
Refrigerate on the sheet tray for one hour to set.
After one hour, preheat oven to 350 degrees F.
Line a second sheet tray with parchment paper.
Heat a large non-stick skillet over medium heat with one tablespoon of olive oil and once hot, gently place one third of the meatballs in the pan and cook on all sides for about 4-5 minutes. Use a small spatula or tongs to continually turn the meatballs to brown evenly. Remove these browned meatballs to the prepared sheet pan.
Repeat for the next two batches of oil and meatballs.
Once all the meatballs have browned and are now lined up on the sheet tray, place the sheet tray in the oven and cook for 15 minutes.
While the meatballs are cooking, heat the vegetable stock, beef stock, heavy cream, soy sauce and mustard in a small sauce pan. Mixture needs to be hot to prevent lumping in the sauce but does not need to boil. Set aside.
In a 4-5-quart pot, over medium heat melt butter in oil and add flour to make a roux. Cook and stir continually for 3-4 minutes until the raw flour smell is gone.
Gradually add the liquid to the roux while whisking. Heat this mixture to hot and bubbly.
When the meatballs come out of the oven, add to the sauce and serve with mashed potatoes, green beans, and lingonberry jam.
---
Keywords: IKEA Swedish Meatballs