Hoppin' John is a traditional dish from the Southern region of the United States and it has African, French and Caribbean roots. (The blog What's Cooking America does a great job explaining the vast history of this dish and you can read more about that right here.)
While Hoppin' John is typically made with black eyed peas, ham hocks or bacon, and collard greens, my husband Jack grew up with a version of the recipe that had a heavy Portuguese influence! Instead of ham hocks – spicier linguica or chourico was used, and rather than collard greens – kale was added.
So our delicious version of Hoppin' John with Kale is a combination of the traditional and the Portuguese versions. We stayed true to the original by cooking the black eyed peas with ham hocks, but we incorporated kale into the finished dish rather than the traditional collard greens!
Once the black eyed peas and kale are cooked to a tender consistency, we served this Hoppin' John with Kale over rice and topped it with a sprinkle of crispy bacon for some texture and scallions for a bright, fresh contrast of flavors.
Print
Hoppin' John with Kale
Prep Time:

12 hours

Cook Time:

1 hour 30 mins

Total Time:

13 hours 30 minutes

Yield:

Serves 6-8
---
Description
Note: The dry peas are soaked overnight in this recipe so leave yourself enough time.
---
½

pound black eyed peas (or field peas)

4 cups

cold water

½

pound thick cut smoked bacon, diced into half inch pieces

1 tablespoon

olive oil

1

–

1 ½

pounds ham hocks

½ cup

celery diced

1 cup

onion diced

¼ cup

green bell pepper diced

1 tablespoon

minced garlic

1 quart

vegetable or chicken stock

1

bay leaf

1 teaspoon

dry thyme

½ teaspoon

freshly ground black pepper

8 cups

kale, removed from stems and roughly chopped

1 tablespoon

butter

2 cups

cooked white rice

2

–

3

tablespoons minced scallions
---
Instructions
The night before, soak black eyed peas in cold water overnight at room temperature.
The following day, drain peas and discard water.
In a medium pot over medium heat, place bacon and cook until crisp. Remove to a paper towel to drain. Reserve two tablespoons of bacon fat in pan and add oil. Increase heat to medium high and add ham hocks. Sear on all sides and remove, about 15 minutes.
Add celery, onion and green pepper and cook for three minutes. Add garlic and cook for one more minute.
Add ham hocks back in along with stock, soaked peas, bay leaf, thyme, and pepper. Bring to a boil, reduce to a simmer and cook for 45 minutes covered or until peas are almost tender but still a little bit chewy.
While peas are cooking, cook rice according to package directions and set aside. (1 cup rice to two cups water).
Add chopped kale to pot with peas and cook for 10 minutes covered.
Remove ham hocks and bay leaf and discard.
Strain out solids and cook liquid down to one cup, about 10 more minutes. Turn off burner and add butter. Stir to dissolve. Add solids back in and stir to combine.
To serve, place mixture over rice and top with cooked bacon and scallions.
---
You may also like: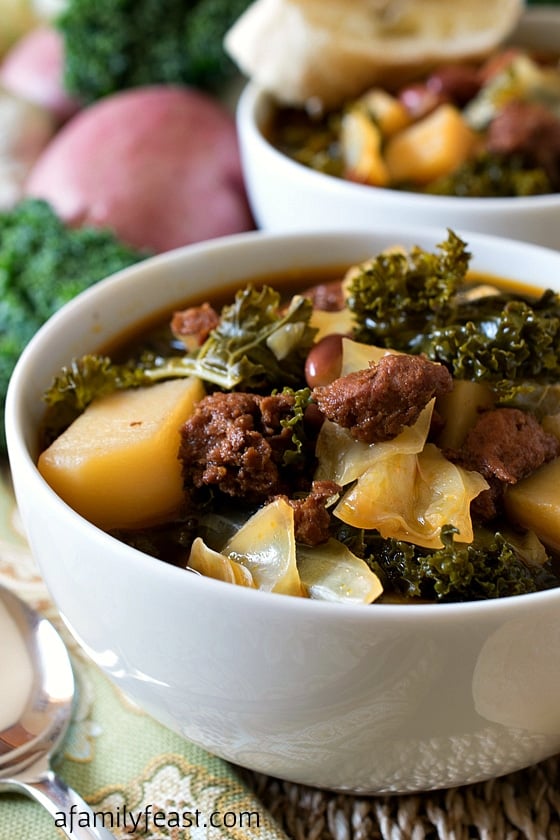 Turkey Kielbasa and Baby Kale Strata
Mashed Sweet Potatoes with Kale and Boursin Cheese