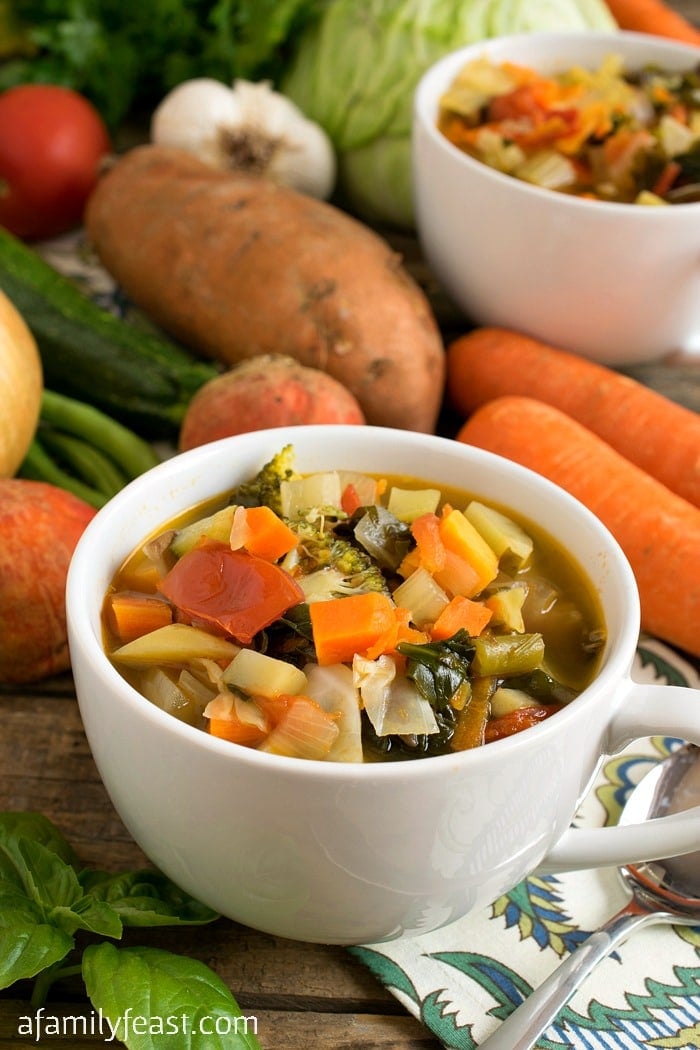 This Hearty Vegetable Soup fits into any healthy eating plan and is just plain delicious!
My husband Jack and I are still following the Whole30 program – most of the time these days. We find that we best stay on track with some meal planning ahead of time. For us, that means always having some delicious, already-prepared meals – like this Hearty Vegetable Soup – in the refrigerator for those days when our schedules are crazy-busy and we don't have time to cook.
Years ago, I did Weight Watchers (another great program in my opinion!) and back then, they included a "zero-points" vegetable soup recipe with their program materials. The idea was that a healthy, hearty vegetable soup was a great way to fill up without adding much to your total point count for the day.
So with that soup in mind, I asked Jack to make up a Whole30-compliant version of the soup that we could always have on hand – and he more than delivered with this Hearty Vegetable Soup!
This soup has great flavor and is chock-full of healthy vegetables.  It's so good, even if you aren't following a special healthy eating plan, you'll still love this soup! Most of the prep time is cleaning and chopping vegetables – but it really is an easy recipe.
As with all Whole30 recipes – buy organic produce if you can. But here's a good rule of thumb: If you peel your fruits or vegetables before eating it, save your money and buy conventional produce.  If you don't peel it before eating, then spring for the organic produce.
This Hearty Vegetable Soup recipe makes a fairly large batch – so feel free to cut the quantities on half if you'd like.  (You can freeze the soup in zipper seal bags – but the veggies will be soft after freezing and thawing.)  Also, this recipe is very forgiving, so feel free to swap in other vegetables if you'd like.
Print
Hearty Vegetable Soup
Prep Time:

30 mins

Cook Time:

25 mins

Total Time:

55 minutes

Yield:

8 quarts
---
Description
Note: To prepare tomatoes, cut in half and squeeze seeds out into a bowl and discard. Cut core out then dice tomatoes to medium dice. You will have ¾ pound left after seeding and coring. Also note that depending on which extra vegetable you use, it should be added at the right time. I had large broccoli stems which I peeled and diced. I added that right at the beginning. I also had broccoli florets. For those I waited and added towards the end.
---
2 tablespoons

clarified butter

8 ounces

button mushrooms, sliced

¼ cup

extra virgin olive oil

1

pound onion, cut into medium dice

1

pound carrots, cut into medium dice

4 ounces

celery, cut into medium dice

1 ½ tablespoons

fresh garlic, minced

4 ounces

fresh green beans, cut into bite sized pieces

8 ounces

green cabbage, cut into medium dice

1

pound other vegetables you'd like (We peeled and diced broccoli stems along some golden beets and a few leftover assorted vegetables I had in the refrigerator. Feel free to use any vegetable you wish that totals

one

pound)

1

pound plum tomatoes seeded, see note below

3 tablespoons

fresh basil, chopped and divided

3 tablespoons

fresh parsley, chopped and divided

3 quarts

vegetable broth

8 ounces

sweet potato, diced into bite sized pieces

8 ounces

zucchini, diced into bite sized pieces

4 ounces

fresh baby spinach
Parmesan cheese and olive oil to serve with soup (optional, cheese is not Whole30)
---
Instructions
In a large 8 quart heavy bottomed stock pot, heat butter over high heat and add mushrooms. Cook five minutes then remove to a bowl and set aside.
Reduce heat to medium high and add oil. Once hot, add onion, carrots and celery plus any "other" vegetables that take longer to cook.
Cook this mixture for five minutes.
Add garlic, green beans and cabbage and cook for another five minutes.
Add tomatoes, 2 tablespoons of the basil, 2 tablespoons of the parsley and the cooked mushrooms and cook for 2 minutes.
Add broth, bring to a boil and lower heat to a fast simmer. Simmer for five minutes.
Taste and only add salt and pepper if needed. I did not as the purchased stock was well seasoned.
Add sweet potatoes, zucchini and any "other" vegetables that do not require long cooking times.
Bring back to a fast simmer and cook 3-5 minutes or until sweet potatoes are tender.
Remove from heat and stir in baby spinach and the remaining fresh basil and parsley.
Serve immediately with grated Parmesan cheese over the top and a drizzle of olive oil or refrigerate and reheat as needed.
---
You may also like: